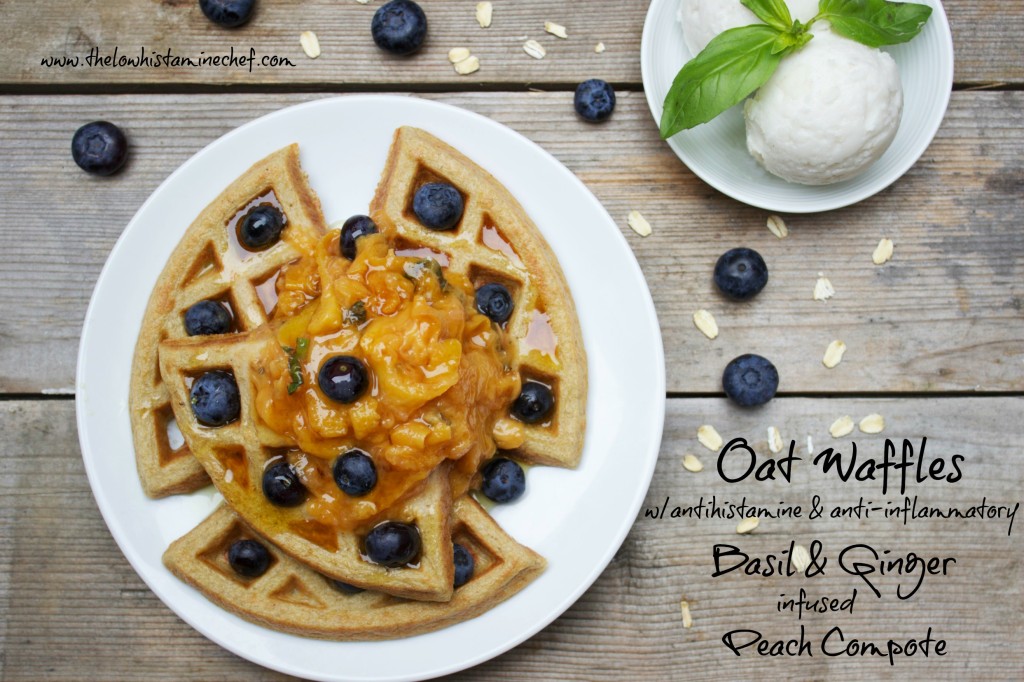 I should start out by saying that this recipe began with a simple request: a high nutrient baby food to help with indigestion.
But things spiraled out of control when I began fantasising about what else the compote would work for….
And so I was literally rubbing my hands together with glee when my waffle maker arrived just a few days ago. Rest assured, these can be made into pancakes too – but it's so much more fun playing with waffles!
I may be a little over excited simply because I've only had waffles once or twice in my life.
Watch out for some seriously fun recipes in the next few weeks…
Nutritional highlights
Ginger is as potent an antihistamine as H2 receptor antagonist Zantac (ranitidine) [5] and as such, marvelous at dealing with stomach acid.
Peaches possess mast cell stabilising properties [1] but I know they are on some lists as high histamine though. Please use your best judgement – I have never had a problem with them.
Blueberries are rich in histamine lowering, mast cell stabilising quercetin [2].
Basil is a potent antihistamine with strong anti-inflammatory action (particularly against prostaglandins) [3].
Coconut is anti-inflammatory and also can help relieve pain [4].
You'll find more recipes like this in my books Anti-Recipes and The Anti-Cookbook
CLICK HERE FOR A FOUR WEEK HISTAMINE RESET WITH MEAL PLANNERS, STRESS RELIEF STRATEGIES & MORE
GF Oat (or grain free) Waffles w/Antihistamine Rich Basil and Ginger Infused Peach Compote
Prep Time: 5 | Cook Time: 10-15| Servings: 2 waffles | Difficulty: Easy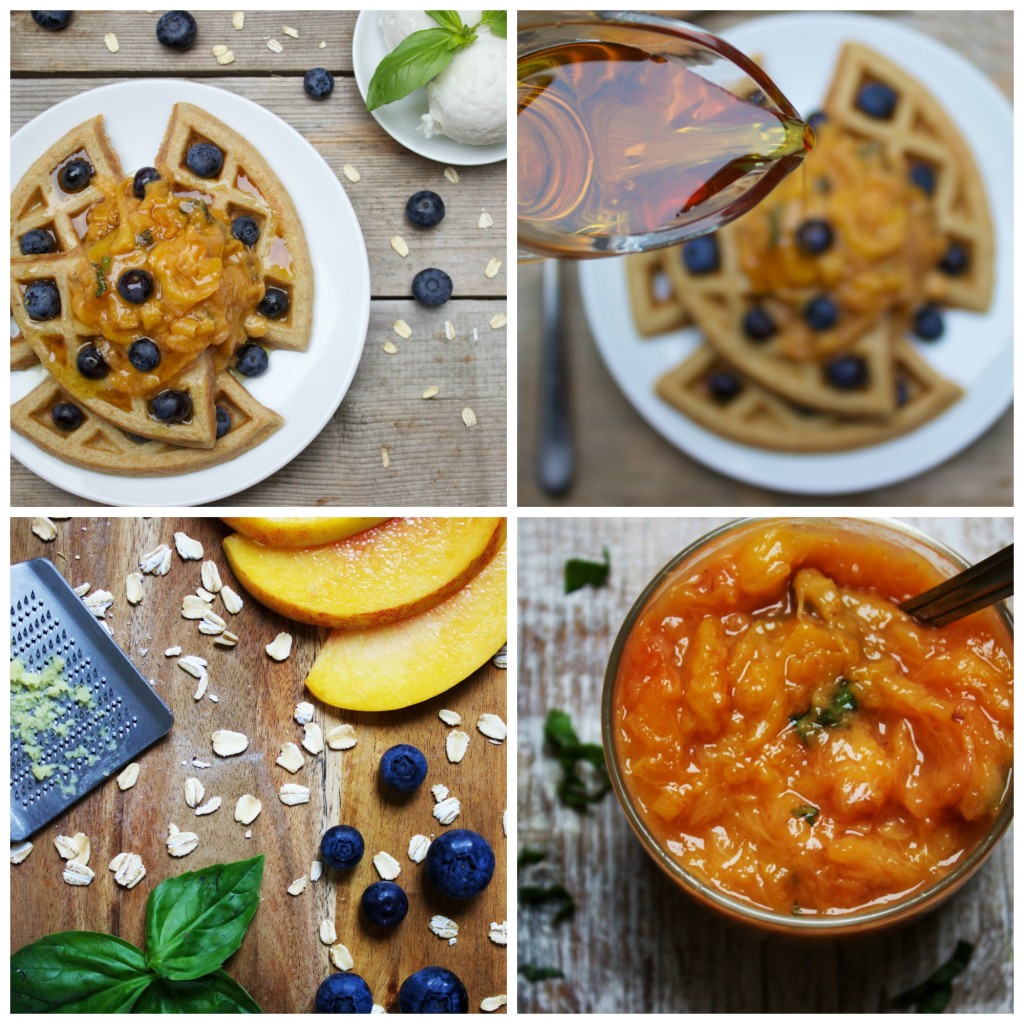 Ingredients:
1 1/2 cups GF oat flour or 1/2 cup chestnut flour, 1/3 cup arrowroot flour, 1/3 cup tigernut flour and 1/3 cup, water chestnut flour
2 eggs or 2tbsp flax/chia seeds
1 cup coconut/almond milk or water
2 tbsp coconut oil/any oil tolerated
Pinch raw organic vanilla powder (optional)
Pinch sea salt
Blueberries (for garnish)
Compote
2 large peaches, peeled (or not) and chopped (or your choice of fruit)
2 tbsp freshly grated ginger
2 tbsp finely chopped basil
Fresh lemon juice (you may omit this)
Coconut cream
1 coconut (young or old)
Fresh vanilla
Pinch sea salt
Directions:
Waffles
Heat up the waffle iron.
Buzz the oat flour, eggs/flax/chia, coconut milk, coconut oil, vanilla and pinch of salt in the blender.
Pour into the waffle iron and proceed according to your machine's instructions.
Compote
In a small saucepan combine the peaches (I don't skin mine), ginger, basil and a squidge of fresh lemon juice. I also like to add just a tiny pinch of sea salt to help bring out the natural sweetness of the fruit.
Drizzle with a little water and bring to the boil ever so briefly.
Lower to a simmer and withdraw from heat once firmed up and sweetly fragranced (about 5 minutes).
Coconut cream
If you have a masticating juicer just crack open a mature coconut, pry out the flesh, then pass through the nut butter adaptor and then mix in the vanilla and a pinch of sea salt.
Otherwise, scoop out the flesh of a young coconut and quickly buzz (I use a Vitamix) a little with the vanilla, till mushy.
Then place in freezer for 20 minutes, or till firm. Mix up with a spoon and serve.
Enjoy!
CLICK HERE FOR A FOUR WEEK HISTAMINE RESET WITH MEAL PLANNERS, STRESS RELIEF STRATEGIES & MORE
————REFERENCES————-
[1] http://www.ncbi.nlm.nih.gov/pubmed/20633593
[2] http://pubs.acs.org/doi/abs/10.1021/jf00070a001
[3] http://www.cabdirect.org/abstracts/20103272087.html;jsessionid=FE4296F7E8E57CEEECBE252850E80B7A
[4] http://www.ncbi.nlm.nih.gov/pubmed/19429325
[5] http://journals.tums.ac.ir/upload_files/pdf/_/2382.pdf