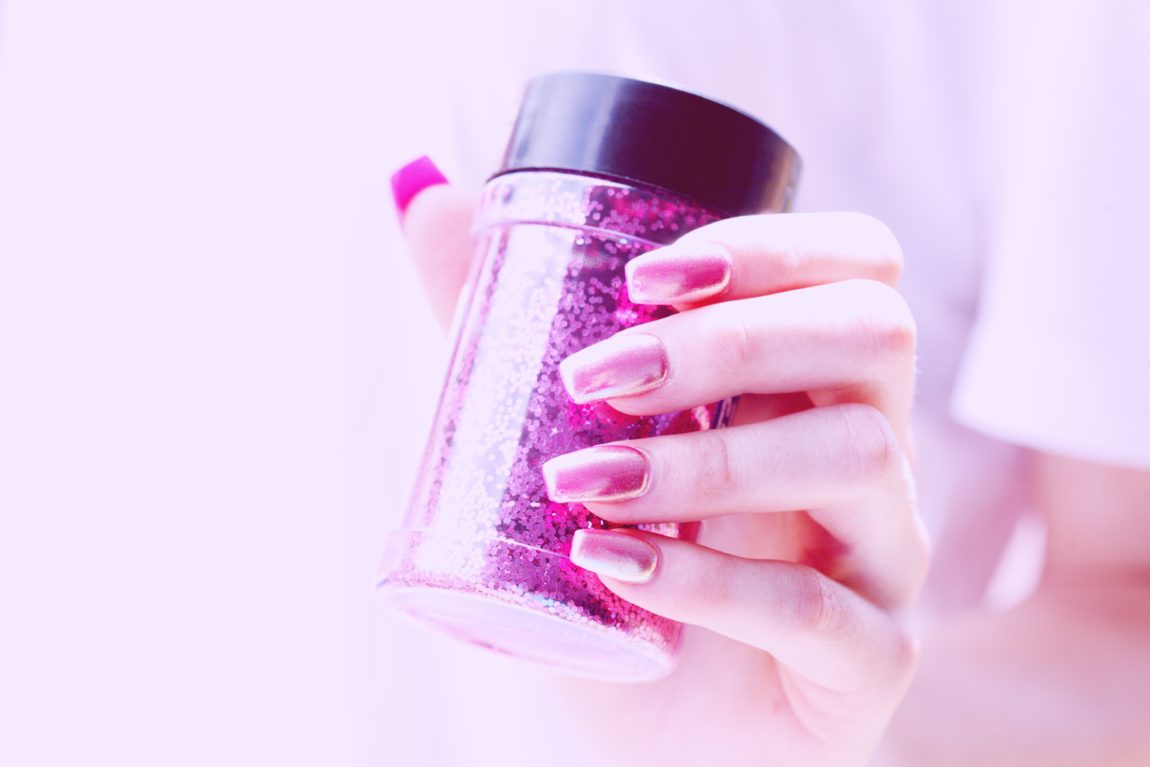 Summer is that time of year when everyone in the northern states and countries breaks out the flip-flops and sandals after a long winter of boots and shoes and seeks out some fun new nail polish. But do you know what's in nail polish? There's a reason why the smell is so potent it can almost knock you out as you step into a salon. It is absolutely toxic and can totally set off symptoms in those with histamine intolerance and mast cell disorders. But — don't worry; here are some less toxic options you can try, and one that's totally non-toxic and histamine-friendly.
WHAT'S WRONG WITH CONVENTIONAL NAIL POLISH?
Chemicals. So many chemicals. Some of the worst are called the "Big 3" or the "Toxic Trio" and include dibutyl phthalate (DBP), formaldehyde, and toluene. You'll also see polishes noted as "Big 5 free" or "Big 6" or "7" or "8" — up to "10 free" as there are so many questionable ingredients in conventional nail polish. Here's just an overview of the "Big 3." You can look up the dangers of the others on the Environmental Working Group (EWG)'s Cosmetics Database.
DBP is a plasticizer, solvent, and fragrance ingredient that is extremely toxic and gets an EWG rating of 10 (out of 10). It's banned in cosmetics and personal care products in the European Union. DBP is a known hormone disruptor and in animal studies has been shown to cause infertility and problems with sperm development. In humans, it has been associated with changes in the reproductive anatomy of baby boys. In men, it lowers sperm quality, causes negative hormone effects, and leads to infertility. And that's just a start. This is bad stuff.
Formaldehyde is also used in nail polish as a hardener. Formaldehyde is a known carcinogen that is especially associated with leukemia. It's also damaging to your respiratory system and can cause allergic dermatitis. It also gets an Environmental Working Group (EWG) rating of 10 for most toxic.
Toluene is a petrochemical solvent and paint thinner. Its vapors are highly toxic, with exposures during pregnancy being associated with birth defects, mental retardation, and even spontaneous abortion. This chemical is also toxic to the immune system and is potentially linked to blood cancers like malignant melanoma. It, too, gets an Environmental Working Group (EWG) rating of 10 for most toxic.
Other toxic chemicals included in nail products include camphor, TPHP, parabens, xylene, ethyl tosylamide, lead, and acetone — plus more listed below.
4 BETTER OPTIONS
Acquarella Water-Based Nail Polish
Acquarella is based in Tucson, Arizona. Polish does NOT contain: Formaldehyde or Formaldehyde like derivatives, toluene, ketones or any petrochemical solvents, DBP or other phthalates, TPHP, polyurethanes or polyurethane film-formers, parabens or camphor, mercury, lead, FD&C colors or coal tar (Lake) products in their colorants, gluten or wheat by-products, or any aromatic hydrocarbons.
Acquarella Water Color Girly got an EWG ranking of 1 –their least toxic (BEST) rating. Their polish remover also gets a ranking of 1, which is great.
RMS Beauty Polish
Rose Marie Swift (RMS Beauty) is my hero! A trailblazing makeup artist to the world's supermodels (including Gisele Bundchen) who suffer from chemical sensitivity. RMS Beauty Polish is free of petrochemicals, parabens, DBP, TPHP, toluene, camphor, xylene, formaldehyde, formaldehyde resin, and animal products.
RMS Beauty Polish has apparently not been ranked by the EWG as of this writing.
Zoya Nail Polish
By "Art of Beauty" out of Ohio. Zoya is the name of one of the owners, a cosmetologist by trade who was previously a classical pianist in Russia. She emigrated to the United States with her husband Michael, a chemist who developed the products. Zoya is a "10 Free" formula, without DBP, formaldehyde, formaldehyde resin, toluene, camphor, TPHP, parabens, xylene, ethyl tosylamide, or lead.
The new products from Zoya have apparently not been ranked by the EWG as of this writing
Honeybee Gardens, WaterColours, Water-Based Nail Enamel
Honeybee Gardens is based in Pennsylvania and was started by a 27-year-old herbalist back in 1995. Honeybee Gardens nail polish is water-based rather than solvent based. It does not contain FD&C colors, toluene, DBP, xylene, or formaldehyde, camphor, or benzophenone-1.

Honeybee Gardens nail polish has apparently not been ranked by the EWG as of this writing.A HELPFUL TIP FOR POLISH COLORS
Get some clear polish from your favorite non-toxic brand. Take your mineral makeup and tip some out onto a paper. Then just dip your clear nail polish into the mineral powder and spread it on your nails. That way you can get any color you like. You can also use the "100% Pure" brand of makeup.
NEED MORE BEAUTY TIPS?
Don't miss the Low Histamine Beauty Survival Guide for non-toxic beauty tips, the skinny on histamine releasing (mast cell degranulating) beauty ingredients, antihistamine and anti-inflammatory beauty alternatives and the top brands natural brands I've found.
——REFERENCES/RESOURCES——
http://honeybeegardens.com/watercolors-nail-enamel/