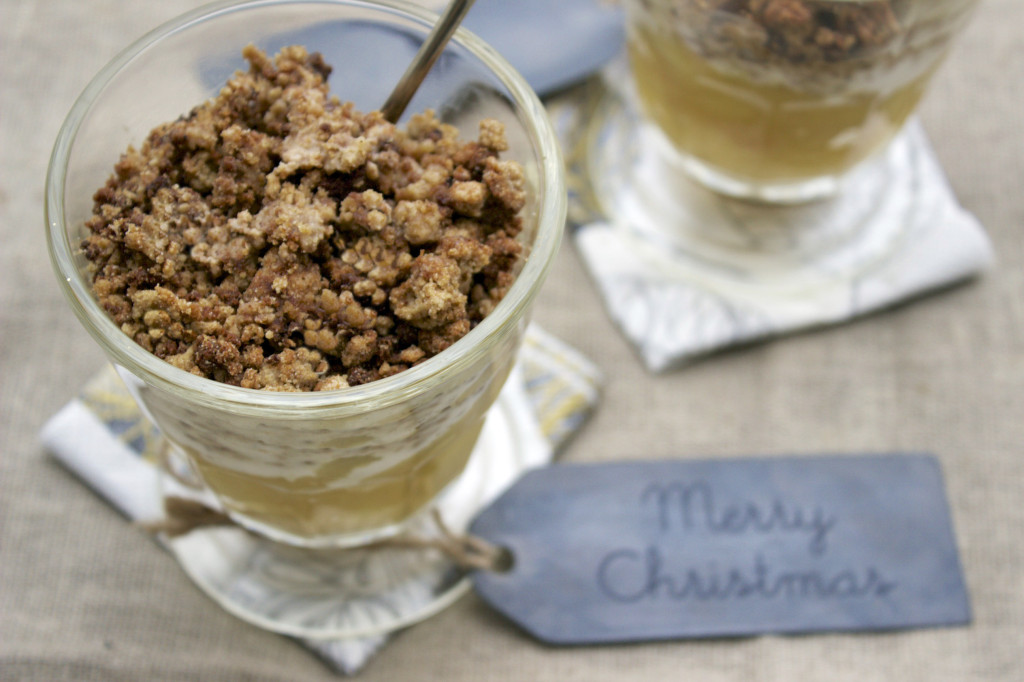 Are you getting a little down about your Christmas options?
Don't fall into the traps I did years ago…
It really doesn't have to be feast or famine (so to speak). It's totally realistic to plan out a survival strategy for the holidays: pre-festivities detox, munching plan for the main events and a recovery plan so there's still room in your (histamine) bucket for New Year's eve!
Soooooo…here's a little something I whipped up that I'll definitely be serving up for my low histamine Christmas.
Crumbles/crisps have never really been my thang. They're too sickly sweet, usually topped with even more sugar (ice cream), and I invariably walked away from the dinner table with a treacly rock in my stomach, slowly working its indigestive charms till I managed to score some tums.
Oh what fun!
But this year I plan neither to spend the festivities nursing a warm cup of ginger infused water while half heartedly trying to assure friends that the drool on my chin is just a part of the healing process, nor will I spend the 26th-2nd riding the porcelain express.
And so my lovely little low histamine dessert with antihistamine and anti-inflammatory ingredients (as always!) is just what I need to keep me from lashing out, tourrettes-like into something that's going to mess with my zen vibe.
Here's the benefits breakdown:
Some mangoes possess antihistaminic properties (depending on variety) but all are anti-inflammatory [1].
Ginger is as potent an H2 receptor blocker as Zantac (prescribed for stomach acid) and is also an H1 blocker (like Claritin for example) [2].
Some varieties of sorghum flour are anti-inflammatory [3].
Almonds are highly anti-inflammatory [4] and high in beneficial nutrients like vitamin E.
Coconut is anti-inflammatory and also a pain killer [5].
Dates are anti-inflammatory, but listed as high histamine on some lists. I eat them.
You'll find more antihistamine and anti-inflammatory foods as well as a thorough nutrient breakdown in all recipes in the Anti-Cookbooks (regular and paleo).
Mango Crumble w/Ginger
Prep Time: 10 | Cook Time: 20-40 | Servings: 2 | Difficulty: Easy
Ingredients:
1 mango, sliced
1/2 tbsp grated ginger
2 tbsp lime/lemon/lemon basil
1 cup sorghum flour
1/2 cup almond/oat flour (coconut for low oxalate*)
1/2 cup coconut oil (or your choice of oil)
1/4 cup dates or 1/2 cup coconut sugar
raw vanilla
pinch salt
Optional
Coconut cream
Directions:
Pre-heat your oven to 180C/350F.
Place your sliced mango in a small to medium pot. Splash with some water, then add the ginger, lime/lemon and a pinch of salt.
Cover and cook on low heat till tender (about 10 minutes).
Meanwhile, in a food processor combine the sorghum with the almond/oat flour. If you want to go lower oxalate, coconut flour is a great alternative – but you'll need something to give a bit of texture and binding. A few sunflower seeds, an egg/s or some apple puree.
Then toss in the dates/coconut sugar, oil, raw vanilla and a pinch of salt. To use less oil – sub 1/4 cup pureed apple for the coconut.
Into a small baking dish (or oven proof glasses) spoon the mango and then top with the flour.
Bake at 180C/350F for 20-30 minutes, until the crumbly layer is nice and golden.
Serve with coconut cream (optional).
Please don't forget antihistamine, pain killing foods can still hurt us, so please always check with your doctor before adding new foods to your diet.
Join my mailing list for more recipes and to be the first to know when registration for my low histamine webinar opens.
Take a peek at my low histamine and antihistamine cookbooks for more high nutrient recipes.
If you've found this information useful I'd appreciate your support (at no extra cost to you!) – please check out my online store for your health foods, supplements, kitchen items and beauty product purchases. Affiliate sales through my online store go towards maintaining the website, funding travel to interviews and purchasing all the lovely foods for my free online recipes. You'll find these items in the "Shop with us" drop down menu on my homepage.
——-REFERENCES——–
[1-5] The Anti-Cookbook