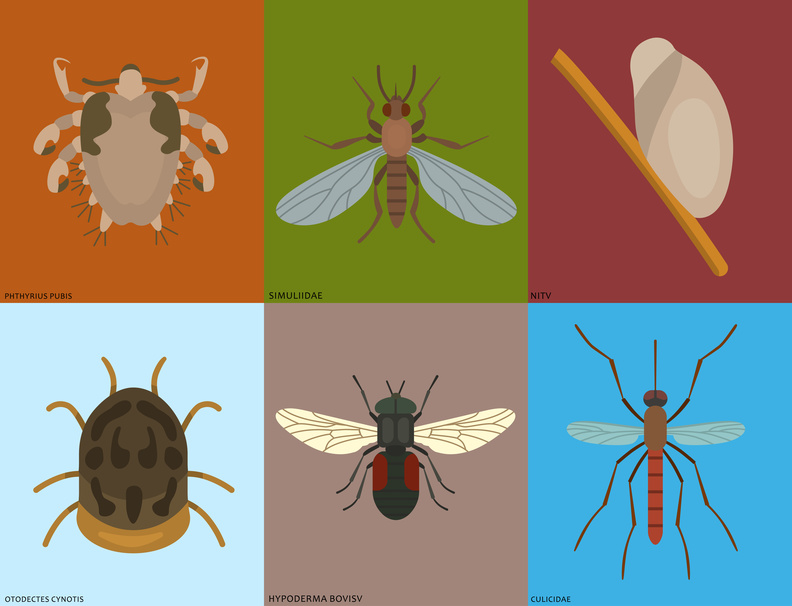 Could parasites be causing or contributing to your chronically high histamine levels? We know that imbalances in the gut microbiome can cause histamine problems, but how about intestinal parasites? It's interesting that just as histamine intolerance seems to be increasing, so does the prevalence of a particular parasitic infection: Blastocystis hominis. And "blasto" seems to increase histamine by several routes of action. Let's just say it knows how to push our buttons.
"BLASTO" OVERVIEW
Blastocystis hominis is a common intestinal inhabitant and it's actually controversial whether it's a problem or not, because it occurs at a rate of 10% of the population in developed countries and 60% of the population in developing countries. Additionally, many people can have it for years without any symptoms. However, for many people (especially those with a compromised immune response), it causes a myriad of symptoms and needs to be treated. Some of these symptoms may include diarrhea, nausea, abdominal pain, excessive gas and bloating, loss of appetite, fatigue, and hives (red flag for high histamine). Other skin problems and IBS are also associated with a Blastocystis hominis infection.
BLASTOCYSTIS DISABLES NITRIC OXIDE
Blastocystis hominis protects itself by disabling our nitric oxide production. It does this by producing an enzyme called arginase, which helps break down the amino acid, arginine. Arginine is required for the synthesis of nitric oxide, so without arginine, the body becomes deficient in nitric oxide (NO). A lack of NO has be proven to increase gut permeability and increase histamine levels. In fact, nitric oxide is actually a mast cell stabiliser. You can read more about nitric oxide and ways to increase it naturally on this post.
BLASTOCYSTIS LOWERS MAGNESIUM
Magnesium levels were tested in 52 patients infected with Blastocystis hominis and compared to 60 healthy controls. The blasto-positive patients had "clearly decreased" magnesium levels compared to those who did not have the parasite infection. It's interesting that a magnesium deficiency can cause histamine to go up. Low magnesium levels are also associated with increased mast cells in several organs of the body. A magnesium deficiency causes lowered diamine oxidase production, too. And DAO, as we know, is very important for breaking down histamine. Read more about magnesium deficiency and how it triggers histamine inflammation here.
BLASTOCYSTIS IS INCREASED BY STRESS
In animal studies, exposure to stress was found to suppress the immune system of the host (particularly IgA) and to allow Blastocystis hominis to spread. Because both stress and "blasto" suppress the immune system, it's easier for this parasite to take over and make a permanent home in your body (until you eradicate it). In the same study, it was also shown to mess up your oxidant-antioxidant systems causing oxidative stress and aging. Not great news.
DIAGNOSING BLASTOCYSTIS HOMINIS
Stool (fecal) exam. This test looks for parasites or their eggs (ova).
Endoscopy. If the fecal exam turns up inconclusive, your doctor may order this test.
Blood tests. A blood test that can detect blastocystis is now available.
HOW TO GET RID OF BLASTOCYSTIS HOMINIS
Antibiotics are usually used for "blasto" infections. The most commonly used is metronidazole, which has a success rate of 80%, according to research. When that doesn't work, another antibiotic, Trimethoprim/sulfamethoxazole (TMP-SMX), is used. The TMP-SMX is really effective in adults, but not very effective at all in children. Nitazoxanide is effective for infections in children.
However, if you're wanting to avoid antibiotics, a couple of Chinese herbs have also been shown to be fairly effective: Brucea javanica (common names: Macassar kernels, java brucea, and kosam) and Coptis chinensis (Chinese goldthread). Use of these herbs alongside a lactose-free and high fiber diet can be helpful in creating an environment that is unfriendly to this parasite. However, it's not known how you'll do on these herbs with histamine intolerance, and of course please consult with a doctor.
The probiotic strain, Saccharomyces boulardii (250 mg twice daily for 10 days) may also be helpful in the eradication of Blastocystis hominis. In a study of children with the infection, Saccharomyces boulardii was comparable to the antibiotic Metronidazole and had a parasitical cure rate of 94.4% at the end of the treatment (versus 93.3% cure rate in the antibiotic group).
HIT THE RESET BUTTON

Step one in fighting Blastocystis hominis may be to just focus on your nutrient-dense, low histamine, anti-inflammatory diet and restore your body's ability to fight for itself. Check out my complete histamine reset with recipes and lifestyle strategies to balance histamine levels and get your body on the path to healing: 28-Day Histamine Reset.
———REFERENCES———
Chandramathi, S., Suresh, K., Sivanandam, S., & Kuppusamy, U. R. (2014). Stress Exacerbates Infectivity and Pathogenicity of Blastocystis hominis: In Vitro and In Vivo Evidences. PLoS ONE, 9(5), e94567. http://doi.org/10.1371/journal.pone.0094567
Dinleyici, E. C., Eren, M., Dogan, N., Reyhanioglu, S., Yargic, Z. A., & Vandenplas Y. (2011). Clinical efficacy of Saccharomyces boulardii or metronidazole in symptomatic children with Blastocystis hominis infection. Parasitology Research, 108(3), 541-5. doi: 10.1007/s00436-010-2095-4. Epub 2010 Oct 5.
Kilic, E. Yazar, S., & Saraymen, R. (2004). Serum zinc and magnesium levels in patients with blastocystosis. Biological Trace Element Research. 98(1), 21-26. Retrieved from: https://www.ncbi.nlm.nih.gov/pubmed/15051897
Mirza, H., Wu, Z., Kidwai, F., & Tan, K. S. W. (2011). A Metronidazole-Resistant Isolate of Blastocystis spp. Is Susceptible to Nitric Oxide and Downregulates Intestinal Epithelial Inducible Nitric Oxide Synthase by a Novel Parasite Survival Mechanism . Infection and Immunity, 79(12), 5019–5026. http://doi.org/10.1128/IAI.05632-11
Nishio, A., Ishiguro, S., & Miyao, N. (1987). Specific change of histamine metabolism in acute magnesium-deficient young rats. Drug-Nutrient Interactions, 5(2), 89-96. Retrieved from: https://www.ncbi.nlm.nih.gov/pubmed/3111814
Sekar, U., & Shanthi, M. (2013). Blastocystis: Consensus of treatment and controversies. Tropical Parasitology, 3(1), 35–39. http://doi.org/10.4103/2229-5070.113901