Don't forget to check out part 1 of this Thanksgiving meal…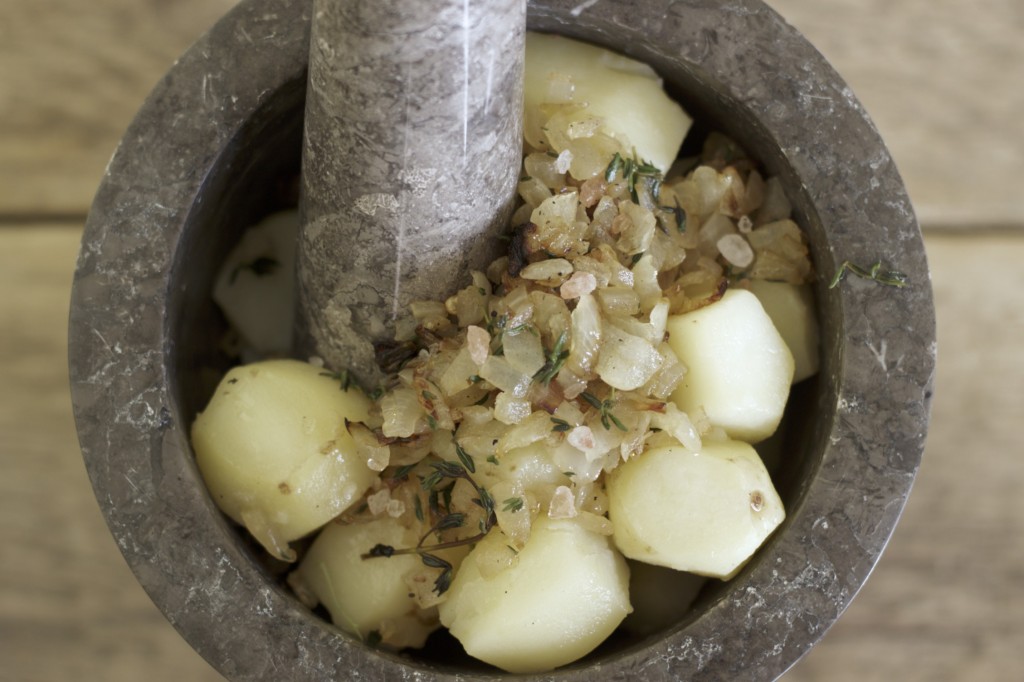 Smashed Jerusalem Artichokes w/Healing Herbs
Ingredients
4-8 cups scrubbed or peeled jerusalem artichokes, chopped
4 medium shallots or 2 onions, chopped
thyme, to taste
basil, to taste
garlic, to taste
olive oil
Preparation
Parboil the chokes.
Meanwhile, sauté the shallots or onions, thyme, garlic and basil.
Toss in the jerusalem artichokes and sauté for a few more minutes.
Withdraw from the heat and use either a potato masher or a pestle and mortar (as I did) to lightly smash the potatoes.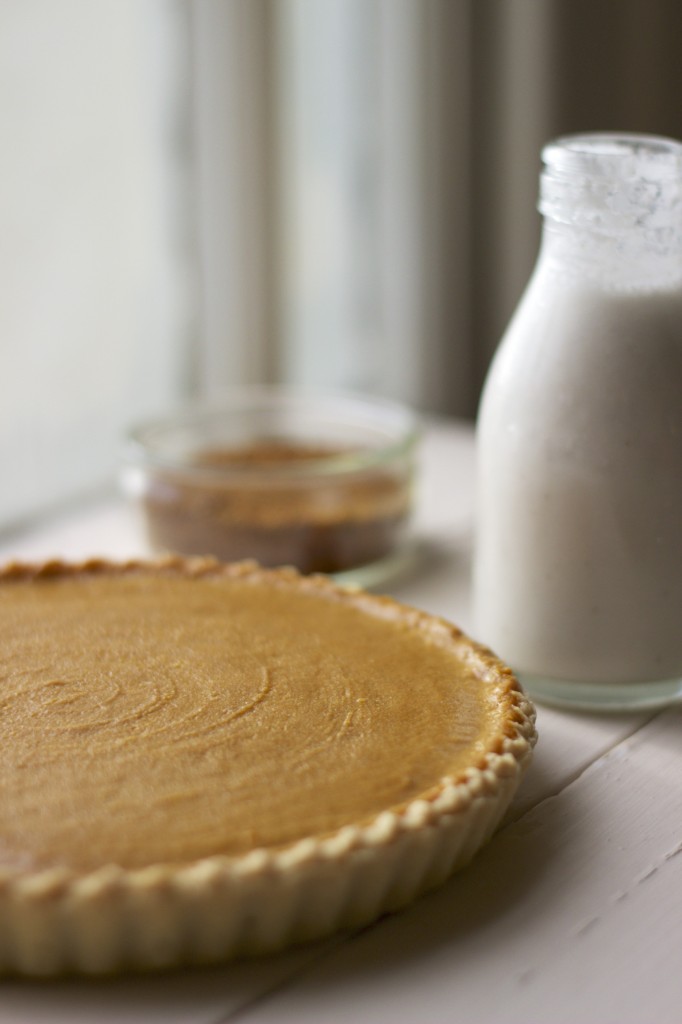 Butternut Squash Pie
I was never a baking aficionado. By the time I got stuck into cooking (I used to pride myself on barely knowing how to boil an egg), I was already on the low grain bandwagon, before committing to pretty much going almost totally grain free (and certainly totally gluten free). So for something as precious as the crust of your Thanksgiving pie, I'm sending you to an expert – Gluten Free Girl. Her 3, 2, 1 pastry method is pretty fool proof – with a few caveats!
Or you could make your own paleo crust…
My instinct is always to make raw pies. They're healthy and delicious – requiring no eggs. Problem is, they're an acquired taste, and it's unlikely that families will greet them with anything but suspicion on Thanksgiving.
My second personal preference is to go flour-free, but I recognise that most people are still eating it, and if going flour-free, the pie would best be left to firm up overnight in the fridge. Though I'm always talking about not eating leftovers, I will eat pretty much most things that were cooked that day. For me 18 hours is where it gets a little dicey…
I really recommend trying this recipe a few days in advance (maybe put together a mini pie, or freeze it for a later date), as you don't want to ruin your Thanksgiving if something goes wrong.
The ingredients of this pie are antihistamine, anti-inflammatory, low oxalate and paleo.
Creamy coconut is easy to make at home. Crack open a mature coconut. Chop it up into smaller bits and then toss into a powerful blender (I use a Vitamix) with about a cup of water. Buzz and then strain in a nut milk bag.
Pour into a bowl and allow to settle somewhere cool. In about an hour (less if it's cold), you'll see that the really creamy stuff has risen to the top. Scoop up as much as you can. The layer that forms again once you've scooped it all up is also great, but more watery.
For the sugar I chose to use my favourite new find – Coconom. This great stuff has added organic juiced ginger, tamarind and turmeric.
LOVE it!
If you can't find it in your area, I would try a little freshly (finely) grated ginger and turmeric. Again, please try this recipe ahead of time…
Ingredients
1 medium butternut squash, peeled/seeded and oven roasted till soft
1/4 cup (creamy) coconut milk
2 eggs (I used duck eggs but you can use what you like)
1/2 cup sorghum flour (paleo, medium oxalate)
1/2 cup coconut sugar (I used Coconom Turmeric & Tamarind)
fresh raw vanilla, to taste (as tolerated)
Preparation
In a medium bowl mix the roasted butternut squash, creamy coconut, eggs, flour, sugar and vanilla.
Pour into your pie shell and bake at 360F/180C till firm, but cooked through. Should take between 45mins and an hour, depending on your oven.
Hope you enjoy the recipes!
Don't forget to…
Please make your Amazon purchases though my site – this costs you nothing extra, but allows me to continue providing countless hours of research and monthly recipes to you for free! You'll find everything I talk about on this site or in my books in the "SHOP WITH US" drop down menu.
Join my mailing list for more recipes, to be the first to know when registration for my low histamine webinar opens, and for a 10% discount on my books!
Take a peek at my low histamine and antihistamine cookbooks for more high nutrient recipes.