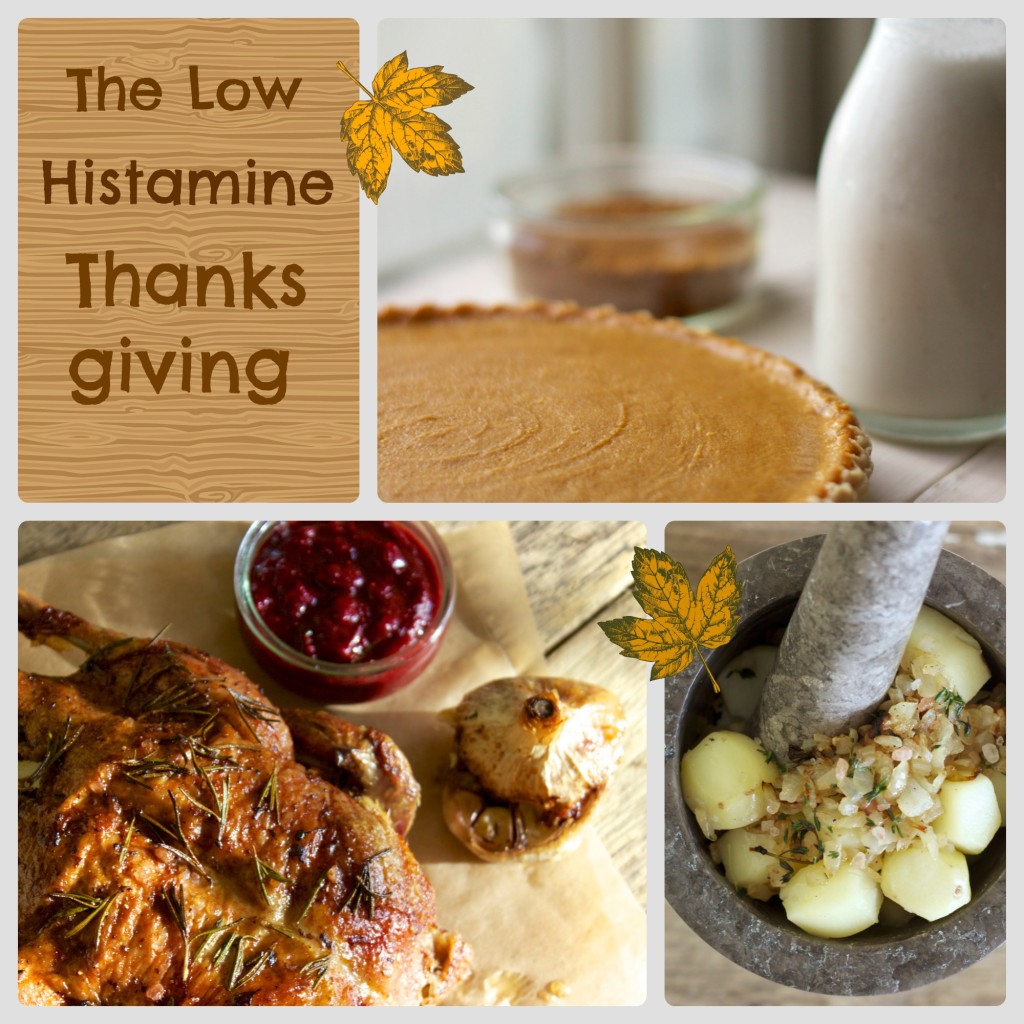 As those of you who checked out my histamine intolerance supplements video will know, I sound American, but not so much so that you can't tell I'm not actually from the states.
It has definitely confused people over the years.
My phonetically accurate pronunciation of Arkansas (Ar-Kan-Zas) caught my supervising editor at CNN's political unit in DC by surprise. I had been successfully blending in till that point – my accent was that strong.
I am however not American, in the slightest. My background is European/Mid Eastern and I grew up in Spain.
But some of my happiest family meals took place in Washington DC with my very favourite third cousin/auntie/surrogate mom, HM, who taught me to love Thanksgiving. A wonderful cook, homemaker, mother and yoga enthusiast (who took me to my first ever ashtanga class), HM's Thanksgivings can't be topped – but I certainly had fun trying!
Sadly, having spent three hours cooking – the alternately overcast and blindingly sunny weather foiled my efforts to photograph what was a really lovely lunch…
My Thanksgiving Menu
Low histamine, low oxalate, paleo, gluten free, dairy free
Roast Duck w/Rosemary Garlic Jus
Juicy Stuffing (from the upcoming Get Juicy Cookbook)
Secret Cranberry Sauce
Smashed Jerusalem Artichokes w/Healing Herbs
Gluten free Antihistamine & Anti-inflammatory Butternut Squash Pie (Dairy Free)
It's quite a mouthful, so I've decided to split the recipe into two to make it more manageable! Part two will be out in just a few days, in plenty of time to head to the supermarket for Thanksgiving!
Why duck?
Well, I cooked Thanksgiving lunch in early November, somewhat on the spur of the moment, and I live with a vegetarian.
A butterball turkey for one person seemed inadvisable. Aside from that, I'm a big duck fan!
I chose Jerusalem artichokes for their pre-biotic and anti-inflammatory properties [1] (as well as flavour of course!) and butternut squash for dessert because pumpkin appears on some lists as high histamine, while butternut squash is not only low histamine, but also possesses antihistamine and anti-inflammatory properties [2]. I chose to stick with traditional cranberry because I've never had a problem with it and it doesn't appear on most lists. You could easily go for blueberry or apple for this recipe – both would be delicious. Cranberries possess many anti-inflammatory properties [3].
I went a little crazy with a new ingredient – Coconom ginger coconut sugar and Coconom tamarind turmeric coconut sugar. WOW. They're basically raw coconut sugar with freshly squeezed organic juices of ginger, tamarind and turmeric!
There's an incredible antihistamine and anti-inflammatory ice-cream coming up soon made with these – absolutely blew me away!! Drooling again thinking about it…don't forget to sign up to my mailing list to make sure you don't miss it!
But, as always, I'm getting ahead of myself.
Down to business…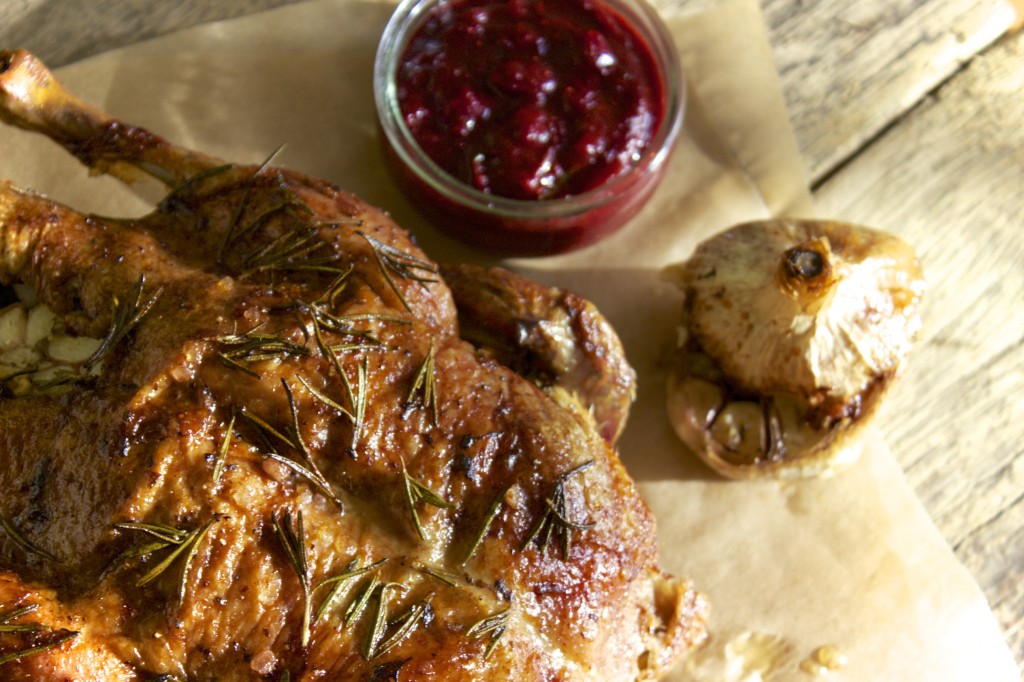 Roast Duck w/Rosemary Garlic Jus and Juicy Stuffing
Serves 2
Inspiration for this recipe from the Gressingham duck folks here in the UK.
Ingredients
1 duck
1 head garlic, chopped in half
handful rosemary sprigs
olive oil
salt and pepper
1-2 tbsp coconut nectar (optional)
Preparation
Pre-heat the oven to 200C/390F.
Pat the duck dry. Remove the giblets if still inside. Pierce the back legs a few times with a fork, on each side.
Place the duck on a baking tray. Spoon on the coconut nectar (if using) followed by a drizzle of olive oil.
Add the garlic to the tray, then sprinkle everything with rosemary, pepper and salt.
Bake for 45 minutes, basting along the way.
I then turned mine around and baked for another 45 minutes. You'll have to check your cooking time according to the weight of your duck. There's more info and a great tutorial here. You'll know the duck is ready if, when pierced, the juices run clear.
Remove from the oven and allow to sit for 10 – 20 minutes.
Juicy Stuffing
Serves 2
This recipe is from the upcoming Get Juicy book – a collection of antihistamine and anti-inflammatory juicing leftover recipes. Please use your judgement in adjusting this recipe – in the book I use it as a salad crouton recipe – but I loved it as stuffing!
Ingredients
1 head Broccoli
2 zucchini
1 cup arugula/rocket
2 carrots (omit if very low oxalate)
1 onion or large shallot, chopped
1 clove garlic
thyme
basil
rosemary
nigella sativa seeds
1/2 cup Flour (I use rice or chickpea – try sorghum for low oxalate and paleo)
2 eggs (or one duck egg – many with egg allergies can tolerate them but please check with your doctor)
4 tbsp olive oil
Preparation
Juice together…
Broccoli
Zucchini
Arugula/rocket
Carrot (use cucumber if low oxalate)
Then…
Collect the roughage from the broccoli, arugula, carrot and zucchini juice.
Saute the onion/shallot, garlic, thyme, basil and nigella till fragrant. Add in the juice roughage.
Tip into a baking dish, add in the eggs, flour and oil. Mix. Drizzle with a bit of duck fat/jus and bake at 180C/380F for about 30 minutes.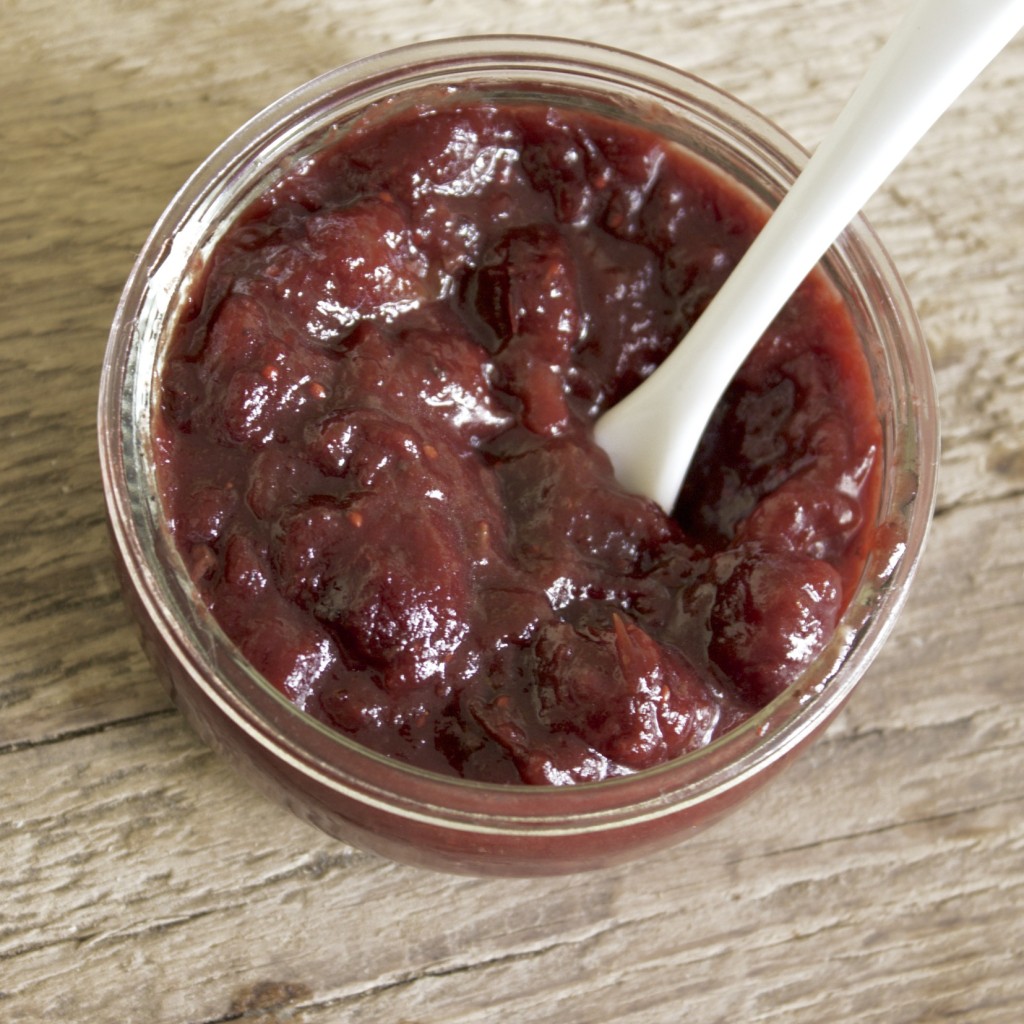 Cranberry Sauce
Serves 2
Ingredients
1 cup fresh or frozen cranberries
1/4 cup ginger coconut sugar (I used Coconom – you can use coconut sugar and a little fresh grated ginger)
1/4 cup water
squeeze of fresh lemon
1-2 tbsp duck fat (optional – really incredibly tasty though!)
Preparation
Place the cranberries in a small pot with the water. Bring to the boil.
Lower to a simmer and add in the coconut sugar (and grated ginger if using), stir till dissolved. (I recommend using the ginger – gives it extra zing!)
Squeeze in the lemon. The mixture should start firming up now.
Optional – stir in a little duck fat/jus from your roasting duck (I highly recommend this!)
Be sure not to miss part two – sign up to my mailing list (more recipes and research too)!
And don't forget to check out the Anti-Cookbooks (Paleo and regular) for a six page list of antihistamine and anti-inflammatory foods…
[3] http://www.cranberryinstitute.org/news/PR/PR100605.htm