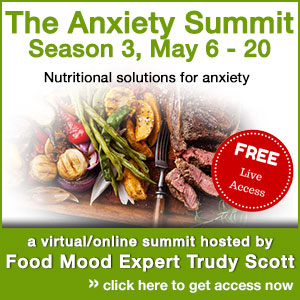 I suffered from severe anxiety for most of my life. From shaking like a leaf during social situations, to all out vertigo and nausea in high stress work environments, to severe palpitations while chilling on the sofa (in other words for absolutely no logical reason whatsoever). I went through it all.
The low point anxiety-wise was when I was forced to give up driving due to increasingly severe attacks and what seemed like the beginning stages of agoraphobia.
A cocktail of medications only made me worse, driving my anxiety to new highs – literally – I suddenly began experiencing manic episodes in addition to the anxiety, and psychotherapists were flummoxed as to what was going on with me.
I'm happy to say that my life-long depression, anxiety and newly acquired bipolar disorder (according to the shrinks anyway!) all resolved thanks to the lifestyle and diet changes I discuss in my chat with Trudy Scott for her wonderful Anxiety Summit.
In addition to myself, and Dr. Ben Lynch of MTHFR.net who kindly introduced Trudy and I, you'll find a number of speakers covering many aspects of natural anxiety treatment.
Details below…
Do you have anxiety or feel stressed and overwhelmed?
Do you get panic attacks?
Or feel awkward or uncomfortable in social situations?
Do you have obsessive thoughts or behaviors?
Do you have that busy mind that won't switch off, negative self-talk and/or problems sleeping?
What about emotional or stress eating?
Or do you know someone who does?
Or do you work with clients or patients who have these symptoms?
Anxiety is on the rise and it can often be completely eliminated by addressing nutritional deficiencies and biochemical imbalances, removing toxins, improving the gut, addressing hormonal imbalances and eating real whole food!
My colleague and friend, Food Mood Expert Trudy Scott, is hosting a virtual FREE telesummit called, "The Anxiety Summit." She is the author of "The Antianxiety Food Solution: How the Foods You Eat Can Help You Calm Your Anxious Mind, Improve Your Mood and End Cravings" and is on a mission to share the amazing healing powers of food and nutrients for anxiety and mood issues.
Between May 6 and May 20, 2015, she will be interviewing world-class experts and opinion leaders on the topic of anxiety and food.
Here are just a few of the amazing speakers and topics:
– Dr. Daniel Amen MD, "The Brain Warriors Way to Attacking Anxiety, Depression and Aging"
– Ann Louise Gittleman PhD, CNS, "The Parasite/Anxiety Connection"
– Julia Rucklidge PhD, "What if… Nutrition could Treat Anxiety and Depression?"
– Rebecca Katz MS, "Your Brain on Food: The Science and Alchemy of Yum for Alleviating Anxiety!"
– Lierre Keith, "Anxiety, Depression, and the Vegetarian Diet"
– Kaayla T. Daniel PhD, "Real Food for Anxiety: Butter, Broth and Beyond"
Click this text to check out the complete speaker lineup.
You'll hear the science and learn practical transformational tools you can apply right away.
Once you sign up (again, it's free!), you will also receive a link to the page where you can download amazing gifts from many of the speakers, and get access to questionnaires and research.
Here are just a few of the gifts (and more are being added each day)
"Top of the World" – a custom song co-created by Trudy and Amma Jo
"Brain Warrior's Way": a 3-part online video series – from Dr. Daniel Amen
"Parasites – Still the Greatest Masqueraders of All Time" – from Ann Louise Gittleman
Folate video presentation along and methylation pathway planner – from Dr. Ben Lynch
"Your Health Destiny" – sneek preview chapters from Dr. Eva Selhub
"Paleolicious Snack Ideas" – from Dr. Jill Carnahan
"The Backpain Breakthrough" – series of videos by Joe Tatta
"Be Souper: 7 Ways to Boost Your Energy and Health with Broth" and broth recipes by Kaayla Daniel
The MindBody Toolkit, the first 3 chapters – from Dr. Kim D'Eramo
Is Anxiety Scaring You to Death? from Dr. Kim D'Eramo
The Pose that Reverses Depression video – from Dr. Kim D'Eramo
Instant Elevation Technique video – from Dr. Kim D'Eramo
The 3 Things Keeping You Sick and Tired self-diagnostic quiz – from Dr. Kim D'Eramo
"Fooducator-approved movies you absolutely have to watch" – from Lebby Salinas
"How to Rebalance Your Hormones with Food" and Recipes – from Magdalena Wszelaki
"Micronutrients For Eliminating Anxiety" – from Mira and Jayson Calton
"10 Ways to Balance Serotonin Naturally" – from Dr. Peter Bongiorno
"Grainflammation and Anxiety" – from Dr. Peter Osborne
"The Power of Yum" – from Rebecca Katz
"Making Fermented Vegetables" video series – with Summer Bock
"Taster of My High Nutrient Diet" ebook – by Yasmina Ykelenstam
A PERSONAL Micronutrient Sufficiency Analysis from Mira and Jayson Calton, micronutrient specialists, authors of Naked Calories
3-Chapters of OUR BEST SELLING BOOK: Rich Food, Poor Food – Mira and Jayson Calton, micronutrient specialists, authors of Naked Calories
Micronutrient Miracle Guide to Reducing Stress, Anxiety and Depression from Mira and Jayson Calton, micronutrient specialists, authors of Naked Calories
NUTREINCE SAMPLE PACK & COUPON from Mira and Jayson Calton, micronutrient specialists, authors of Naked Calories
Fab 14 and Terrible 20 Wallet Guide from Mira and Jayson Calton, micronutrient specialists, authors of Naked Calories
e-report on Micronutrient Competition from Mira and Jayson Calton, micronutrient specialists, authors of Naked Calories
You will also have the option to purchase the MP3s and/or transcripts (digital or CD version) of all the interviews if you'd like to keep them for your learning library.
I hope you'll join the summit!
ps Listen from the comfort of your own home for FREE! And listen from your computer if you prefer.
pps. Be sure to share this information with family, friends and colleagues who you think may benefit from this summit, here's the link: http://www.easywebautomation.com/app/?af=1625260
The Anti-cookbook and all liquid Anti-Detox Book, don't treat any conditions, but are high in the high nutrient antihistamine and anti-inflammatory ingredients that have been instrumental in helping me feed myself on a limited diet. The Anti-cookbook features a six page list of antihistamine and anti-inflammatory foods and comes in regular and Paleo.
The Low Oxalate Cookbook features antihistamine and anti-inflammatory rich recipes.
Don't miss the Low Histamine Beauty Survival Guide for non-toxic beauty tips, the skinny on histamine releasing (mast cell degranulating) beauty ingredients, antihistamine and anti-inflammatory beauty alternatives and the top brands natural brands I've found.
Take a peek at my other low histamine and antihistamine cookbooks for more high nutrient recipes and sign up to my mailing list for freebies.