Suffer from make up allergies/reactions? Ever noticed nudes bother you less? Me too! An interview with Ilia Beauty founder Sasha Plavsic at the fabulous Being Content in London revealed why.
Ilia's Neon Angel has my vote as one of the top all-time greats of the natural beauty worldI asked Sasha if she thought make up allergies were the driving force behind the sudden global interest in natural beauty. I mean, in a world where the Gisele Bundchen's of the modeling world are ditching the mainstream and flocking to natural brands like RMS, surely something's gone awry?

Sasha reckoned it was more likely that women are just better informed nowadays and have begun to question why they'd use dirty brands (my words not Sasha's!) over natural ones when they can now get the same texture, staying power and on trend shades hitting the catwalk each season.

This season's Ilia line was created to be more of a fashionista's indulgence than your average Birkenstock clad granola muncher's. Interestingly Sasha tells me that the organic angle isn't their main selling point (their line is up to 85% organic). They're now competing with the titans of the cosmetics industry based on their gorgeous colour palette. It's obviously working – they'll be setting up shop in Barney's in New York City – certainly not something I expected to hear! It makes me very hopeful that we'll soon see other brands breaking free of their hippy shackles.

Check out their stunning Voila lipstick below. Nothing like a neon-ish coral to bring out the beach bunny in me.
Ilia Beauty's Voila coral lipstick.
Unfortunately a dab of this shade confirmed what I already knew – there was no way I could wear it without getting a very bad headache. Standard for me with my weirdo histamine medical condition. Sasha was kind enough to enlighten me: nude lipsticks contain far less pigment than any other shades. Red colours may affect some people simply because of the sheer quantity of pigment required.
I'm guessing it's also because we're really not meant to be painting on layer after layer of beetle blood onto our lips every day. Though Sasha pointed out that some companies also use red food dye instead.
How do dirty make up and cosmetics drive up histamine levels? Some studies point to up to 60% of what we put on our body being absorbed into our bloodstream. I doubt our bodies would react very well if we ate the cosmetics, so why put them on the skin? I did ask Dirk (Budka) a few times about why my histaminosis/histamine intolerance flares up when I wear most make up. In my case it's a combination of high histamine/potential make up allergies and a bad case of hypersensitivity disorder. I've said it before, if you're not improving on a low histamine diet (following diagnosis and following the low histamine list) then you should really examine what you're putting on your skin. It took me years to accept that cosmetics were doing me in. You can read more about that in my upcoming Low Histamine Beauty Survival Guide.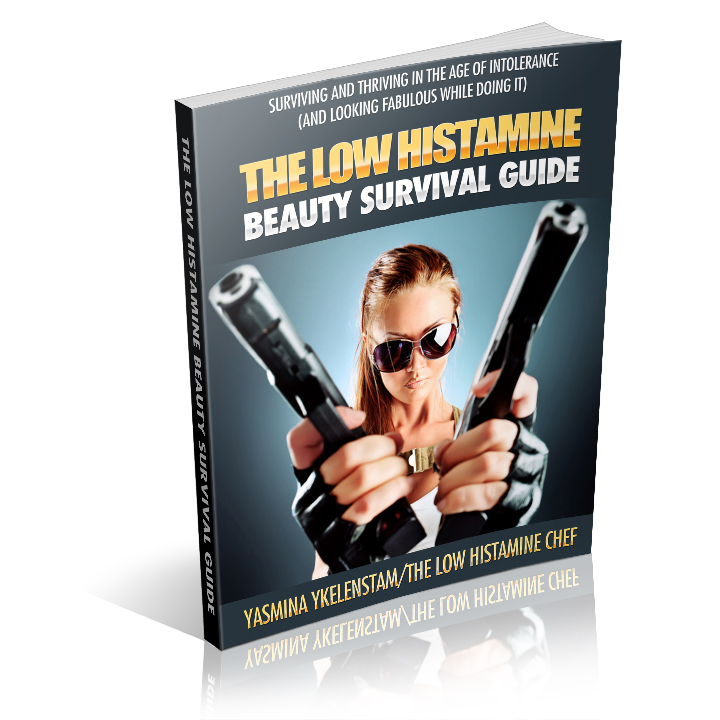 Thing is I can't honestly say I won't run back to Being Content on Monday (or order online) to pick up a tube of Ilia's Voila. It's just too stunning not to. Headache be dammned, I've done much worse in the name of beauty! Or…I could just whip out my brand new tube of Ilia's 'Humble Me' – a tasteful nude with my name all over it. So sue me, I love a sexy nude lip.
You can pick up a tube of Ilia in your shade at Being Content on Bulstrode Street in London or from their online store. You'll probably bump into me there…and don't forget to sign up to my newsletter for a 10% discount on the upcoming Low Histamine Beauty Survival Guide.