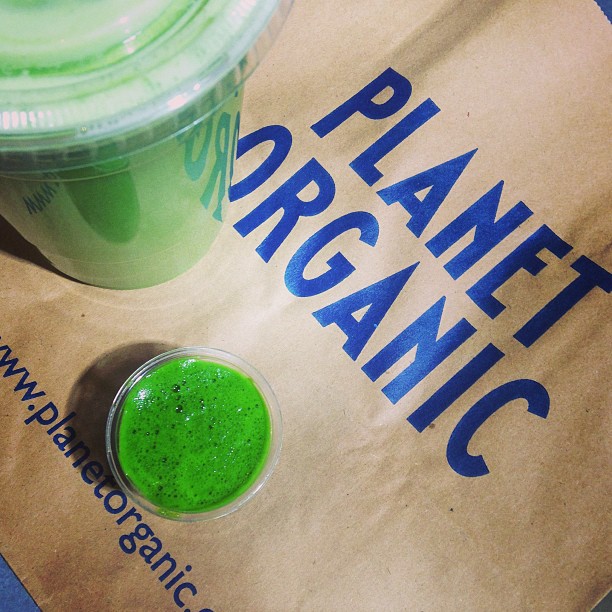 Ok, I'll fess up.
I caved in to my need for a painkiller today.
In my defence, there are better starts to the day than smashing your foot into a cement wall.
And yet I stumbled out onto the blistering cold London streets, somehow convinced this was a better plan than kicking back at home for the day.
Maybe I'd had enough of kicking?
It took me about five steps to realise my poor little pinky toe was irrevocably broken, but by then I was on the bus, and so committed to my journey.
By the time I reached Notting Hill I was quite convinced I'd made a monumental mistake and needed to get some meds asap.
In other words, painkillers were needed, post haste.
Returning home wasn't an option and so I hobbled towards my salvation – Planet Organic on Westbourne Grove.
The lady who served me was sympathetic to the lost "American" –
"You need a pain killer? Get yourself to Boots (a UK pharmacy)."
I looked at her uncomprehendingly – she was new to the store, and therefore unaware that it's my home away from home and as such, we weren't on the same page here:
"Uh, no, I need pain killing, pimped out, salicylate rich, inflammation busting vitamin K fennel, apple, cucumber, kale and broccoli juice."
"Four of 'em please!"
Suddenly smiling, she hooked me up with four enormous painkillers in a glass.
CLICK HERE TO CREATE YOUR OWN PERSONALISED HEALING HISTAMINE PLAN.
I'd like to say I had time to sit and luxuriate in my newfound juiciness – but truth be told, I was in so much pain that I would have shotgunned them down if I could. One after the other they went.
Now, despite having written books on the healing properties of anti-inflammatory antihistamine foods, and yet I'm still happily, thankfully, a little surprised, each time I personally experience it on the spot!
I'm glad to say that soon I was able to get moving to my next port of call, in far less pain than before.
Placebo?
Maybe – but consider this research on the following foods (as outlined in the Anti-Cookbook):
Fennel has been found to be as powerful a menstrual painkiller as common NSAIDs (pharmaceutical painkillers) [1].
Cucumber is a powerful natural painkiller [2].
Kale is high in inflammation busting vitamin K [3].
Broccoli is such a powerful anti-inflammatory that it has now been proven to prevent osteoarthritis, something that could begin with a simple broken toe [4].
Having been fed a diet rich in pain killers and fever reducers (shown to cause asthma in children), antibiotics, antihistamines, and so very many other meds that broke my body, I'm in no hurry to submit to them again.
Don't forget to sign up to my newsletter to be the first to know when registration opens up for webinars, histamine wellness retreats and workshops in Europe and the United States, to get great freebies like antihistamine and anti-inflammatory recipes and lifestyle tips.
The Anti-cookbook, while it doesn't treat any conditions, due to its high nutrient, antihistamine and anti-inflammatory ingredients, has been instrumental in helping me feed myself on a limited diet. It features a six page list of antihistamine and anti-inflammatory foods. It comes in regular and Paleo.
The Low Oxalate Cookbook features antihistamine and anti-inflammatory rich recipes.
Don't miss the Low Histamine Beauty Survival Guide for non-toxic beauty tips, the skinny on histamine releasing (mast cell degranulating) beauty ingredients, antihistamine and anti-inflammatory beauty alternatives and the top brands natural brands I've found.
Take a peek at my other low histamine and antihistamine cookbooks for more high nutrient recipes.
If you've found this information useful I'd appreciate your support (at no extra cost to you!) – please check out my online store for your health foods, supplements, kitchen items and beauty product purchases. Affiliate sales through my online store go towards maintaining the website, funding travel to interviews and purchasing all the lovely foods for my free online recipes. You'll find these items in the "Shop with us" drop down menu on my homepage.
Please don't forget antihistamine, pain killing foods can still hurt us, so please always check with your doctor before adding new foods to your diet.
—————–REFERENCES—————
[1] http://www.greenmedinfo.com/blog/fennel-painful-periods-clinically-proven-drug-alternative
[2] https://healinghistamine.com/the-anti-cookbook-antihistamine-anti-inflammatory-recipes/
[3] https://healinghistamine.com/the-anti-cookbook-antihistamine-anti-inflammatory-recipes/
[4] http://www.express.co.uk/news/health/425129/New-hope-for-arthritis-cure-Broccoli-key-to-beating-the-disease