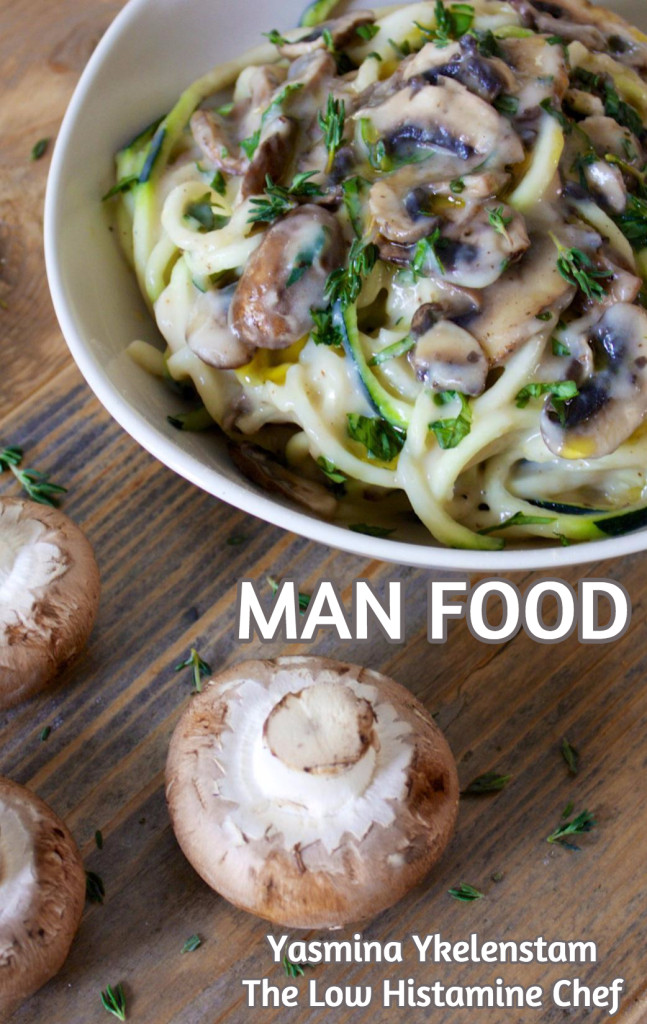 Please note: this book, as all my others, comes in digital/ebook format only.
Hello boys!
Here it is finally: man-sized recipes for histamine intolerance and mast cell activation.
Geared towards guys, ladies with healthy appetites and anyone who loves to work out, yoga like they mean it, or just generally load up on healing nutrients.
This book, like the Anti-Cookbook and Anti-Detox books, is bursting with phytonutrients, particularly the the bioflavonoids quecetin, luteolin and rutin, concentrated extracts of which have been shown to stabilise mast cells in medical studies.
This dairy and gluten free book has nut free options, and grain or grain-free offerings, you can 100% go either way. There's a section on how to substitute flours and sweeteners, and tons of information on healing inflammation through nutrition. Recipes in here feature multiple, exhaustive substitution options, as well as offering suggestions on how to spice things up for family members, or add extra calories and protein to meals.
Almost every single ingredient in this book has been chosen for its antihistamine or anti-inflammatory properties (often both).
You can make the recipes in this book as simple or as lush as you'd like. This is a book you'll grow with, adding ingredients in steps as your body heals.
This 170 page book contains a selection of breakfasts, lunches & dinners and sides.
Paleo alert: this book contains some lentils, chickpeas and white beans, which are interchangeable with each other, but cannot be totally omitted. Other than that it's pretty paleo compatible as the recipes all feature grain free options.
Please note: my books are not a medical treatment. While the aforementioned bioflavonoids have been shown to prevent mast cell degranulation and act as an antihistamine in medical studies, no studies have examined their consumption as a part of a generally anti-inflammatory diet.
It's finally here! Man Food – a high nutrient book geared towards guys, women who love to work out, yoga like they mean it, or just load up on healing nutrients.
The Anti-cookbook and all liquid Anti-Detox Book, don't treat any conditions, but feature a plethora of the high nutrient antihistamine and anti-inflammatory ingredients that have been instrumental in helping me feed myself on a limited diet. The Anti-cookbook features a six page list of antihistamine and anti-inflammatory foods and comes in regular and Paleo.
The Low Oxalate Cookbook features antihistamine and anti-inflammatory rich recipes.
Don't miss the Low Histamine Beauty Survival Guide for non-toxic beauty tips, the skinny on histamine releasing (mast cell degranulating) beauty ingredients, antihistamine and anti-inflammatory beauty alternatives and the top brands natural brands I've found.
Take a peek at my other low histamine and antihistamine cookbooks for more high nutrient recipes and sign up to my mailing list for freebies.
Please remember, even antihistamine and anti-inflammatory foods can hurt us, please always exercise caution and consult a medical practitioner before adding new foods.