Nope, no need to clean out your ears, you heard me right: low histamine ketchup – how low histamine is totally up to you.
Before you rush to fire off an email berating me for promoting high histamine foods, let me just share one of the most exciting nuggets of information gleaned from my interview with immunologist and histamine researcher Dr Janice Joneja: less pigmented fruits and vegetables are generally lower histamine (green/yellow tomatoes for example) and many of her patients do fine with them. You'll find a link to the interview at the end of this post.
Sadly tomatoes are a high oxalate food. If you, like me, are watching your ox intake, fret not, my next recipe's all about you. Even more exciting is that oxalate specialist Dr Susan Owens (of the Yahoo Oxalate Group) has agreed to an interview. You'll want to sign up to my mailing list to make sure you don't miss out on either.
Back to the main event.
The Joneja interview set my mind racing. And off to London's Borough Market I ran to score me some tomaters. My man, usually a happy participant in my dashes around the city (or foreign country) in pursuit of some foodstuff or another, was nonetheless not thrilled with being dragged this far south of the river.
Luckily we happened upon a little cider house en route (uh, need to check my terminology there) where he seemed quite happy to remain, half pint in hand, discussing organic cider brewing with the owner, while I ran around gleefully pouncing on purple cabbage, mutant Chihuahua sized peaches and copious baskets of gluten and sugar free baked goods. No, I don't eat them but I do so love to inhale them. Looking and smelling is half the pleasure of eating after all…
You'll find this recipe calls for either apple cider vinegar (I always unfiltered as I hope that some quercetin remains) or lemon. Out of curiosity (for those who don't tolerate either) I cooked up a little of the tomatoes with tamarind instead and it tasted good! Sadly because it was on the fly and in a small amount, I can't tell you how much to use. I'd try one tamarind and then taste as the ketchup cooks, adding more if needed.
Here's some of the nutritional highlights, taken from the Anti-Cookbook: High Nutrient Antihistamine & Anti-inflammatory Recipes for Health (now also Paleo):
Tomatoes: while it is true that (at least the red variety) raise histamine, there's a number of studies out there pointing to the anti-inflammatory activity of the tomato plant leaves [1], specifically through it's action on prostaglandins, while the fruit itself is high in Vitamin C, beta carotene, lycopene [2] and chlorophyll [3] – all of which have been linked to lower cancer rates.
Garlic: one of the more interesting studies I came across in relation to garlic is that it is now being studied for its potential to treat IBS [4], in addition to being anti-inflammatory, antibacterial and all the rest of the stuff I've mentioned in other recipes (just use the search bar to look up other nutritious foods).
Onion: is one of the richest sources of histamine lowering quercetin [5].
Ginger: is as potent an H2 receptor antagonist as ranitidine (zantac) [6].
Dates: possess anti-inflammatory action as well as reducing the severity of gastric ulcer [7].
Apple cider vinegar: there are of course dozens of claims as to the health benefits of ACV, in particular that it has the potential to stabilise blood sugar [8].
Please do remember that not all anti-inflammaotry foods are also antihistamine and even antihistamine foods can hurt us, so please check with your doctor before introducing new foods.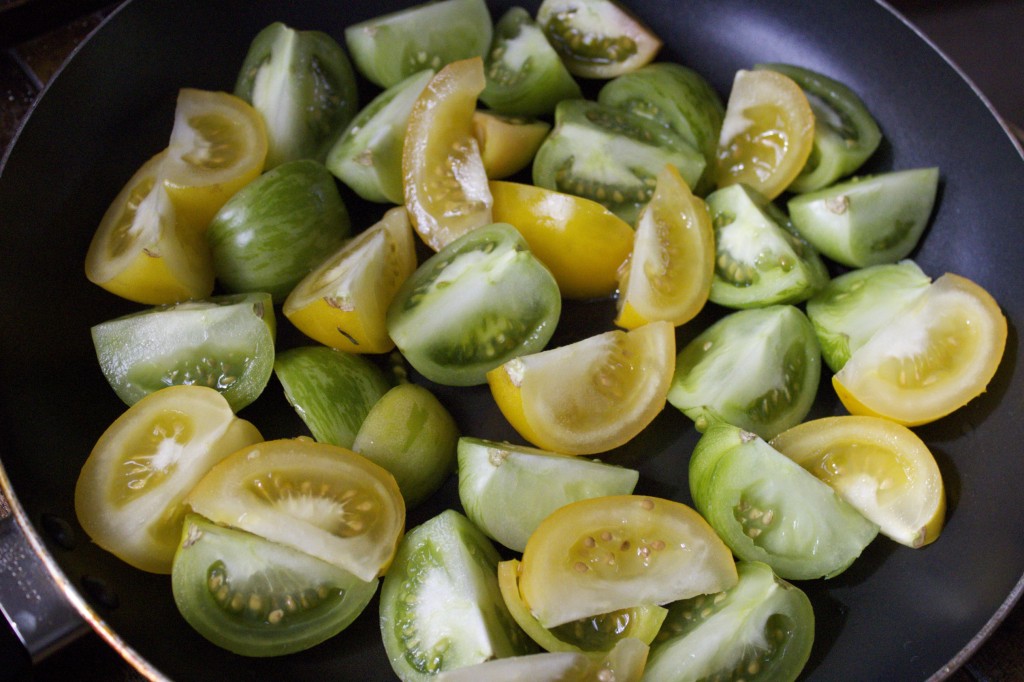 Low Histamine Tomato Ketchup
Prep Time: 5 | Cook Time: 30 | Servings: 4 – 8 | Difficulty: Easy
Ingredients:
10 medium green/yellow tomatoes, peeled and seeded
4-8 tbsp coconut sugar or 2 Medjool dates (or your choice of sweetener)
1/4 – 1/3 cup apple cider vinegar or lemon
1/2 large onion, very finely chopped
1 large clove garlic, very finely chopped
1 tbsp fresh ginger, chopped
1 red pepper or beet, juiced (optional, for colour)
Directions:
Chop up your tomatoes.
Place them in a blender.
Add a pinch of salt, the onion, garlic, ginger, vinegar or lemon, red pepper juice if using (otherwise add 1/2 cup of water) and then blend well till smooth.
Pour into a pan or a small pot. Add in the sugar (less to start with, more as needed), cover and bring to the boil before turning down to a simmer.
Stir frequently, until the sauce becomes ketchup-y. It took me 30 minutes. Increase the vinegar/lemon and sugar to taste and add a little bit of water if needed.
As I don't eat leftovers I then decided to freeze them into handy little portions using mini mason jars.
Enjoy!
You'll find the Dr Janice Joneja interview here.
References:
[1] http://www.academicjournals.org/ajb/PDF/pdf2011/16DecConf/Amid%20et%20al%201.pdf
[2] http://www.sciencedirect.com/science/article/pii/S0304423810004498
[3] http://onlinelibrary.wiley.com/doi/10.1002/jsfa.1292/pdf
[4] http://onlinelibrary.wiley.com/doi/10.1002/cyto.10133/full
[5] http://journal.ashspublications.org/content/120/6/909.full.pdf
[6] http://www.academicjournals.org/ajbr/pdf/Pdf2009/Dec/Anosike%20et%20al.pdf
[7] http://www.ncbi.nlm.nih.gov/pubmed/15814265
[8] http://www.foodnavigator-usa.com/R-D/Vinegar-beverage-shows-blood-sugar-management-potential