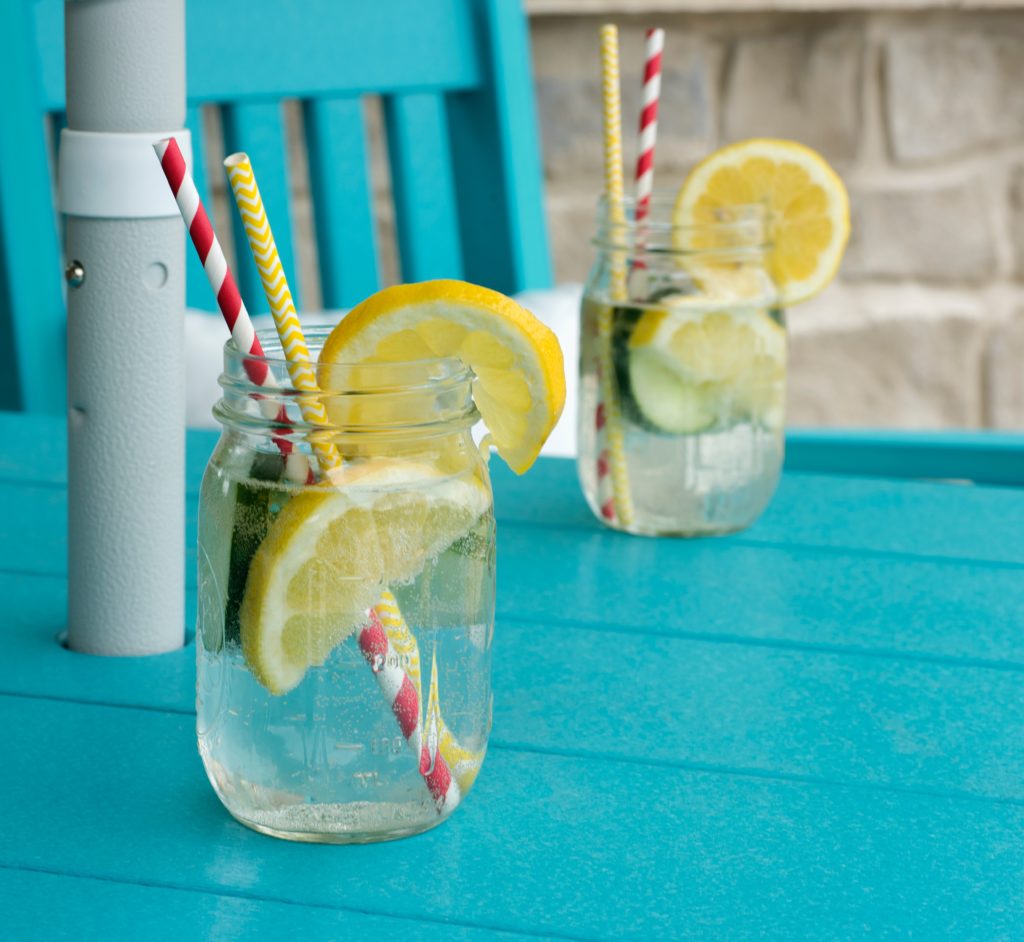 The heat of summer calls for a refreshing drink in hand. When dealing with histamine issues, the heat can completely zap us. At that point, something cold and refreshing –and more interesting than water– is definitely called for. And hey, extra points for anti-inflammatory, antihistamine ingredients. Need some inspiration? Here are 5 refreshing drink ideas for easy livin' in the summertime.
HIBISCUS ICED TEA
Hibiscus is a fun tea for summer, as it is a wonderful pink color. It's also anti-inflammatory, rich in quercetin, and helps stabilise mast cells. You can even add it to smoothies like I did in this post.
Ingredients:
6 cups of water

3 Tbsp Hibiscus flowers (loose leaf, or 9 tea bags)

Sweetener to taste

Lemon slices to garnish
Instructions
Bring water to a boil, then remove from heat.

Add the hibiscus flowers. Cover and steep for 20 minutes.

Strain tea into a large jar or desired container, add sweetener to taste, and chill.

Serve over ice and garnish each glass with a lemon slice.
Makes 6 to 8 servings.
BLUEBERRY LEMONADE
Strawberry lemonade might be out, but blueberry lemonade is equally amazing. Blueberries are rich in antioxidants, which can be really helpful for lowering histamine inflammation.
Ingredients:
2 cups fresh blueberries

4 cups cold water, divided

Sweetener of your choice to taste

2/3 cup freshly squeezed lemon juice

Lemon slices and blueberries to garnish, if desired
Instructions:
Place the blueberries, 1 cup of the water, and sweetener to taste in a blender.

Blend until the blueberries are completely pureed.

Taste and adjust sweetener if necessary.

Strain the puree through a fine mesh sieve.

Combine the blueberry puree with lemon juice and the remaining 3 cups of water. Stir and taste.

Stir in more water, if desired.

Refrigerate until chilled. Serve over ice and garnish with lemon slices and more fresh blueberries.
Makes 4 servings.
MANGO ARUGULA LIMEADE PUREE (SLUSHIE)
Mango has both antihistamine and anti-inflammatory properties. Arugula is another antihistamine ingredient which comes from the cruciferous family of vegetables. It is anti-inflammatory and has loads of vitamins and minerals.
Ingredients:
3 ripe mangoes

A handful of fresh arugula

1 1/2 cups freshly squeezed lime juice

3 cups water

Garnish: lime wedges
Instructions:
Peel mangoes and shop flesh in pieces.

In a blender, add mango pieces, arugula, lime juice, water, and sweetener and blend until smooth.

Garnish with lime wedges, and enjoy this antihistamine green slushie.
Makes 4 to 5 servings.
ICED HOLY BASIL ICED TEA (OR ICE CUBES)
As you know from some of my other posts, holy basil is an effective herb for lowering histamine levels. Holy basil iced tea is a great way to cool down while bringing histamine down. You can also just make it into ice cubes to add an antihistamine component to other drinks.
Ingredients:
6 cups of water

3 Tbsp holy basil tea (loose leaf, or 9 tea bags)
Instructions:
Bring water to a boil, then remove from heat.

Add the holy basil. Cover and steep for 20 minutes.

Strain tea into a large jar or desired container and chill.

Serve over ice or make into ice cubes.
Makes 6 to 8 servings.
TURMERIC LEMONADE WITH FRESH MINT LEAVES
Turmeric spice is rich in curcumin, an antihistamine, and anti-inflammatory compound. This turmeric lemonade is as refreshing as it is anti-inflammatory. Even the mint garnish inhibits the release of histamine from mast cells.
Ingredients:
4-5 cups water

1 1/2 tsp turmeric powder

1 1/2 tsp powdered ginger or 1 Tbsp fresh ginger root

Juice of 1-2 lemons

2-4 Tbsp tolerated sweetener (adjust to desired sweetness)

Optional stevia to sweeten more if desired

Fresh mint leaves
Instructions:
Bring water just to a boil on the stove.

Add spices and return to boil for 1 minute, then reduce and simmer for 10 minutes.

Remove from heat and allow to cool a bit. Then strain.

Pour the rest of the liquid into a pitcher along with lemon juice and sweetener of choice. Stir.

Garnish with fresh mint leaves and allow to chill before enjoying.
CONTINUING THE ANTI-INFLAMMATORY RECIPE KICK?
If you're wanting to go beyond beverages and are looking for more fun, anti-inflammatory, antihistamine recipes to add to your radar, I've got a solution for you. I've put together a complete histamine reset plan with recipes and lifestyle strategies to balance histamine levels and get your body on the path to healing: 28-Day Histamine Reset.