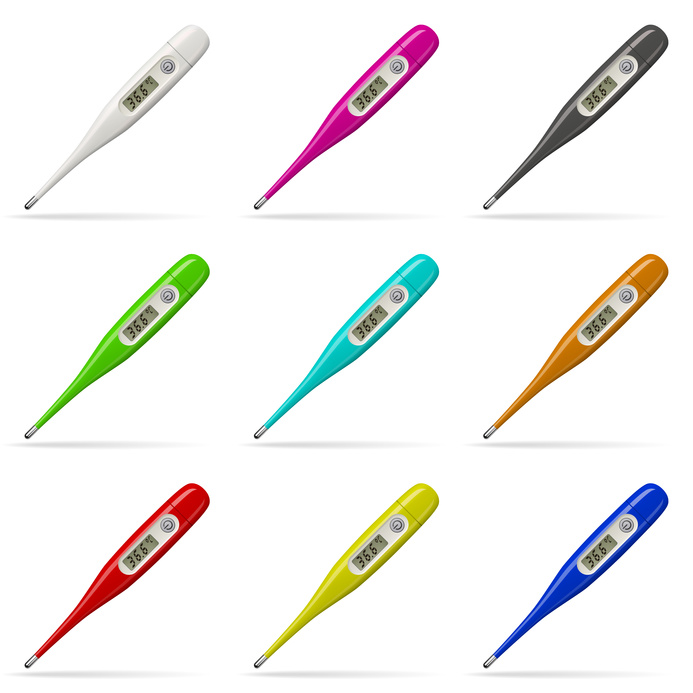 "Is it just me or is it really hot in here? Or cold? I'm now so cold that I'm shivering," does this sound familiar? My doctors and I have been quite convinced that I hit peri-menopause in my teens, and yet all blood tests came back 100% normal. After driving significant others to despair with my furnace like heat while asleep (despite claiming I've been freezing all day), I finally had an answer. Histamine, of course, affects body temperature, regulates metabolism, and appetite. Because of this, histamine is linked to obesity, but also to anorexia.
It's enough to drive you crazy really. Just when it seems like you've got a handle on histamine, it does its usual Dr. Jekyll and Mr. Hyde schtick on you again, and we're unsure which way is up.
Histamine influences body temperature by acting on H1 and H3 receptors. Translation: in order to make use of histamine, the body has histamine receptors numbering 1 to 4. They're found all over the body, in places like the brain, heart and even breasts. Antihistamine medications can block some, but not all of the receptors. Meaning that even if you're taking antihistamines, they don't block all the receptors from being affected by histamine, and so we can still have histamine inflammation symptoms while on these medications.
H1 antihistamines are Claritin and Zyrtec. H2 is Zantac for example.
DEALING WITH TEMPERATURE FLUCTUATIONS
Take your temperature to make sure it's not a fever: histamine can make us feel hot, and can raise core temperature, but do not write off an actual temperature.
Prepare: always carry a sweater, or a light beanie hat in case of exposure to air conditioning. AC can actually trigger mast cells and cause nasty reactions.
Cool down: some of my most spectacular meltdowns have occurred in hot climates. Though AC does bother me somewhat, when traveling I will take a room with AC and blast it for a few hours while I'm not there. I then use a fan to sleep with that circulates the cool air.
Use two duvets: I've learned to have two duvets so that I can throw one off in the middle of the night when histamine starts rising. If sleeping with a partner, I've seen some cooling pads you can sleep on.
Improvise on the go: some of my happiest moments have been splashing some cool water on my face when unable to find AC. There's also some sport headbands you can place in the fridge before going out (on Amazon) and you can also use one of those chemical ice packs (CVS) to put on your neck.
TEMPERATURE CRASH DURING A REACTION
It is not uncommon to have a very sudden (and frightening) loss of temperature when experiencing a histamine reaction. At its most extreme, it can be a symptom of anaphylaxis, so it shouldn't be written off, but for most of us it's just histamine going haywire.
My solution was to take some quercetin or an antihistamine and jump into bed immediately covered in blankets all the way up to my face. I'd then progressively relax my body and begin a meditation till it passed. This event was often accompanied by a migraine and nausea, but it would eventually pass and my body temperature would return to normal. Please don't hesitate to contact a doctor when this happens.
I cover strategies for dealing with everything histamine related in my workshops.
CLICK HERE FOR A FOUR WEEK HISTAMINE RESET WITH MEAL PLANNERS, STRESS RELIEF STRATEGIES & MORE
You'll find recipes full of foods with antihistamine and anti-inflammatory properties my books Anti-Recipes and The Anti-Cookbook
——— REFERENCES ———–
Lundius, Ebba Gregorsson, et al. "Histamine Influences Body Temperature by Acting at H1and H3 Receptors on Distinct Populations of Preoptic Neurons." Journal of Neuroscience, Society for Neuroscience, 24 Mar. 2010, www.jneurosci.org/content/30/12/4369.
Makabe-Kobayashi, Y, et al. "The control effect of histamine on body temperature and respiratory function in IgE-Dependent systemic anaphylaxis." The Journal of allergy and clinical immunology., U.S. National Library of Medicine, Aug. 2002, www.ncbi.nlm.nih.gov/pubmed/12170272.