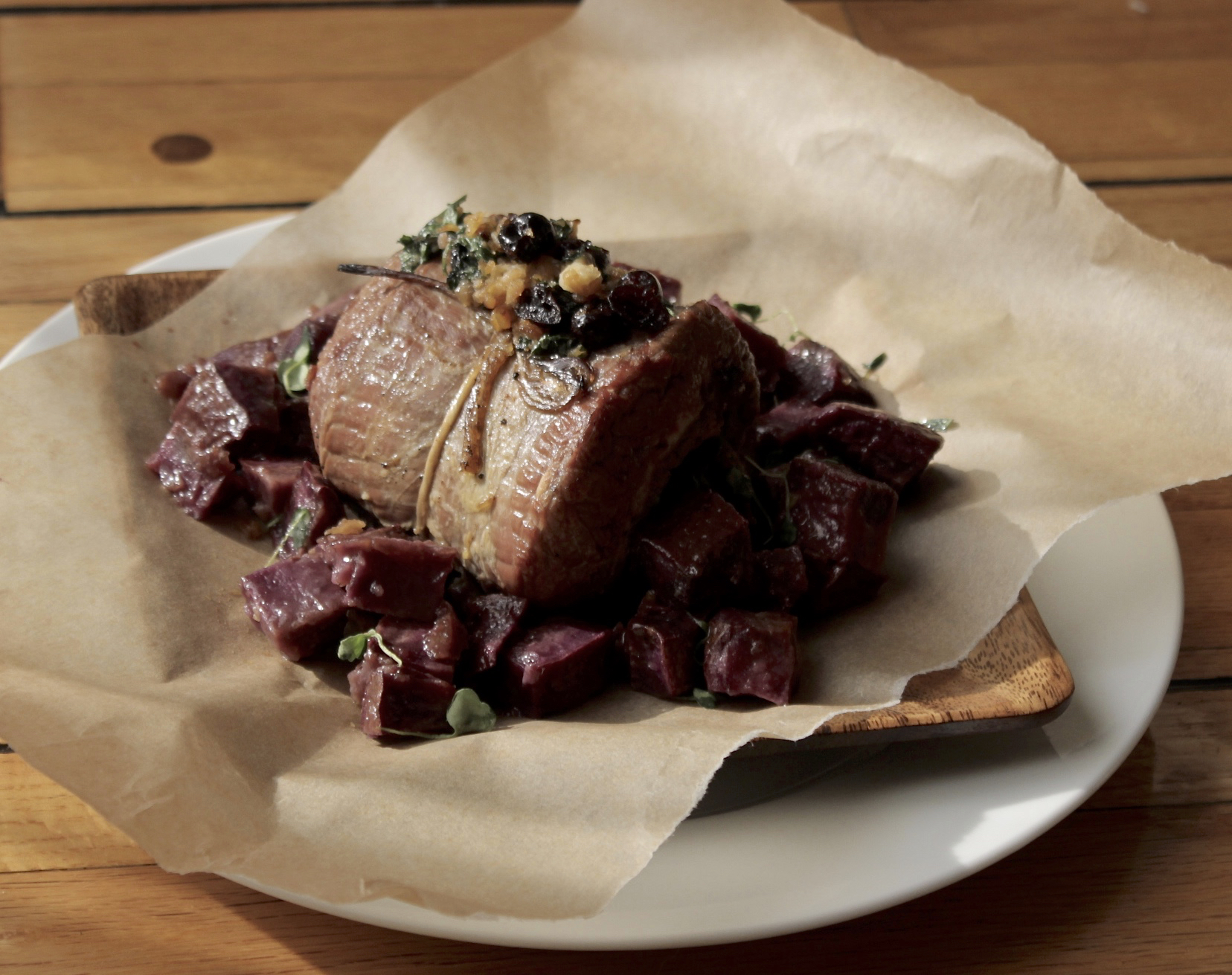 At first glance it might seem that the holidays are a complete write off when you're dealing with histamine intolerance and mast cell activation, but a little careful tweaking can really make them enjoyable.
You'll have to forgive my photos here. I've JUST moved to California from Europe, a life long dream for me. But that means I'm living surrounded by boxes and am having to rebuild my photography studio from scratch. And of course, being the ditz that only I can be when it comes to moving, I forgot my camera in Spain! Thankfully I was finally able to borrow one for the final photo but we'll just have to deal with my instagram shots today sorry guys, I'll do better next time I promised.
Roasted Beef or Lamb Roulade
Serves 2 / Prep time: 15mins / Cooking time: 30mins
I recommend asking the butcher to butterfly the lamb for you and please feel free to substitute any butterflied poultry instead.
Ingredients
2 small – medium butterflied legs of lamb
2 cloves garlic
1 tbsp fresh rosemary leaves
1 inch fresh ginger root, minced
2 tbsp olive oil
1 tbsp cooked quinoa
1 cup chopped cranberries (you can use blueberries or blackberries also)
1-2 shallots, chopped
1-2 tbsp lemon juice
Directions
In a skillet add the lemon juice and the chopped cranberries and cook over medium heat about 5 minutes until the cranberries just start to break down. Add the shallots, ginger, rosemary and garlic and continue cooking over medium high heat until your shallots are soft but not mushy. Stir in your cooked quinoa.
Line a baking sheet with parchment paper. Lay your Butterflied meat on the sheet and rub both sides lightly with olive oil. Spread your cranberry/quinoa mixture over the meat, leaving a ½ inch empty space at the bottom. Starting at the top of the meat, tightly roll the meat up. Tie it with kitchen string to keep it in place or if you don't have any kitchen string, wooden toothpicks will work well also.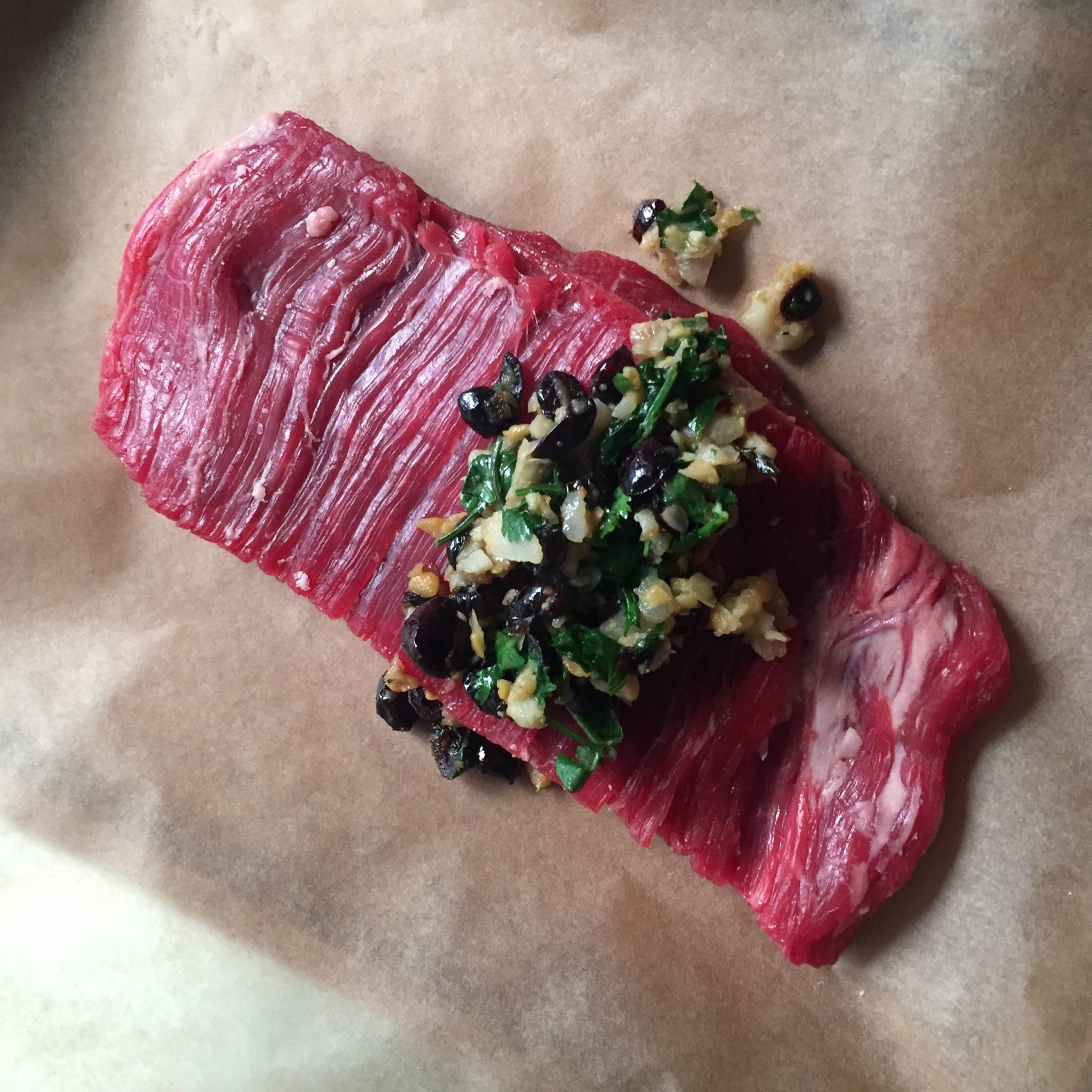 Bake at 325F for about 20-30 minutes until a thermometer reaches an internal temp of 145F for medium rare for lamb or 160F if using poultry.
I like to double the cranberry/quinoa mixture to serve as a side or on top of the cooked meat.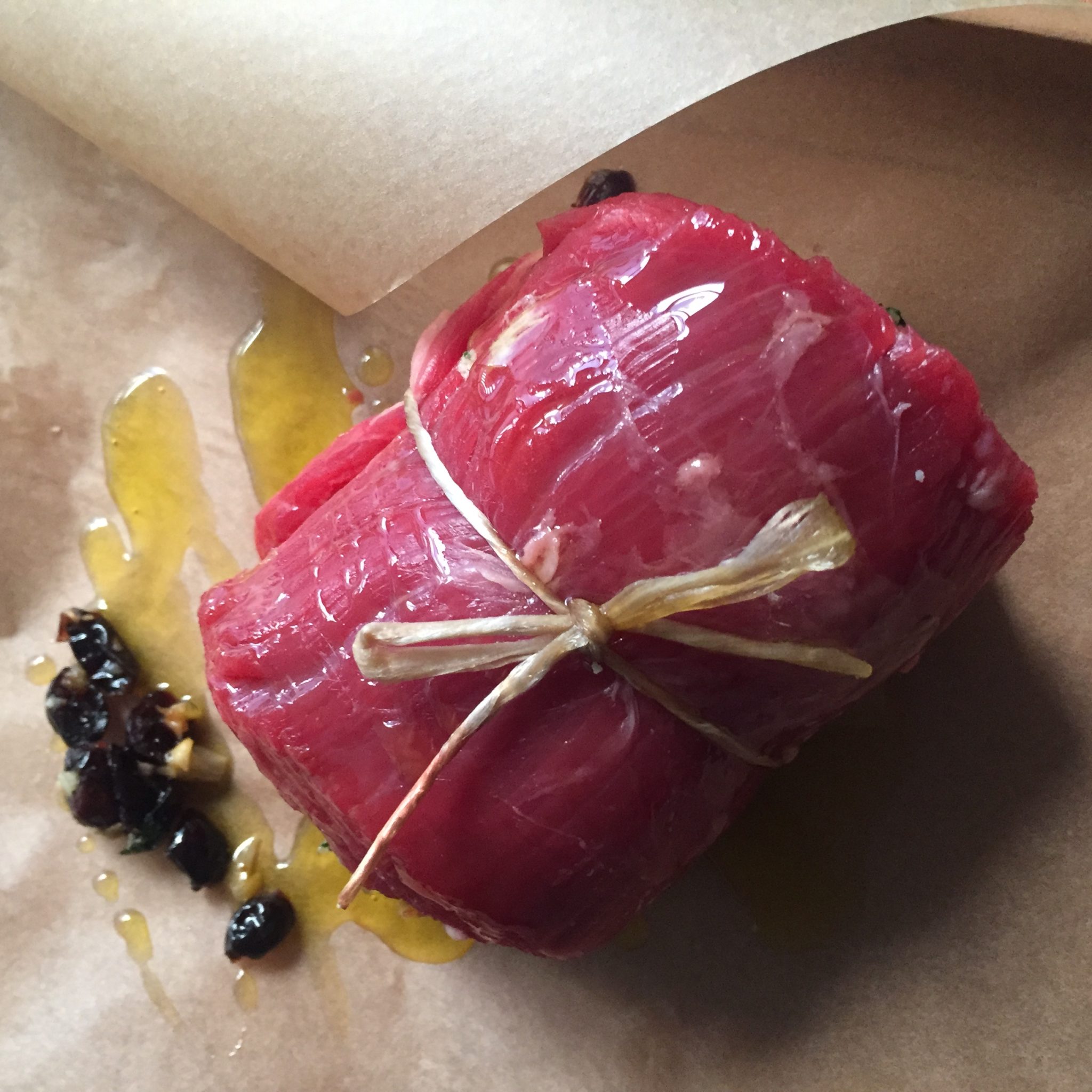 "Traditional(ish) Southern Sweet Potatoes"
Serves 2-4 / Prep time: 10mins / Cooking time: 20mins
Ingredients
2 – 2 ½ sweet potatoes, peeled and diced in 1 inch cubes
2 tbsp coconut oil
1 cup coconut sugar
1 vanilla bean, scraped or a pinch of raw vanilla powder (available online)
1 tsp ginger
1 batch of marshmallow cream (see below)
Directions
Combine and toss of all the ingredients (except for the Marshmallow cream).
Place in a greased baking dish, cover with foil and bake 375F degrees for 50 minutes. Remove the foil after 50 minutes, continue baking 10 to 20 more minutes until your potatoes are tender all the way through when pierced with a fork. Pull from the oven and top the sweet potatoes with your marshmallow cream. Place under the broiler for 1 – 3 minutes until you have just a few light brown spots. If you happen to have a kitchen blowtorch, run that lightly over the cream instead.
Marshmallow Cream
Water from 1 can of chickpeas (save the chickpeas for another recipe)
1/3 cup coconut nectar (honey or your choice of liquid sweetener)
1 vanilla bean, scraped or a pinch of vanilla powder
½ tsp arrowroot powder
Directions
Combine the chickpea water, coconut nectar, seeds scraped from the vanilla bean and the arrowroot powder into a mixing bowl. Using a whip attachment, blender, or stand mixer, start whipping at a slow speed until the mixture becomes frothy. Gradually increase the speed to the highest setting. (increasing the speed gradually will help insure that you don't end up with a face and wall full of splatters). Whip at the highest speed for 10 to 15 minutes until you get a nice medium stiff peak. I'm a huge fan of doing things by hand, but for this recipe, definitely use an electric mixer!
Sweet Blueberry Cornish Game Hens
Serves 2 / Prep time: 10mins / Cooking time: 30mins
2 Cornish game hens
¼ cup blueberries
4oz coconut syrup/nectar or your choice of liquid sweetener
3oz Olive Oil
3 tbsp fresh sage
Directions
Preheat the oven to 450F.
Pat the hens dry with a paper towel (this will help give you a crisp skin). Place them on a parchment lined baking sheet or in a roasting pan. Chop your sage finely. Chop your blueberries coarsely. Mix both of these together with the olive oil. Gently loosen the skin of the hens with your fingers and work the herbed fruit oil underneath the skin of the hens. Rub some on the inside of the hens as well. Rub syrup all over the outside of both hens. Truss your hens if you like (tie their feet together) and place breast side up on the pan.
Roast the hens for 25 minutes. Drop the oven temperature to 350F, and continue cooking for another 35 minutes or until a thermometer registers 160F. Make sure to baste every 8-10 minutes during the lower heat cooking with the juices from the bottom of the pan. This will insure juicy meat.
Roasted Water Chestnut & Apple Stuffing
Serves 2-4 / Prep time: 10mins / Baking time: 60mins
Ingredients
1 can of chickpeas drained (use the chickpeas that were left-over from the Marshmallow cream recipe)
1 onion, diced
1 large apple, diced
2 cloves garlic
1 tbsp thyme
1 ½ cup of preferred stock/broth (make your own by boiling a handful of veggies, onion, garlic and herbs for 30 minutes then draining)
8oz water chestnuts (soaked – you can buy these online)
2 tbsp olive oil
Directions
Spread the water chestnuts out onto a baking sheet and bake at 425F degrees for about 15 minutes. Remove from the oven and remove the shells when cool enough to handle.
In the olive oil, sauté your onion, apple and garlic just until the apples are soft.
In a food processor, pulse your chestnuts and chickpeas until they reach the desired consistency. I like a bit of chunk in my stuffing.
Mix your chickpea/water chestnut mixture with the sautéed mix. Add your stock/broth and mix well. Pour into a greased baking dish and bake at 350 for about 45 minutes. Stir halfway through cooking.
Butternut Squash Salad with French "fried" Shallots
Serves 2-4 / Prep time: 10mins / Baking time: 25mins
Ingredients
3 to 4 shallots, cut into ¼ inch slices.
3 tbsp olive oil
3 to 4 cloves garlic, chopped or minced
2 tsp turmeric
1 tsp paprika
1 medium sized butternut squash, cubed into 1 inch squares
4 cups arugula
¼ c sliced almonds (you can omit these if allergic/sensitive)
¼ cup preferred gf flour (I like white rice, sorghum)
Directions
Heat the oven to 450F.
Take your sliced shallots and dip them in 1 tbsp olive oil then dredge in your gf flour. Lay these out on a baking sheet and bake until crisp, about 20 minutes tops.
Turn the oven down to 425F.
Toss the squash in a little olive oil, garlic, turmeric and paprika. Spread out on a baking sheet and bake for 20 minutes. Toss the almonds in and add a little olive oil then stir into the squash. Bake for an additional 5 minutes. Remove from the oven and toss with the arugula and French "fried" shallots and serve.
It's finally here! Man Food – a high nutrient antihistamine and anti-inflammatory ingredient filled book geared towards guys, women who love to work out, yoga like they mean it, or just load up on healing nutrients. Features my personal shopping list of antihistamine and anti-inflammatory foods.
The Anti-cookbook and all liquid Anti-Detox Book, don't treat any conditions, but feature a plethora of the high nutrient antihistamine and anti-inflammatory ingredients that have been instrumental in helping me feed myself on a limited diet. The Anti-cookbook features a four page list of antihistamine and anti-inflammatory foods and comes in regular and Paleo.
The Low Oxalate Cookbook features antihistamine and anti-inflammatory rich recipes.
Don't miss the Low Histamine Beauty Survival Guide for non-toxic beauty tips, the skinny on histamine releasing (mast cell degranulating) beauty ingredients, antihistamine and anti-inflammatory beauty alternatives and the top brands natural brands I've found.
Take a peek at my other low histamine and antihistamine cookbooks for more high nutrient recipes