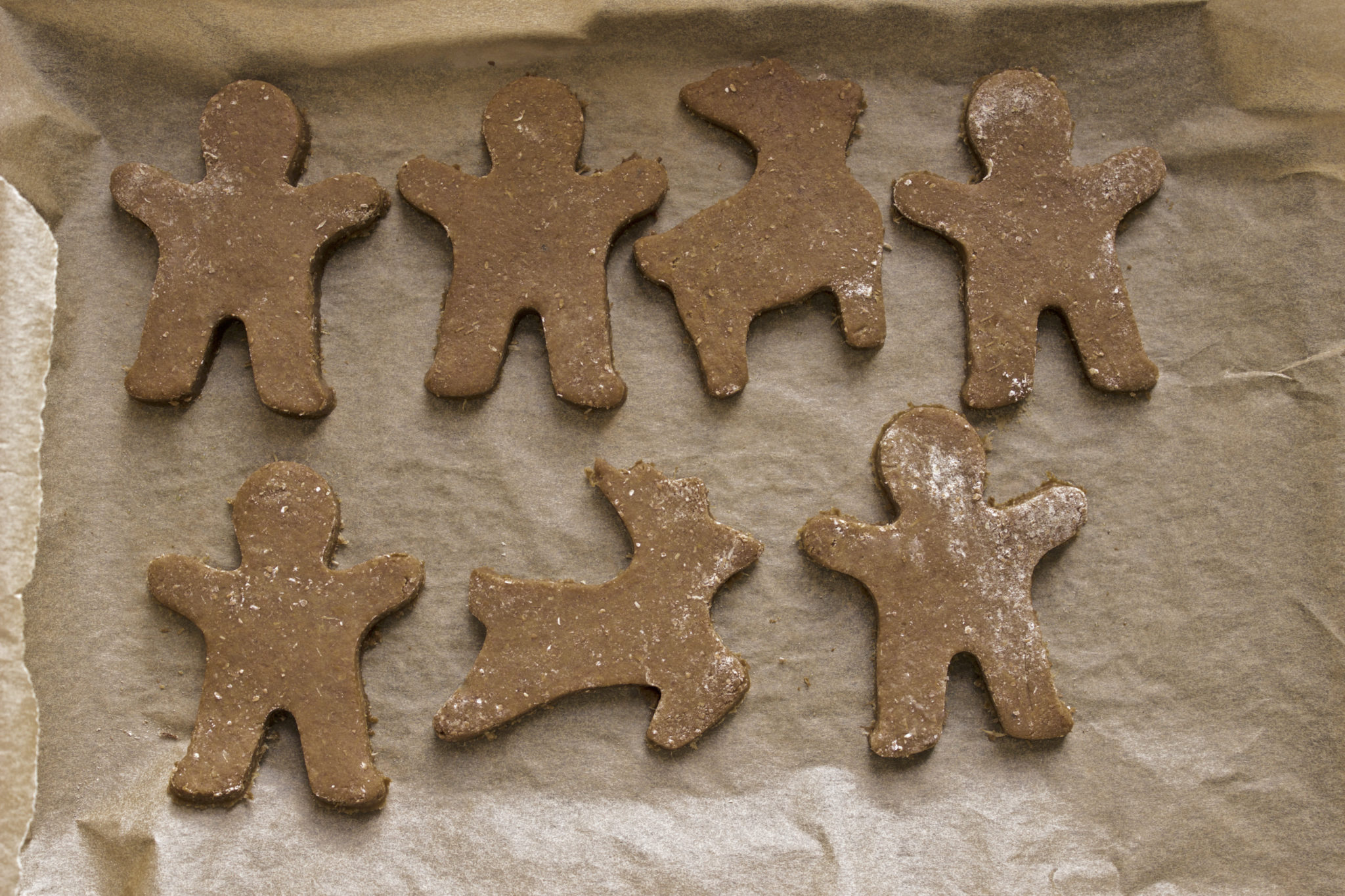 It's dessert time!
This month I'll be giving away my 110 page Happy Holidays ebook free with every purchase, this year I've added a slew of non-alcoholic drinks and canapés.
There's several full menus of nutrient dense and totally delicious festive foods in this ebook. Don't miss it, visit my online store to get it.
Just place an order and you'll get an email within the hour with the link to your freebie. If you don't get it in 24 hours, please contact me through the website and I'll send it right over (because sometimes things go wrong…).
Hope you enjoy this year's menu! You'll also find it in the freebie book.
Gingerbread Cookies
Prep Time: 30mins | Cook Time: 15-30mins | Makes: 10
I like my gingerbread cookies to have a bit of crunch to them! If you'd like chewy cookies, please add some liquid sweetener, sub some of the coconut sugar with dates or a little apple puree and keep a close eye on these tasty little suckers to make sure they don't dry out.
INGREDIENTS
1/2 cup sorghum flour
1/2 cup oat flour
1/2 cup almond flour (or 1/4 cassava root and 1/4 tigernut for nut free)
1/3 cup coconut oil
1/2 cup coconut sugar
2 eggs
2-3 tbsp grated ginger or a few drops liquid ginger
pinch of salt
raw vanilla, to taste as tolerated
PREPARATION
Pre-heat your oven to 180C/350F.
In a medium bowl mix the flours, oil, vanilla, ginger, pinch of salt eggs and ginger.
Place in the fridge for 10-20 minutes, or till firm, so it's easy to roll out later. Take out of the fridge. Lightly dust your work surface with some sorghum flour (or tolerated flour).
Take your dough and knead for a bit till workable. But make sure not to touch it too much or it'll become unmanageable.
Roll it out quickly and then use a cookie cutter to work your way through. I made mine about half an inch thick. Lay down some baking paper onto a tray and carefully place the cookies on it.
Bake at 180C/350F for about 20-30 minutes, till golden. Serve with eggnog.
BENEFITS
Antihistamine: ginger.
Anti-inflammatory: vanilla, dates, sorghum, almonds,
coconut, ginger
Butternut Squash Streusel Pie with Caramel Sauce
Serves 2-4 / Prep time: 15mins / Baking time: 45mins
Ingredients
1 medium butternut squash, peeled/seeded and oven roasted till soft
1/4 cup (creamy) coconut milk
2 eggs (I used duck eggs but you can use what you like)
1/2 cup sorghum flour (paleo, medium oxalate)
1/2 cup coconut sugar
fresh raw vanilla, to taste (as tolerated)
Streusel:
1 cup almond flour (or sorghum flour, oat flour could also work)
¼ cup coconut oil
¼ cup coconut sugar
Preparation
Streusel:
In a small bowl, combine all of your ingredients. Have some fun and mix it with your hands until crumbly.
In a medium bowl mix the roasted butternut squash, creamy coconut, eggs, flour, sugar and vanilla.
Pour into your pie shell. Top with the streusel and bake at 360F till firm, but cooked through. Should take between 45mins and an hour, depending on your oven.
Coconut Caramel Sauce
2 Tbsp water
¼ cup coconut sugar
1 can of full fat coconut milk or same amount of blended young Thai coconut cream (you can buy both online)
1 vanilla bean split in half
In a saucepan, over medium high heat, bring the coconut milk, coconut sugar and the split vanilla bean to a boil. Stir frequently. When the mixture comes to a boil, reduce the heat to low and Once boiling, turn the heat to low and continue boiling until thick, about 30-35 minutes. Remove from the heat. Remove the vanilla bean pod, making sure to scrape out any seeds of flavor that may be hanging on.
Store the caramel sauce in a mason jar in the refrigerator for up to 2 weeks. If the sauce has been in the fridge, place the jar in a pan of water that had been brought to a boil to bring it to heat before serving over the pie.
It's finally here! Man Food – a high nutrient antihistamine and anti-inflammatory ingredient filled book geared towards guys, women who love to work out, yoga like they mean it, or just load up on healing nutrients. Features my personal shopping list of antihistamine and anti-inflammatory foods.
The Anti-cookbook and all liquid Anti-Detox Book, don't treat any conditions, but feature a plethora of the high nutrient antihistamine and anti-inflammatory ingredients that have been instrumental in helping me feed myself on a limited diet. The Anti-cookbook features a four page list of antihistamine and anti-inflammatory foods and comes in regular and Paleo.
The Low Oxalate Cookbook features antihistamine and anti-inflammatory rich recipes.
Don't miss the Low Histamine Beauty Survival Guide for non-toxic beauty tips, the skinny on histamine releasing (mast cell degranulating) beauty ingredients, antihistamine and anti-inflammatory beauty alternatives and the top brands natural brands I've found.
Take a peek at my other low histamine and antihistamine cookbooks for more high nutrient recipes