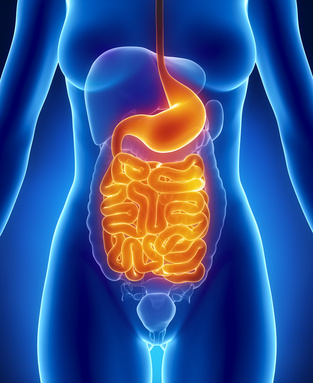 Histamine is involved in the digestive process, which is why an excess of it linked to Crohn's, ulcerative colitis and irritable bowel. While antihistamines have been found to be beneficial in at least IBD, a change of diet and lifestyle may be a safe and effective alternative, or addition to, pharmaceutical intervention.
A number of studies have found strong correlations between the number of mast cells and total histamine content in the guts of patients with Crohn's, ulcerative colitis and inflammatory bowel. The level of histamine found in patient guts was found to be proportional to the degree of inflammation in Crohn's and ulcerative colitis. While their symptoms are very similar, there are important differences that are best assessed and treated by a gastroenterologist. Additionally, if blood is present in the stool, it's even more essential to get checked out immediately, rather than attributing it to a GI disorder.
What these conditions all have in common is histamine inflammation. Thankfully, histamine is something that we can control, in many cases without having to rely on medication. I've personally managed my excess histamine (or histamine intolerance as some call it) through a combination of diet, exercise, meditation, and taking the time to focus on what makes me happy. I put it all together here.
DIET
A diet high in histamine containing foods like yeast, fermented foods, processed tomato, processed and packaged meats/foods, can all lead to an accumulation of histamine in the body, particularly in the gut. Histamine also causes permeability of the gut barrier that's meant to keep bacteria from our food from crossing into our bloodstream. Histamine can compromise this barrier, causing intestinal permeability (also known as leaky gut). Foods and bacteria migrating from the stomach to the blood stream are believed to trigger allergies and intolerances, and according to some studies, may contribute to autoimmune symptoms. A properly working intestinal (gut) barrier protects the body as a whole from invasion by microorganisms and toxins we ingest daily.
Intestinal permeability/leaky gut is linked to symptoms relating to:
Allergies
Asthma
Autism
Autoimmune disease
Eczema and psoriasis
Inflammatory bowel disease
Bloating
Gas
Heartburn
Acid reflux
Gastrointestinal disorders
Did you know that maintaining the gut barrier takes up around fourty percent of the body's energy? That might be why relieving the body of the strain of digestion by fasting, or in my case, a fasting mimicking diet, has been really helpful in managing all my symptoms, but especially anything relating to my tummy. I managed to heal my stomach just through diet, and a few carefully chosen supplements (but not probiotics), but we are all different and will need a number of approaches to get the job done. Read the rest of my post on leaky gut here. And how junk food and emulsifiers found even in organic foods can trigger it here.
I've found that following a diet rich in foods with antihistamine and anti-inflammatory properties and getting rid of fast food, dairy and wheat (I'm not intolerant it's just too inflammatory), rather than following any complicated healing protocols, allowed me to add in more high histamine foods over the years.

You'll find recipes full of foods with antihistamine and anti-inflammatory properties my books Anti-Recipes and The Anti-Cookbook

EXERCISE

While regular exercise is an absolute must for maintaining a healthy immune system that balances histamine naturally, doing the wrong kind can make you sicker. Research tells us that non-aerobic exercise that uses our own body weight is the least likely to trigger histamine. Read the post on exercise here.


MEDITATION

It's not a hippy dippy thing, meditation is an anti-inflammatory superstar that reprograms us on a genetic level. Mast cell researcher Dr. Theoharides has long spoken of the link between stress hormones and mast cells releasing histamine into the bloodstream. And I realised a very, very long time ago that calming myself down is the best thing I could do during a major histamine attack.


HAPPINESS

A fascinating study on hypnotised subjects found that those who were hypnotised to be unhappy had a stronger reaction to histamine than those who were happy or even angry. It's no coincidence. I've brought on my very worst reactions by just being unhappy. Sometimes it's as simple as sitting down and having a think about what you could easily add to your week to up your happiness quotient. For me it's as simple as taking a few minutes a day to bask in the sun, or enjoy a meal or a film with friends. The hurdle is finding the time to actually implement it
——— REFERENCES ———-
Nolte, H, et al. "Histamine release from gut mast cells from patients with inflammatory bowel diseases." Gut., U.S. National Library of Medicine, July 1990, www.ncbi.nlm.nih.gov/pubmed/1695160/?i=2&from=%2F8139217%2Frelated. Accessed 27 Sept. 2017.
Raithel, M, et al. "Mucosal histamine content and histamine secretion in Crohn's disease, ulcerative colitis and allergic enteropathy." International archives of allergy and immunology., U.S. National Library of Medicine, Oct. 1995, www.ncbi.nlm.nih.gov/pubmed/7549499/. Accessed 27 Sept. 2017.