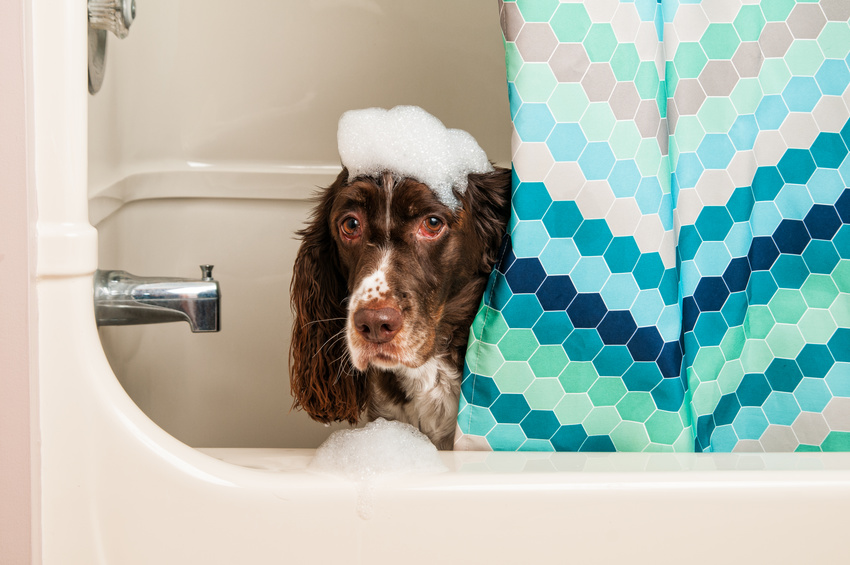 When people tell me they're still highly reactive no matter what dietary, stress busting, or lifestyle changes they make, I immediately suggest looking at bath and beauty products. My reactions to these were so very severe that they resulted in near immediate migraine, buzzing in my head, feet and fingers, hives and what looked like acne. Over the years my tolerance has improved greatly, to the point that I can once again use scented products (very natural scents) and use some chemicals. That might not seem like much, but just a few years ago I wasn't able to use shampoo, body wash or deodorant. Though I can tolerate nasty stuff now, I don't use it.
Click here to learn how to tailor a histamine balanced diet and healing plan to your lifestyle.
So here's a list of my favourite histamine-friendly cleansing products.
Because people always ask me where they can buy things I talk about, I added the amazon links here. Please feel free to ignore them and find them on your own somewhere else.
Before we kick things off, may I please ask someone why on earth I'm paying for what's NOT in my products and food? Yes, yes, quality, blah blah, but really, not everyone who buys organic foods and beauty products are millionaires devoted to a life of hedonism. I'm certainly not. I seem to spend almost every penny I earn on food and keeping myself clean…
If you have products you love and think should be on this list, please share below and I'll add them here. I'll then pin this list in the navigation for those who wish to refer to it. Please remember, I can't predict what will work for you. Just because I'm ok with something there's no guarantee everyone else will be, but these are products that I've trialled and researched and found to be the most likely to work for us.
And finally, a note on higher histamine ingredients than may appear on my list: while tomato extract may be in a 100 percent pure body wash, I'll take it any day over decyl-sulfer-methu-chemical-name-gmo-bla-bla, any day.
So here's what's currently in my bathroom cupboard:
100 Percent Pure Mint Green Tea Cleanser and also the Cucumber cleanser
This brand has the most AMAZING products. I use their mascara, eyeshadows, shampoos, everything! I use the unscented cucumber cleanser daily and the Green Tea one every few days. They're both really effective and gentle on the skin. I use mine with a face brush for extra exfoliation.
[AMAZONPRODUCTS asin="B0042PE9YC"]
Andalou Naturals Willow Bark Toner
A recent find at my local health food store. This brand has the most incredible natural ingredients and plant stem cells (I have no clue if this is just sales hype but their products are really special). This toner is an absolute must for my oily skin. I keep a travel size of it in my handbag in case I need to refresh my foundation while away from home. It's funny, I still vividly remember the days of scrubbing myself raw with a loofah, sea salt and water, and now here I am, using toner!
[AMAZONPRODUCTS asin="B00B7V4DTU"]
Incognito (unscented) Activated Charcoal Soap
I came across this soap when I ran out of the small suitcase of dead sea bath soap I brought with me from London. It only has a handful of (natural) ingredients and is great for face and body. If this doesn't take your fancy, check out the Kiss My Face Olive Oil soap. It's pure olive oil, nothing else. Incognito are perhaps better known as a company for their natural citronella mosquito spray. I pack that with me when traveling anywhere warm.
[AMAZONPRODUCTS asin="B01AVIQ9SC"]
Green People toothpaste
So my other suitcase from London was half full of this toothpaste. I struggled for years with a severely swollen throat that sent me to the ER a number of times. Turns out that toothpaste was a huge part of the problem. When I finally researched the ingredients online I realised why. My immune system is just more active and ready to fend off perceived invaders than most people's, so I need to take extra care. While in the past this meant totally avoiding pretty much everything on the planet, now it's a much more balanced approach consisting mostly of not using processed products and chemicals.
[AMAZONPRODUCTS asin="B0013G3C28″]
Earth Paste
Now this stuff is available in the US. It's also nearly twice as expensive. Please, please, please share some of your favourites so I don't have to plan my toothpaste purchases a month in advance from another country.
[AMAZONPRODUCTS asin="B00VQU2PCY"]
100 Percent Pure Honey & Coconut Shampoo and Conditioner
These are the products I broke my no-poo cherry with. After having tossed out my shampoo for a year (because of horrible itching, dermatitis and hair loss mind you), I gingerly diluted some of this stuff and quickly rinsed my scalp in it. Success! I was fine with it and so began my love affair with this brand. I now use their Yuzu shampoo, but it definitely has more scent. I wasn't ok with it when I first tried it, but I persevered and now am totally into it.
[AMAZONPRODUCTS asin="B00JH31B54″]
Nourish Organic Unscented Body Wash
I'm totally cool with light, natural scents (rather than natural perfume/parfum which is anything but), but I've added this here because it's a good bridge product. Their other cleaners aren't bad either if you're looking for unscented.
[AMAZONPRODUCTS asin="B008N1RYOS"]
Schmidt's Unscented Deodorant
As my understanding of chemical names evolved over the years I realised the tricks cosmetic companies play in trying to cover up the nasty stuff. Things like aluminium and propylene glycol are just not meant to go under my arms. While this isn't the strongest stuff on the planet, it sure beats the coconut oil I used to rub under there every 30 minutes.
[AMAZONPRODUCTS asin="B018K3RMUY"]
Cleanwell Thyme Hand Sanitiser
I'm not a big believer in using these products but traveling demands it. I use this stuff on planes, trains and when riding in a car service. It has a couple of ingredients I'm not crazy about so I rinse it off my hands right after spraying. It is the best I've found out there, short of carrying a little pot of Manuka honey around (which I've done in the past!)
[AMAZONPRODUCTS asin="B000IZ8LIK"]
It's finally here! Man Food – a high nutrient antihistamine and anti-inflammatory ingredient filled book geared towards guys, women who love to work out, yoga like they mean it, or just load up on healing nutrients. Features my personal shopping list of antihistamine and anti-inflammatory foods.
The Anti-cookbook and all liquid Anti-Detox Book, don't treat any conditions, but feature a plethora of the high nutrient antihistamine and anti-inflammatory ingredients that have been instrumental in helping me feed myself on a limited diet. The Anti-cookbook features a four page list of antihistamine and anti-inflammatory foods and comes in regular and Paleo.
The Low Oxalate Cookbook features antihistamine and anti-inflammatory rich recipes.
Don't miss the Low Histamine Beauty Survival Guide for non-toxic beauty tips, the skinny on histamine releasing (mast cell degranulating) beauty ingredients, antihistamine and anti-inflammatory beauty alternatives and the top brands natural brands I've found.
Take a peek at my other low histamine and antihistamine cookbooks for more high nutrient recipes