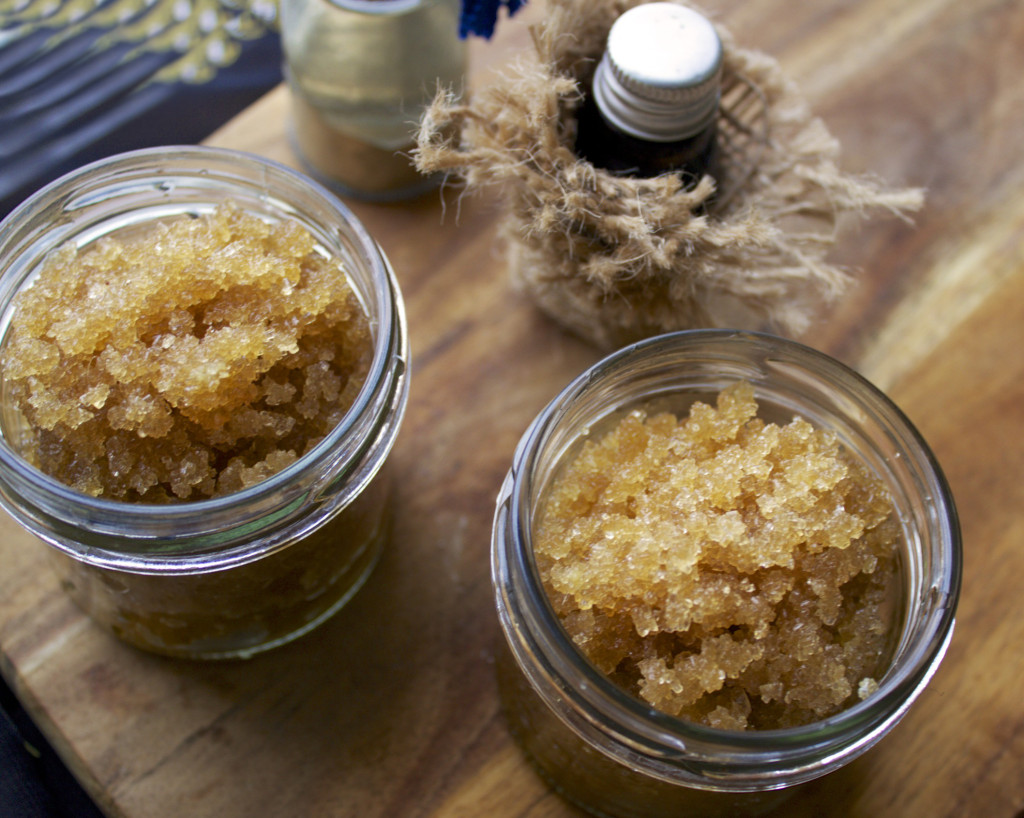 What do you give friends who have everything?
If you're on a budget, wowing them by spending yourself into the poorhouse isn't really in the spirit of things now is it?
I've always fancied the idea of making something special for my nearest and dearest.
This year I seized the bull by the horns and came up with a pimped out version of the body scrub recipe in the The Low Histamine Beauty Survival Guide.
For those of you who tolerate essential oils, I don't see why these would't be a lovely gift to yourself…
A little pat on the back for all the good work you've done.
And a lovely smelling back it's sure to be…
Though your non-histamine/mast cell challenged friends may be able to use any old crap on their bodies, encouraging them to explore the world of non-carcinogenic natural beauty may be the best gift of all.
And for histamine friends – understanding which beauty products raise histamine and which may lower it, in addition to providing significant anti-inflammatory benefits (in addition to dealing with wrinkles and whatnot!) is something I highly encourage.
I feel so strongly about the topic that I wrote a book on it!
Jasmin and Neroli are a magnificent duo, purportedly favoured by Egyptian queens and goddesses.
Hey, if it's good enough for them…
You can make this scrub as simple or as fancy (expensive) as you wish:
Sub the essential oils for others.
Use odorless coconut oil rather than argan.
Here's the breakdown of all that's good for you in this body scrub…
Remember, what we put on our skin is absorbed into our body.
Or in the words of natural skin care guru Dr Alkaitis: "If you can't eat it, don't put it on your skin!"
I like the ethos, but I'm a practical kinda girl – I like to smell nice!
Jasmin: natural pain killer and anti-inflammatory [1].
Neroli, bitter orange plant: the peel in particular exhibits antihistaminic properties [2].
Ginger: as powerful an antihistamine as commonly prescribed pharmaceuticals [3].
Argan oil: painkiller and anti-inflammatory [4].
Flax seed oil: potent anti-inflammatory [5]
Pomegranate seed oil [6]: anti-inflammatory, boosts hyaluronic acid, smoothing out wrinkles! Many cosmetic fillers out there are made from pure hyaluronic acid [6].
HEALING JASMIN & NEROLI BODY SCRUB
Please bear in mind that as this scrub doesn't contain any preservatives, it must be used quickly…you can extend its life by adding some fresh rosemary or thyme.
Ingredients:
1 cup demerara sugar or course himalaya salt
1/4 cup argan oil
1/4 cup flax seed oil
2-4 tbsp pomegranate seed oil (optional)
2 drops Jasmin oil
2 drops Neroli oil
grated ginger (as much as you like till reaching a pleasing bouquet)
In a bowl, mix everything up.
Adjust the essential oils and ginger to your taste!
Don't tolerate essential oils? Muddle some mint, fruit peel and ginger!
Join my mailing list for more recipes, to be the first to know when registration for my low histamine webinar opens, and for a 10% discount on my books!
Take a peek at my low histamine and antihistamine cookbooks for more high nutrient recipes.
If you've found this information useful I'd appreciate your support (at no extra cost to you!) – please check out my online store for your health foods, supplements, kitchen items and beauty product purchases. Affiliate sales through my online store go towards maintaining the website, funding travel to interviews and purchasing all the lovely foods for my free online recipes. You'll find these items in the "Shop with us" drop down menu on my homepage.
Please don't forget antihistamine, pain killing foods can still hurt us, so please always check with your doctor before adding new foods to your diet.
——————-REFERENCES——————-
[1] http://www.ajptr.com/archive/volume-2/august-2012-issue-4/article-341.html
[2] http://www.ncbi.nlm.nih.gov/pubmed/22957519
[3] http://journals.tums.ac.ir/upload_files/pdf/_/2382.pdf
[4] The Low Histamine Beauty Survival Guide

[5] http://umm.edu/health/medical/altmed/supplement/flaxseed-oil