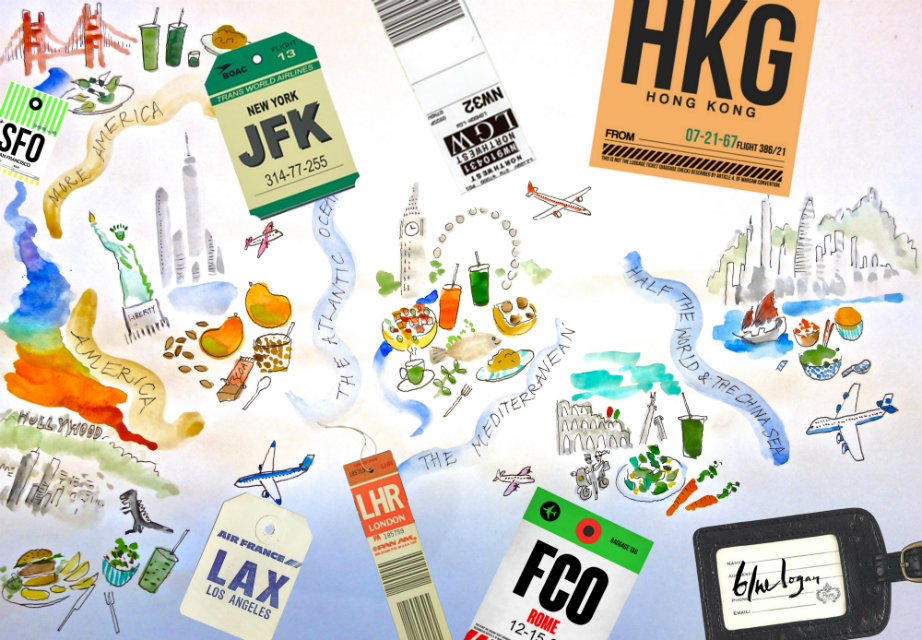 Travel used to be an absolute nightmare, but I persisted. I recently shared a list of my top healthy eating airport destinations in a post for the wonderful Beauty & Wellbeing.
"It might seem like an impossible task, but the proliferation of healthy restaurants over the last few years finally appears to be spilling over into the mainstream. The fallout of which is that we're starting to be able to score something resembling real health food in airports. In a world where some airlines (Emirates for example) are now offering not just vegan meals, but also the holy grail of health food snobbishness, raw vegan fare, to weary passengers wary of facing yet another sodium and preservative laden mess of congealed meat-like substance flanked by scrawny, brown green beans. I don't know about you – but in the pre-liquid ban days I very much enjoyed using my long-haul flights as a kind of detox in the sky. Just me, a laptop and a canteen of green machine, and a very annoyed aisle seat resident not enjoying my frequent dashes to the loo. I mean hey, why get all snarky with me just because you forgot to choose your seat at early check in? I digress…on to the list… Even JFK has jumped on the healthy foodie bandwagon, offering a smattering of healthy snacks to keep you going."
You can read the full article here at Beauty and Wellbeing.
The Anti-cookbook and all liquid Anti-Detox Book, don't treat any conditions, but are high in the high nutrient antihistamine and anti-inflammatory ingredients that have been instrumental in helping me feed myself on a limited diet. The Anti-cookbook features a six page list of antihistamine and anti-inflammatory foods and comes in regular and Paleo.
The Low Oxalate Cookbook features antihistamine and anti-inflammatory rich recipes.
Don't miss the Low Histamine Beauty Survival Guide for non-toxic beauty tips, the skinny on histamine releasing (mast cell degranulating) beauty ingredients, antihistamine and anti-inflammatory beauty alternatives and the top brands natural brands I've found.
Take a peek at my other low histamine and antihistamine cookbooks for more high nutrient recipes and sign up to my mailing list for freebies.
Please remember, even antihistamine and anti-inflammatory foods can hurt us, please always exercise caution and consult a medical practitioner before adding new foods.