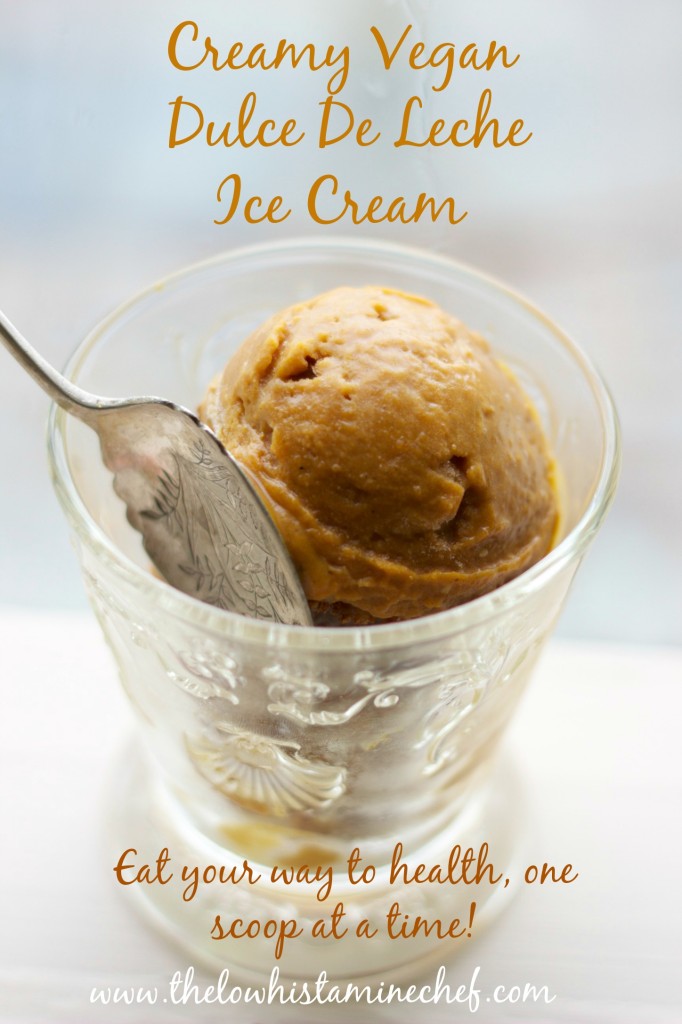 Drool alert!
It's the antihistamine and anti-inflammatory ice cream I've been promising…you don't actually need an ice cream maker, but it sure makes it easier! I include instructions for with and without.
Dulce de Leche is one of my all time favourite ice cream flavours – a kind of toffee/caramel taste. The literal translation from the Spanish is: "milk sweet" or "sweet of milk". It's traditionally made from condensed milk, but thanks to the creamy butternut texture and the caramel flavour of the coconut sugar, we're all set. You can however heat up the mixture to condense it before freezing. Adding a couple of eggs will also make it creamier, but I prefer vegan ice cream (I know, I'm an odd duck!).
I used coconut sugar, but you can use dates for a more chewy/caramel texture. You could also swirl in a date/almond milk caramel.
Why this is a health food:
Butternut squash is an antihistamine and anti-inflammatory food.
Coconut possesses anti-inflammatory and analgesic (pain killing) properties.
Ginger and turmeric are both antihistamine and anti-inflammatory foods.
Vanilla is anti-inflammatory.
If you're not into any kind of sugar, add dates, apple puree, or anything you like to sweeten it up. I found 3/4 of a cup of coconut sugar excessive, but friends loved it.
Desserts like this are why I scoff at people who say my diet is boring.
It's only as boring as the limits of your imagination!
Enjoy 🙂
You'll find more recipes like this in my books Anti-Recipes and The Anti-Cookbook
CLICK HERE TO CREATE YOUR OWN PERSONALISED HEALING HISTAMINE PLAN.
Creamy Vegan Dulce de Leche Ice Cream (antihistamine and anti-inflammatory)
Prep Time: 10 | Cook Time: 20 | Freeze time: 1-3 hours | Serves: 2-4
Ingredients:
1 medium butternut squash
1 cup thick coconut cream
3/4 cup coconut sugar
1/2 tsp – 1tbsp pure vanilla (as tolerated, optional, to taste)
1/2 tsp – 1tbsp grated ginger, optional, to taste
1/2 tsp – 1tbsp grated turmeric, optional, to taste
pinch of salt
Directions:
Pre-heat your oven to 200C/390F.
Slice your butternut squash in half and place in the oven. Bake for about 20 minutes till soft (use a fork to test), scoop out the seeds, discard. Then scoop out the flesh.
Place in a blender to puree.
In a powerful blender combine the butternut, coconut cream, coconut sugar or dates, vanilla, salt, ginger and turmeric, if using.
Ice cream maker
Pour very very slowly into your pre-frozen ice cream machine. Churn for about 20-30 minutes, according to your machine's directions.
Place in the freezer for another 30 minutes+.
By hand
Pour into a container and freeze. Every 30 minutes break up the ice crystals, until the ice cream is frozen.
With a geared juicer (ie Samson/Oscar) or Vitamix
Freeze your ice cream mix till hard. Cut into chunks and lightly process in blender or juicer.
Enjoy!
You'll find more recipes like this in my books Anti-Recipes and The Anti-Cookbook
CLICK HERE TO CREATE YOUR OWN PERSONALISED HEALING HISTAMINE PLAN.
Please don't forget antihistamine, pain killing foods can still hurt us, so please always check with your doctor before adding new foods to your diet.