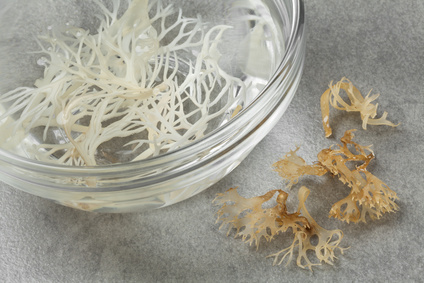 UPDATE: I have edited this post to reflect that carrageenan is an adulterated derivative of Irish Moss.
"Carrageenan induced inflammation-protocol" is a phrase that keeps coming up in my histamine research. Why is this relevant? Carrageenan, a derivative of Irish Moss, is a common food additive. A quick Google search turns up thousands of studies where anti-inflammatory medicines and compounds are tested on "carrageenan induced-inflammation" or "edema" [1]- it's actually used to cause pain and inflammation in animals (poor things).
In particular one study used it to induce inflammatory arthritis [2]. In a number of studies carrageenan has been shown to cause inflammation through its activity on the histamine H1 and H2 receptors [3] and may cause gastrointestinal damage [4]. I've also found a number mentioning mast cell degranulation which makes a lot of sense. These are all obviously terms those of us with histamine related disorders don't want to hear associated with our food. Ouch. I used Irish Moss for years and this explains a lot…You'll find carrageenan/irish moss in pretty much anything tasty on the supermarket shelf including:
Desserts, ice cream, cream, milkshakes, sweetened condensed milks, and sauces: gel to increase viscosity
Beer: clarifier to remove haze-causing proteins
Pâtés and processed meats (ham, e.g.): substitute for fat, increase water retention and increase volume, or improve sliceability
Toothpaste: stabilizer to prevent constituents separating
Fruit Gushers: ingredient in the encapsulated gel
Shampoo and cosmetic creams: thickeness
Biotechnology: gel to immobilize cells/enzymes
Pharmaceuticals: used as an inactive excipient in pills/tablets
Soy milk: used to thicken, in an attempt to emulate the consistency of whole milk
Diet sodas: to enhance texture and suspend flavours
Veggie dogs
I'd like to see more studies comparing irish moss in it's original state vs extracted and manipulated carrageenan as a food additive, but for now it's not something I'm willing to have in my diet. Agar agar offers similar results in desserts without any of the negative associated studies (yet?).
It's finally here! Man Food – a high nutrient antihistamine and anti-inflammatory ingredient filled book geared towards guys, women who love to work out, yoga like they mean it, or just load up on healing nutrients. Features my personal shopping list of antihistamine and anti-inflammatory foods.
The Anti-cookbook and all liquid Anti-Detox Book, don't treat any conditions, but feature a plethora of the high nutrient antihistamine and anti-inflammatory ingredients that have been instrumental in helping me feed myself on a limited diet. The Anti-cookbook features a six page list of antihistamine and anti-inflammatory foods and comes in regular and Paleo.
The Low Oxalate Cookbook features antihistamine and anti-inflammatory rich recipes.
Don't miss the Low Histamine Beauty Survival Guide for non-toxic beauty tips, the skinny on histamine releasing (mast cell degranulating) beauty ingredients, antihistamine and anti-inflammatory beauty alternatives and the top brands natural brands I've found.
Take a peek at my other low histamine and antihistamine cookbooks for more high nutrient recipes
——– REFERENCES———
[1] http://www.ncbi.nlm.nih.gov/pubmed/21639869
[2] http://www.tufts.edu/~ttheoh01/cam-theoharides.pdf
[3] http://www.ncbi.nlm.nih.gov/pubmed/6852108
[4] http://www.drweil.com/drw/u/QAA401181/Is-Carrageenan-Safe.html