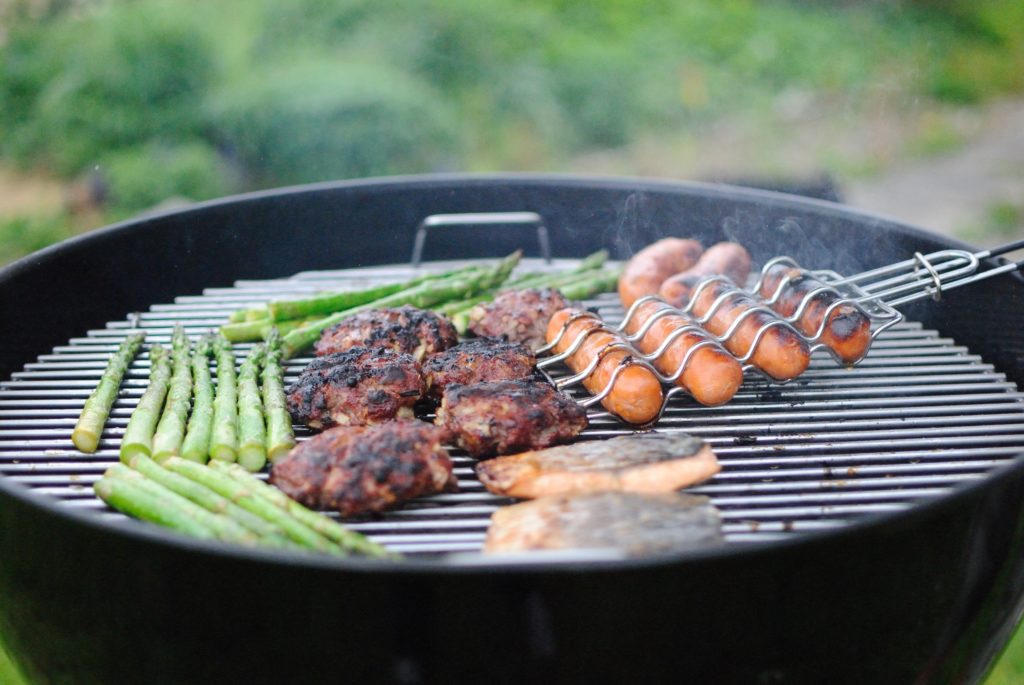 Summertime is BBQ time. There's nothing like the smell of hot food fresh from the grill and an al fresco meal with friends or family to wrap up a hot summer day. But "BBQ" conjures up images of tomato-based sauces that might make a histamine sufferer sigh. Not to worry. There are plenty of healthy, low histamine grill options to make your mouth water and your eyes sparkle. BBQ is off the menu no longer…
HISTAMINE-FRIENDLY BARBEQUE COOKING
Part of the issue with histamine issues and grilling is the chance of bacterial or other contamination from the grill. Again, no worries. You can easily BBQ without ever touching the grill. You can use things like parchment, foil, or a stainless steel basket to keep your food free of undesired critters and seasonings.
And if you don't tolerate the smells from either a charcoal or gas-fired grill, there are plenty of BBQ-inspired dishes that can be made from the comfort of your kitchen.
LAMB IN PARCHMENT
This is actually a popular way of preparing lamb in Greece. You can do this on the grill (additionally wrapped with aluminum foil) or in the oven. Get a leg of lamb or lamb shanks and rinse in cool water. Cut a piece of parchment to suit and grease with olive oil. Then add lamb, drizzled with additional olive oil and a squeeze of lemon, plenty of fresh or dried herbs (oregano, thyme, rosemary), sea salt to taste, and surrounded by tolerated vegetables — perhaps a few carrots, purple potatoes, and (quercetin-rich) onions. Fold up sides and secure with butcher's twine. Bake in preheated oven at 350 degrees F for about 2 to 2 ½ hours, depending on the size and cut of the lamb. Then take out, open package, and put back in for another 15-20 minutes to brown. Or put on the grill on low heat for 2-3 hours. To find a more specific recipe, you can search for Lamb Kleftiko.
SALMON IN FOIL
Wild caught salmon is a wonderful summer BBQ meal that is easy to do on the grill or in the oven. My favorite trusted source is Vital Choice, which I happily get delivered right to my door — no grocery trip required. Drizzle some olive oil on a piece of aluminum foil, add the salmon, plus more oil. There are lots of directions you can take this. You can do an Asian version with antihistamine ginger, you can add basil or parsley pesto (chimichurri), you can do a cilantro pesto. Bake it for 15 minutes at 425 degrees F. Serve with some steamed vegetables and/or a fresh green salad.
SAUCES
Although on lists as high histamine, a good, clean mustard with only four ingredients (like Louis Malle Dijon that can be found at Whole Foods and online) has always been fine with me. It might be ok for you too on special occasions (always check with your doctor), and I love making a BBQ sauce from just a tablespoon of it mixed with some coconut sugar. It tastes so much like Teriyaki I promise!
You'll also find a recipe for my green tomato low histamine home made ketchup (though it should really be called "lower histamine") here. Go easy on the ginger otherwise it might get too spicy for you.
SWEET POTATO TABLE MASH
Sweet potatoes are an easy addition to any summer barbeque. Just steam them on the stovetop or grill them like baked potatoes (wrapped individually in foil and grilled for 40-60 minutes). Then just mash them with olive oil or coconut oil, adding a pinch or two of salt as desired. Easy peasy.
PULLED LAMB
Lamb is a selenium-rich alternative to traditional pulled pork. (Selenium can help inhibit histamine release).
Preheat oven to 325 degrees F. Place a red onion in a roasting dish and set a leg of lamb on top. Make a pomegranate glaze: mix together ¼ cup pomegranate molasses, ⅛ cup olive oil, and the juice of one lemon. Pour the glaze over the lamb and then pour a cup of water around the lamb. Cover and place in the oven to roast for 3 1/2 hours. Remove the cover and continue cooking the lamb for an additional 30 minutes or until the meat is almost falling off the bone.
Red onions are full of polyphenols and antihistamine quercetin, and pomegranate has been shown to be a mast cell stabiliser. Eat up.
VEGGIE KEBABS
Kebabs are wonderfully versatile. You can stick with vegetables or add meat if you like. Great low- or antihistamine vegetables to try include cauliflower, zucchini, garlic, mushrooms, a small amount of carrots or parsnips. Be sure to soak wood skewers ahead of time. Then thread the vegetables and meat, if using, on the skewers. Brush a mixture of olive oil, herbs, and salt and grill over medium heat – or roast in the oven (10-12 minutes at 400 degrees F). Great snack or side dish.
THE JUICE
Lemonade is my absolute favourite, and I have it with no problem, but I know that's not the case for most. If you have a soda stream or something similar you an experiment with cherry juice, mango passion fruit with basil. Even if you don't, just take a look at the frozen fruit section at your supermarket and let your imagination run wild.
STEWED FRUIT
Stewed fruit is super easy and is a nice light finish to a summer meal. Some great low histamine fruits for stewing include apples, cherries (on some lists), peaches, and pears. Wash the fruit and peel it if you wish. Then simply slice or chop it into chunks, place in a saucepan with a bit of water, and cook on low to medium heat until tender. You can add just a little sweetener if you wish, and enjoy.
BEYOND THE BBQ
If your appetite is whet with these fun BBQ ideas, and you're looking for more, check out my complete histamine reset with recipes and lifestyle strategies to balance histamine levels and get your body on the path to healing: 28-Day Histamine Reset.
———REFERENCES———
Rasheed, Zafar, et al. (2009). Polyphenol-rich pomegranate fruit extract (POMx) suppresses PMACI-induced expression of pro-inflammatory cytokines by inhibiting the activation of MAP Kinases and NF-B in human KU812 cells. Journal of Inflammation, 6(1). doi:10.1186/1476-9255-6-1
Safaralizadeh, R., Nourizadeh, M., Zare, A., Kardar, G.A., Pourpak, Z. (2013). Influence of selenium on mast cell mediator release. Biological Trace Element Research, 154(2): 299-303. doi: 10.1007/s12011-013-9712-x. Epub 2013 Jun 20.