The leaves turning various shades of orangey gold means heralds the arrival of soup season. I adore soup. It's my first choice for lunch and often dinner. I remember being very excited on learning that the mast cell stabling and antihistamine quercetin is leeched from onions, green herbs and other healing foods, into the cooking water in the boiling process (like making soup) [1] rather than being destroyed.
When I'm feeling lazy or just don't have time to cook properly, I'll make one or two large vats of soup (different kinds) and then freeze them into individual glass tupperwares – yeah plastic also leeches into the soup sadly causing endocrine disruption [2]. I then just place it in a tub of hot water and then warm it up quickly or just stick it into a microwave if I'm in a bind on the road (I don't have a micro at home).
I managed to find some really lovely purple carrots here – my favourite! They're high in the same anthocyanins that make blueberries so brain healthy [4], but you can absolutely use any you find. Same goes for the squash/zucchini. I just happened to find some lovely yellow ones here to play with.
My guy isn't so into the soup. Here's a photo of what I made for him instead…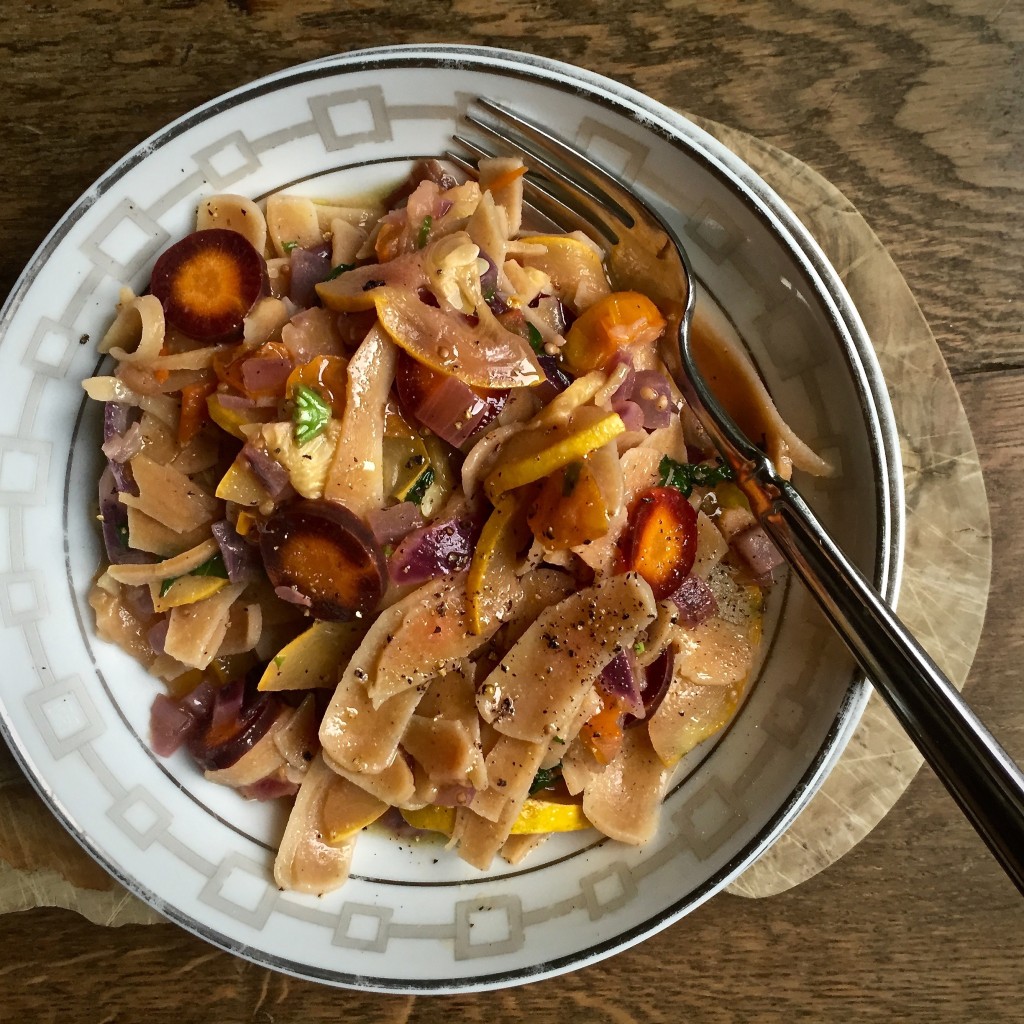 I just split off some of the soup, added some lovely red lentil pasta I found in the local organic supermarket out here in France and then turned the heat up and uncovered the pot to burn off the liquid.
A little more olive oil, some fresh cracked black pepper…
Et voila – pasta!
Benefits [3]:
Antihistamine: onion, garlic, basil, thyme.
Anti-inflammatory: squash/zucchini, onion, garlic, basil, thyme, olive oil, chickpeas, lemon, tahini.
Please remember, even antihistamine and anti-inflammatory foods can hurt us, please always exercise caution and consult a medical practitioner before adding new foods.

Autumnal garden vegetable soup
Ingredients:
1 large round yellow squash (yellow/green zucchini), quartered and then chopped
1 red onion, chopped
2 purple carrots (or any you find), sliced
1 yellow tomato (lower histamine than red) or an additional squash
handful of basil and thyme, finely chopped
4 tbsp olive oil
2 cloves garlic, pressed
1/2 cup chickpea/bean water or 1/4 cup of tapioca or your choice starchy gluten free flour to thicken soup
1/2 lemon, squeezed
optional – for you or family members
1 tbsp hummus or tahini (not low histamine depending on which list you follow)
1 tbsp good organic dijon mustard (mustard seed, salt, vinegar and nothing else)
Directions:
Please consider all ingredients just a suggestion. All vegetables, fruits and oils may be swapped for another. I am not on a histamine elimination diet anymore and so I added the optional ingredients and used the yellow tomatoes.
In a pot sauté the onions and garlic till fragrant. Add in the other veggies and herbs and cover with enough water that they swim around freely.
Bring to the boil and then lower to a simmer. Mix in the chickpea water, hummus or tapioca if using and allow to simmer for at least 20 minutes.
I like to serve with an extra smattering of fresh herbs and also a little drizzle of olive oil.
You'll find recipes full of foods with antihistamine and anti-inflammatory properties my books Anti-Recipes and The Anti-Cookbook
CLICK HERE TO CREATE YOUR OWN PERSONALISED HEALING HISTAMINE PLAN.
——————— REFERENCES ——————–
[1] http://www.sciencedirect.com/science/article/pii/S0889157504000675
[2] http://www.scientificamerican.com/article/plastic-not-fantastic-with-bisphenol-a/
[3] The Anti-Cookbook, Yasmina Ykelenstam
[4] http://www.sciencedirect.com/science/article/pii/S0570178314000025