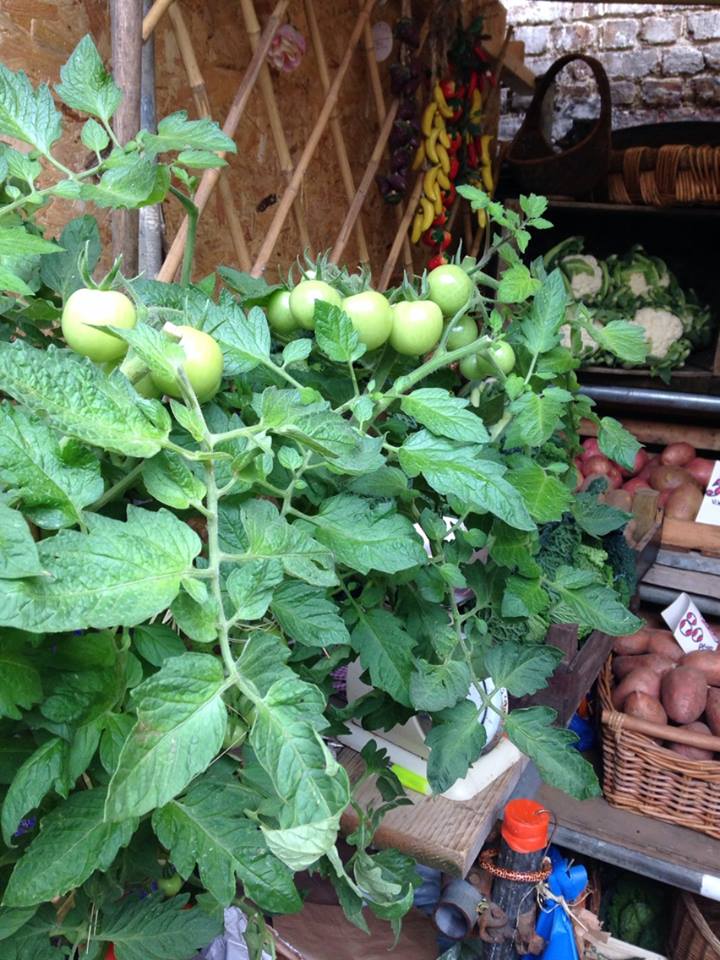 Lovely farmer's market green tomato tree is still around, despite being out of season! But I was there on another mission…
Friends and family remain shocked by my (seemingly) encyclopedic knowledge of the healing powers of foods. Valuable space I might add, once allotted to remembering heads of state (in my former career as a journalist) and movie titles (in my former life as teen film freak/imdb worshipper).
Rather than getting midnight texts asking me to settle a score on who won the best director academy award in 1978 (Woody Allen – but I had to look that up!), I now get calls asking me how to settle an upset tummy, deal with a fever or an allergic reaction.
Now here's where common sense comes in – my friends know not to take anything they may react to, or they check with their doctor first. I advise you to do the same! Please remember a number of these studies are conducted on animals and that anything, antihistamine or not, can either hurt or help us.
A particularly inspiring wander around the farmer's market here in Brighton yielded a number of love fridge-as-medicine cabinet ideas…
Pomegranate
Owes its anti-allergic properties to its effect as a mast cell stabiliser [1]. It's also highly anti-inflammatory [2] and can help treat/prevent ulcerative colitis [3]. It's also estrogenic [4], which may be a good or a bad thing, depending on your circumstances. Guys, don't worry – you won't need a training bra if you indulge responsibly 😉
You'll find a lovely pomegranate glazed salmon recipe in the Anti-Cookbooks. If you're worried about the histamine status of fish/salmon, please check out my interview with immunologist Dr Janice Joneja – she shares that fish/salmon is fine as long as it's fresh. She even says canned tuna is ok…I wouldn't personally eat it but there you go.
Custard apple
This lovely fruit, which to me tastes of strawberry infused cream, has been shown to inhibit prostaglandin induced inflammation and is a natural painkiller [5]. For those of us dealing with inflammatory conditions like histamine intolerance, mast cell activation, mastocytosis, or (to a certain extent) allergies, this is a very good thing. I often warn against the idea of focusing only on histamine – it's about lowering the inflammation level overall. That's how I've done it anyways, and I'm apparently winning the battle! For more on that please check out my posts "turning health around in a year" and "the antihistamine and anti-inflammatory diet is winning the battle against mast cell activation."
As a bonus – prostaglandins cause hair loss. That's why I take mangosteen supplements, but I really prefer to eat my meds! You'll find something on the supps I take here.
In my mother's native country of Lebanon, custard apple is used to make delicious desserts. Yes, it's on the cards here too…we're talking pancakes, custard, ice cream! It's also super delish just as it is.
Quince
This odd looking fruit has been shown to have mast cell stabilising properties, thereby preventing histamine release/allergies [6]. It has also shown some promise in leukemia treatment/prevention (in animal studies) [7]. Interestingly I found a study talking about lemon and quince being a super combo allergy-wise [8]. Many histamine peeps react to lemon – I never have.
This lovely fruit perplexed me for a while. Till I realized – jam! Yes yes yes, it's jam time. Quince is full of pectin, which is what helps jams jell. I've never had an issue making it without – I usually just add some apple to help. You'll find multitudes of healthy quince jam recipes online.
Spaghetti squash
What an incredible family of squash! The curcubita pepo family have wonderful anti-inflammatory and antihistaminic properties [9]. You'll find a number of recipes in my cookbooks using them.
Can't do gluten? This is the BEST natural spaghetti alternative…just bake, and use a fork to scrape the tasty insides into strands. Fry up a little onion, garlic etc, as if making a pasta. Delish!
Don't forget…
Join my mailing list for more recipes and to be the first to know when registration for my low histamine webinar opens!
Take a peek at my low histamine and antihistamine cookbooks for more high nutrient recipes.
If you've found this information useful I'd appreciate your support (at no extra cost to you!) – please check out my online store for your health foods, supplements, kitchen items and beauty product purchases. Affiliate sales through my online store go towards maintaining the website, funding travel to interviews and purchasing all the lovely foods for my free online recipes. You'll find these items in the "Shop with us" drop down menu on my homepage.
Please don't forget antihistamine, pain killing foods can still hurt us, so please always check with your doctor before adding new foods to your diet.
——- REFERENCES ——-
[1] http://agris.fao.org/agris-search/search/display.do?f=2009%2FKR%2FKR0905.xml%3BKR2009001924
[2] http://agris.fao.org/agris-search/search/display.do?f=2009%2FKR%2FKR0905.xml%3BKR2009001924
[3] http://www.ncbi.nlm.nih.gov/pubmed/19367659
[4] http://www.sherrayorganiccosmetics.com/ingredients/pomegranate-seed-oil/
[5] http://www.ncbi.nlm.nih.gov/pmc/articles/PMC2885094/
[6] http://www.ncbi.nlm.nih.gov/pmc/articles/PMC3080480/
[7] http://www.ncbi.nlm.nih.gov/pubmed/19661701
[8] http://www.sciencedirect.com/science/article/pii/S0944711310004101
[9] The Anti-Cookbook: www.thelowhistaminechef.com/low-histamine-cookbooks