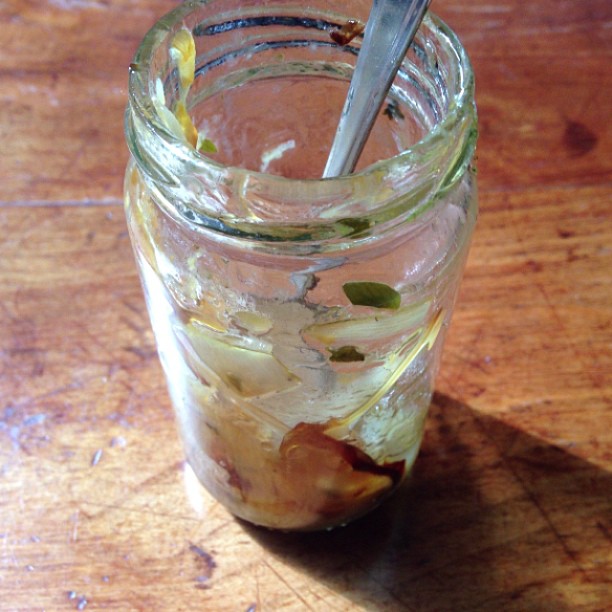 I came face to face with one of my greatest fears this last week: catastrophic hard drive failure with no current back up. The fallout wasn't as unpleasant as I had anticipated – sure, I lost the final draft of a mega project I had just finished, but I got to spend a lovely week with my man, away from the internet and Facebook.

The downside is that in the 10 days I've spent in London waiting for my computer to be fixed, I have also been without my kitchen, camera or anything else that I normally employ to come up with a recipe and half decent photo. So while today I'm happy to present you with a lovely antihistamine, low histamine, paleo and low oxalate recipe created on the fly, it's sadly as captured by my iphone. I'm not at all happy with the photos – these looked so very lovely and I wanted to document them before they deflated.
But I guarantee you they're yummy!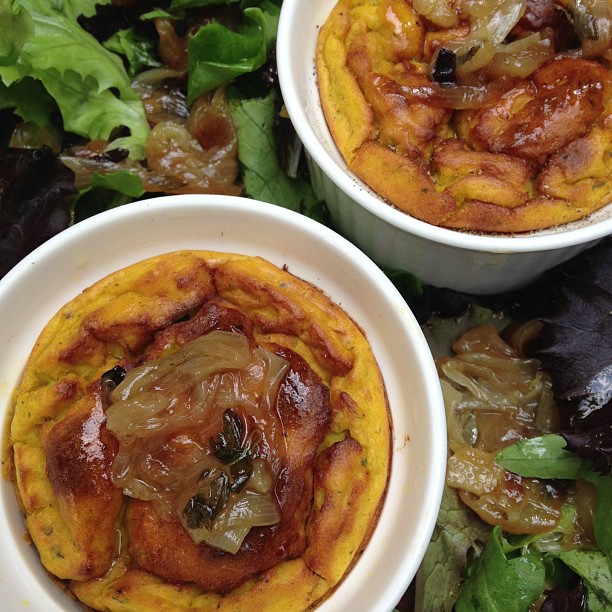 I chose not to use any flour in these – you may wish to. They came out, as many of my baked goods, denser than I would have made on a standard diet (SAD), but I'm ok with that! You may wish to add one tbsp of your choice of flour.
Those of you with egg issues – duck eggs might be an option, or you could try adding 1/2 cup of sweet potato or carrot instead of them, if oxalates aren't a problem for you. The result would be very similar to passover favourite kugel.
Why do I say low histamine and antihistamine in the same recipe? I finally worked out last year that a standard low histamine diet wasn't getting me anywhere. What I needed was to completely overhaul my diet to incorporate foods with antihistamine and anti-inflammatory properties. So while my recipes are all low histamine, most also feature antihistamine and anti-inflammatory foods.
As I mention in my Paleo antihistamine cookbook:
Butternut squash suppresses IgE antibody production, thereby exerting antihistamine qualities. Also possesses anti-ulcer, anti-inflammatory and antidepressant action [1].
Shallots possess significant anti-bacterial, anti-inflammatory action, in addition to inducing the death of cancerous cells (apoptosis) in human leukemia and cervical cancer [2].
Chives are high in the mast cell stabilising/antihistamine bioflavonoid quercetin [3].
Arugula/rocket has been shown to possess anti-inflammaotry and anti-ulerative properties through its action on histamine and prostaglandins [4].
Please remember that we can still have an allergy to foods with antihistaminic qualities – please check with your doctor before introducing new foods.
Antihistamine Butternut Squash Soufflé w/Shallot Chutney on a bed of rocket and baby leaf salad
Prep Time: 5-10 | Cook Time: 30 – 50 | Servings: 4 – 5
Ingredients:
Soufflé

1 medium butternut squash (should make 1.5 cups in puree), peeled, seeded and quartered
4 eggs
1/4 cup oil (I use olive)
1 garlic clove
chives, finely chopped
coriander, finely chopped
Chutney
4 – 6 medium shallots, quartered
2 garlic cloves, sliced thinly
fresh lemon
1/8 – 1/4 cup oil (I use olive)
thyme
sea salt/pepper
Garnish – arugula and a drizzle of olive oil and lemon.
Directions:
Soufflé

Preheat the oven to 400F/200C.
Bake the butternut on a pre-oiled baking tray for 20-30 mins (till soft).
Use either a potato masher or food processor to blend the butternut into a puree. You'll need about two cups.
Into the food processor crack four eggs, then toss in the garlic. Pour in the oil, a little salt and pepper (white pepper if you're low oxalate) and process. Once smooth add in the chopped herbs. If you're worried about the egg whites, you might experiment with duck eggs or use yolks only.
Oil 4 – 5 ramekins (depending on their size) and pour in the batter, just up to the dent. It's there for a reason!
Bake at 350F/180C for 30-40 minutes, depending on your oven. Use a baking stick or a toothpick to check the inside till it comes out dry. Don't worry about the deflating thing – we're not in a Michelin starred restaurant over here – we're just trying to get some nutrition!
If you'd like them to be fluffy, add a spoon of your choice of flour.
Serve with shallot chutney.
Chutney
Preheat oven to 350F/180C.
Place the shallots and garlic in an oven proof dish. Sprinkle with thyme (to taste), salt and pepper a squeeze of fresh lemon.
Pour on the oil.
Bake for 30 – 40 minutes, taking care to turn at least once.
Arrange the soufflé ramekins on a plate with the arugula salad. Serve with shallot chutney.
You'll find more Paleo antihistamine and anti-inflammatory low histamine recipes in the Paleo Anti-Cookbook.
Please remember that we can still have an allergy to foods with antihistaminic qualities – please check with your doctor before introducing new foods.
———————- REFERENCES ————————
[1] http://lib.bioinfo.pl/pmid:8031259
[2] http://www.ncbi.nlm.nih.gov/pmc/articles/PMC3258679/
[3] http://www.ncbi.nlm.nih.gov/pubmed/3932203
[4] http://www.ncbi.nlm.nih.gov/pmc/articles/PMC2675085/