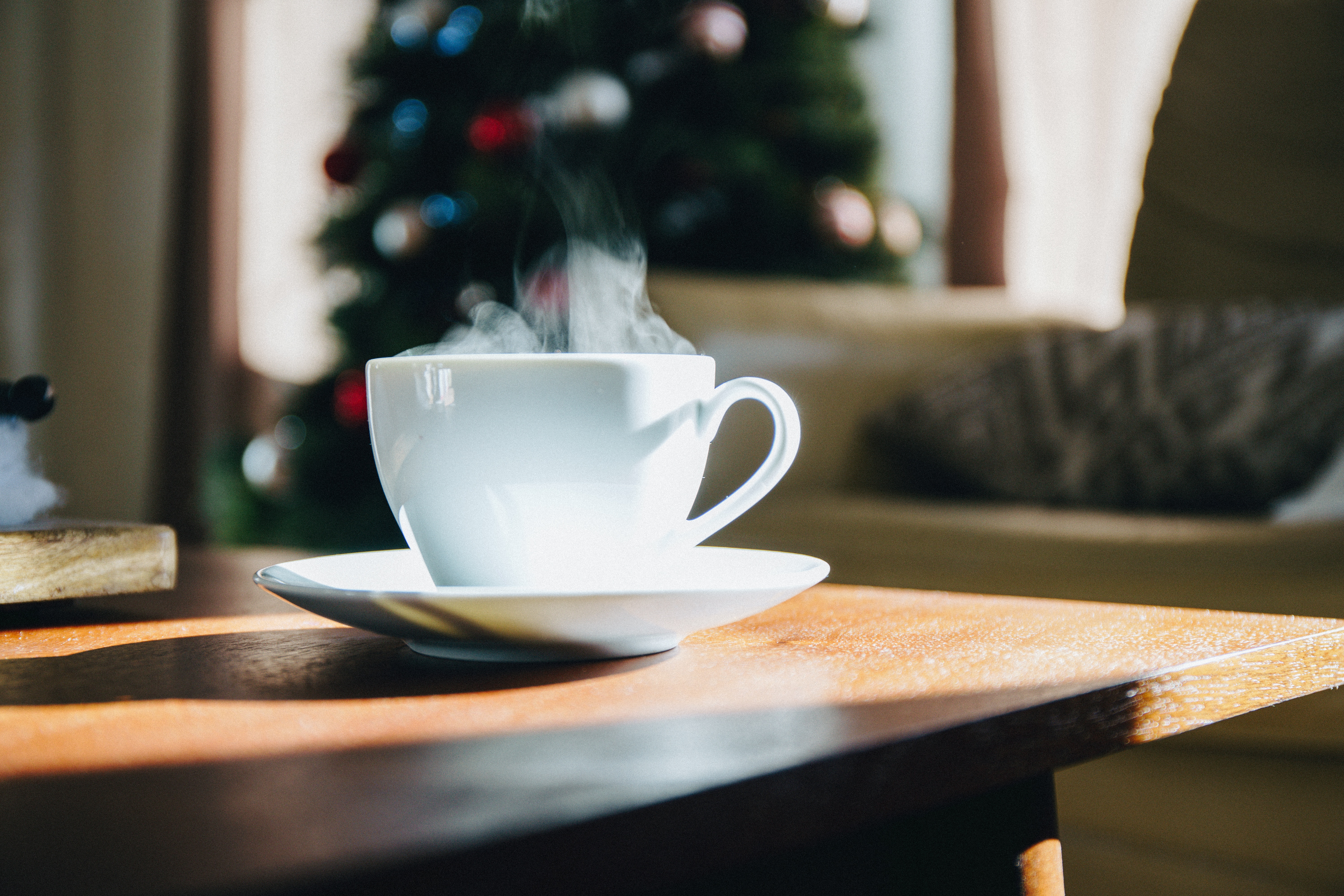 Along with histamine issues can come a lot of digestive distress, including acid reflux. Recent research revealed that histamine and acid reflux are linked, and that diet works better than medications at resolving it (read the post here). Seems like a great time to share my favourite "nip acid reflux in the bud" tea made up of some wonderful ingredients that you can easily find online or at your local organic grocery store.
ANTIHISTAMINE & ACID REFLUX FIGHTING TEA
Please bear in mind that a cup of tea is unlikely to resolve acid reflux. What's needed are real diet changes and a commitment to nutrition, as well as identifying possible repeat triggers. And remember, we can react to anything, so please check with someone before adding anything new to your diet if you've had moderate to severe reactions in the past.
This tisane (herbal tea) is made up of:
1) Pukka Herbs' "Three Tulsi Tea." This herbal blend is made up of Green Rama Tulsi Leaf (45%), Purple Krishna Tulsi Leaf (45%), and Lemon Vana Tulsi Leaf (10%). While other brands will certainly do, I've found this one to be the best tasting and so I scoop up massive quantities of it when I travel to London. You can order it online, but Organic India in the US make a very decent tea.
2) Fresh ginger root slices (to taste)
3) Nigella sativa whole seeds
BENEFITS OF TULSI TEA
I've talked about tulsi (otherwise known as holy basil) in previous posts as one of my favorite go-to anti-inflammatory and antihistamine herbs: Holy Basil! Anti-inflammatory and Antihistamine Superstar. I love using the fresh herb in cooking but the dried herb as a tea is equally delicious and restorative.
Beyond being a potent antihistamine that has been shown to be comparable to the antihistamine drug, Ranitidine (trade name Zantac), this "Queen of Herbs" also has powerful antioxidant and anti-inflammatory effects. The essential oil distilled from tulsi showed strong antioxidant effects in studies due to its high eugenol content — the same constituent that is high in clove bud essential oil.
Other compounds found in tulsi were found to be super anti-inflammatory substances. In fact, depending on the dosage, tulsi is comparable to the Non-Steroidal Anti-Inflammatory Drugs (NSAIDs), Ibuprofen, Naproxen, and Aspirin. And while aspirin can cause stomach ulcers, tulsi can prevent them. I like the side benefits of tulsi much better than the side effects of those drugs. And besides all that, it's absolutely delicious — a great addition to a nutrient-rich, whole foods diet.
BENEFITS OF GINGER
Ginger is another wonderful natural anti-inflammatory food to include on a regular basis. Studies indicated ginger is as effective as the NSAID, Diclofenac sodium (trade name, Voltaren), for pain. Not only does ginger not have the digestive discomfort that Diclofenac can cause, it's actually soothing to the digestive system.

Ginger is a well-known natural remedy for nausea and stomach upset. It has also been shown in scientific studies to be effective for acid reflux. While some people may choose to eat ginger chews, I don't need the extra sugar. I love the spiciness it adds to the tulsi in this blend.BENEFITS OF NIGELLA SATIVA SEEDS
Nigella sativa is one of my favorite culinary solutions to histamine intolerance. These little seeds pack a powerful punch of anti-inflammatory, antihistamine constituents.
Nigella sativa, or black cumin seed, has been used in Middle Eastern folk medicine for over 2000 years as the "cure for every disease except death."
A short list of its properties includes: balancing blood sugar, as an anti-cancer agent, balancing the immune system, pain control, anti-microbial, anti-inflammatory, antioxidant, relief of spasms, increasing airflow to the lungs, liver support, kidney support, and stomach support.
In fact, studies show that a high dose of thymoquinone (TQ), a major active chemical constituent of nigella sativa essential oil, had comparable effects to the acid reflux medication, omeprazole (trade names include Prilosec and Zegerid). Not bad! That's why these seeds are an important component to this tea blend.
You can read more about the many benefits of nigella sativa on these previous blog posts:
Nigella Sativa Seeds Treat Nasal Allergies Better Than Steroid Spray
Nigella Sativa For Allergies, Osteoporosis And Flatulence
RECIPE
Anti-Reflux Tulsi Ginger Tea
1 bag Three Tulsi Pukka Tea
2 Tbsp sliced ginger
1/2 tsp nigella sativa seeds
Place all ingredients in a cup and pour freshly boiled water over the top. Steep for 15 minutes. Strain and enjoy!
For more delicious recipes with antihistamine and anti-inflammatory properties check out my cookbooks: Anti-Recipes and The Anti-Cookbook.
Or even better, to do a complete reset with recipes and lifestyle strategies to balance histamine levels and get your body on the path to healing, I highly recommend my comprehensive 28-Day Histamine Reset.
————REFERENCES—————
Ahmad, A., Husain, A., Mujeeb, M., Khan, S. A., Najmi, A. K., Siddique, N. A., … Anwar, F. (2013). A review on therapeutic potential of Nigella sativa: A miracle herb. Asian Pacific Journal of Tropical Biomedicine, 3(5), 337–352. http://doi.org/10.1016/S2221-1691(13)60075-1
Chaieb, K., Kouidhi, B., Jrah, H., Mahdouani, K., & Bakhrouf, A. (2011). Antibacterial activity of Thymoquinone, an active principle of Nigella sativa and its potency to prevent bacterial biofilm formation. BMC Complementary and Alternative Medicine, 11, 29. http://doi.org/10.1186/1472-6882-11-29
Drozdov, V. N., Kim, V. A., Tkachenko, E.V., & Varvanina, G. G. (2012). "Influence of a specific ginger combination on gastropathy conditions in patients with osteoarthritis of the knee or hip." Journal of Alternative & Complementary Medicine, 18(6):583-588. Retrieved from: https://www.ncbi.nlm.nih.gov/pubmed/22784345
Kath, R. & Gupta, R. (2012). "Comparison Of Efficacy Of Ocimum Sanctum Against Gastric And Duodenal Ulcers In Animals." The Internet Journal of Gastroenterology, 11(1).
Retrieved from: http://ispub.com/IJGE/11/1/14310
Kelm, M. A., Nair, M. G., Strasburg, G. M., DeWitt, D. L. (2000). "Antioxidant and cyclooxygenase inhibitory phenolic compounds from Ocimum sanctum Linn."
Phytomedicine, 7(1), 7-13. Retrieved from: https://www.ncbi.nlm.nih.gov/pubmed/10782484
Sridevi, G., Gopkumar, P., Ashok, S., & Shastry, C. (2008). "Pharmacological Basis For Antianaphylactic, Antihistaminic And Mast Cell Stabilization Activity Of Ocimum Sanctum." The Internet Journal of Pharmacology, 7(1).
Retrieved from: http://ispub.com/IJPHARM/7/1/6038
Trevisan, M. T., Vasconcelos-Silva, M. G., Pfundstein, B., Spiegelhalder, B., Owen, R. W. (2006). Characterization of the volatile pattern and antioxidant capacity of essential oils from different species of the genus Ocimum.
Journal of Agricultural & Food Chemistry. 54(12), 4378-4382.
Retrieved from: https://www.ncbi.nlm.nih.gov/pubmed/16756370
Yeh, A. M., & Golianu, B. (2014). Integrative Treatment of Reflux and Functional Dyspepsia in Children. Children, 1(2), 119–133. http://doi.org/10.3390/children1020119