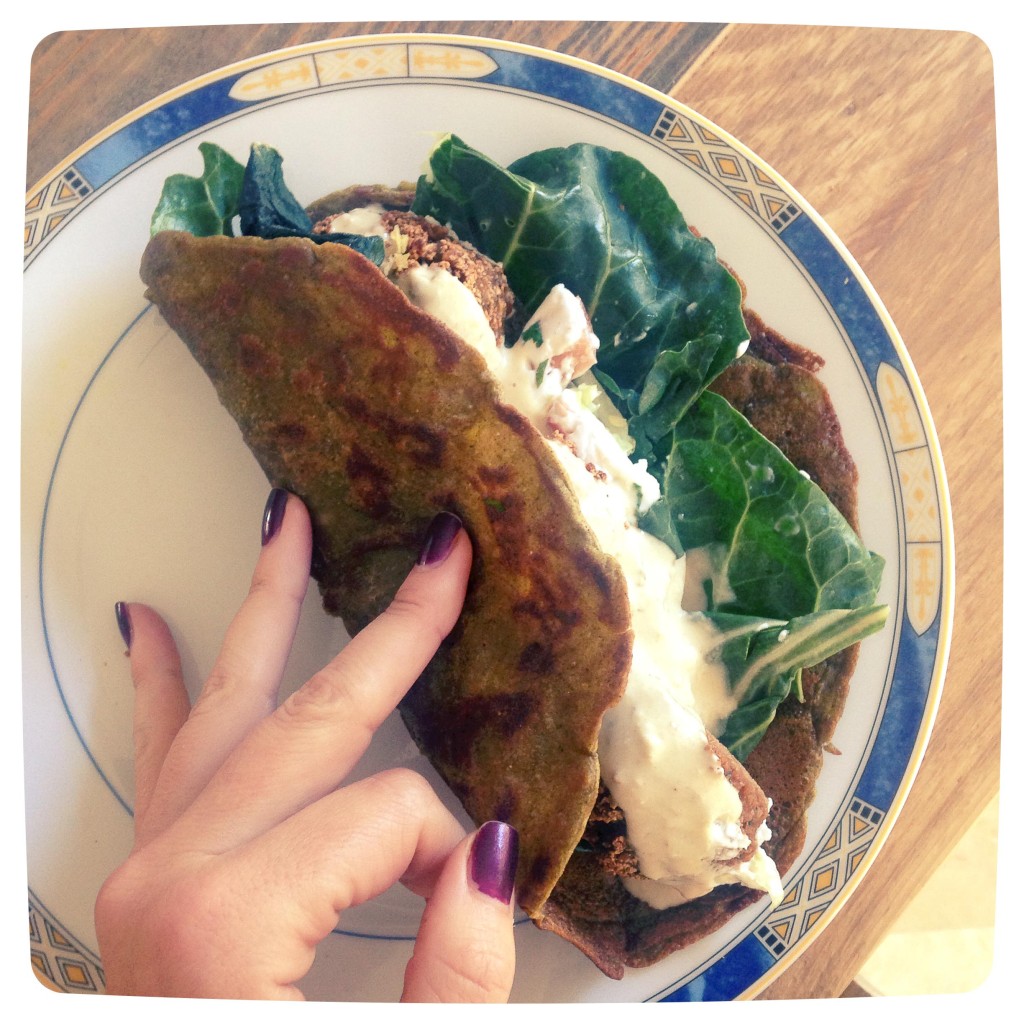 Hi everyone! My apologies for the photo. My amazing new farmhouse kitchen was due to be finished by today but sadly, as has happened a number of times, things aren't quite done yet. So that means my little photography corner wasn't ready for me to shoot this FABULOUS gluten free wrap "bread" I whizzed up for lunch today.
As always, food is my medicine, so you know this recipe is bursting with the antihistamine and anti-inflammatory high nutrient foods that have been helping me heal from mast cell activation/histamine intolerance!
I know a lot of people are anti-lentil (because of the lectins), but I have never removed them from my diet. I'm not saying I eat them daily, but they are a staple in my kitchen, especially lentil flour, which I adore. I say everything in moderation, even histamine, and so my diet is a histamine-balanced one, rather than low histamine. You can read more about why here.
Like with all my other recipes, you can omit pretty much any ingredient, or swap it out for something else you tolerate better. I list a bunch of subs below.
UR OWN PERSONALISED HEALING HISTAMINE PLAN.
The breakdown
Antihistamine: turmeric, ginger, water chestnut flour, zucchini, red onion [1}.
Anti-inflammatory: turmeric, ginger, water chestnut flour, zucchini, red onion, lentils, olive oil [2].
Anti-inflammatory Zucchini Bread
Ingredients:
1/3 cup water chestnut flour
1/3 cup lentil flour
1/2 cup water
1/2 medium zucchini
1/4 red onion
2 cloves garlic (or to taste)
2 tbsp olive oil
small chunk ginger
small chunk turmeric
Directions:
Pre-heat a non-stick pan or griddle.
Buzz all ingredients in a blender.
If your pan is super non-stick, or if you have a griddle, go ahead and add a bit more water to your mixture before making.
Spoon a ladle-full into onto the pan or griddle, as if making a crepe (thin pancake). Use a spatula to thin out, widening the crepe.
Should cook through in a couple of minutes, flip over. Serve with falafel, as a burrito, smeared with hummus, you name it, just go wild!
The Anti-cookbook, while it doesn't treat any conditions, due to its high nutrient, antihistamine and anti-inflammatory ingredients, has been instrumental in helping me feed myself on a limited diet. It features a six page list of antihistamine and anti-inflammatory foods. It comes in regular and Paleo.
The Low Oxalate Cookbook features antihistamine and anti-inflammatory rich recipes.
Don't miss the Low Histamine Beauty Survival Guide for non-toxic beauty tips, the skinny on histamine releasing (mast cell degranulating) beauty ingredients, antihistamine and anti-inflammatory beauty alternatives and the top brands natural brands I've found.
You'll find recipes full of foods with antihistamine and anti-inflammatory properties my books Anti-Recipes and The Anti-Cookbook
CLICK HERE TO CREATE YOUR OWN PERSONALISED HEALING HISTAMINE PLAN.
Please don't forget antihistamine, pain killing foods can still hurt us, so please always check with your doctor before adding new foods to your diet.