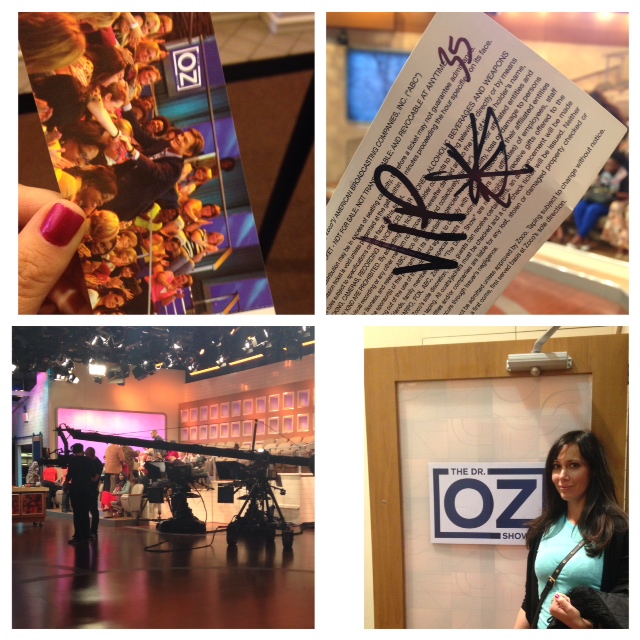 As you may have heard, my trip to New York got off to a shaky start. An amygdala-triggering event on the Heathrow-JFK flight left me emptying the (thankfully) minimal contents of my tummy pretty much the minute I arrived at my cousin's Upper East Side apartment.
But that didn't matter, because I was on a mission. I had arrived in New York determined to get some press for mast cell activation (histamine) disorders, and soon an incredible opportunity dropped in my lap. Well, not so much dropped as I fought tooth and nail to get some kind of presence on America's number 1 medical program – the Dr Oz Show. And get it I did. Sadly, as happens in television, I was bumped.
Sitting just a stone's throw from the inner workings of the Dr Oz Show was frustrating to say the least, but ever the chipper one, I struck up a conversation with a lovely lady (who I'll call N) sitting across from me, who might also have been left by the wayside.
And guess what?
Though neither of us was booked specifically to speak about our conditions, it turned out that both of us, strangers to each other, both coincidentally in the same bind, were there for exactly the same reason – to raise awareness for mast cell disorders.
We had an amazing conversation, spanning her bit on the show (chronic pain relief segment) and mine (chronic pain and yoga). It transpired that she had more on her plate than I do; she's also dealing with EDS/hypermobility – it's common to many with mast cell disorders. Please check out her website for more information and to learn how to get involved.
A video she was asked to make was due to air on the show, but it wasn't yet clear if it would happen. Meanwhile, I wasn't even sure I'd make it into the studio to make myself, and mast cell activation, known to the guest books/producers I was so desperate to touch base with.
The producer turned up, bearing the good news that N's video would in fact air, but holding only three VIP tickets for the four people waiting to go on. And my heart dropped. I was the furthest from the tickets, and they were quickly snapped up. As I turned to make my exit out of the building, Nadia quickly pressed her ticket into my hand, saying her video was airing anyway, and that I probably had a better chance of pitching the producers our mast cell story.
I can't begin to tell you how moments like these fill my heart with a deep gratitude to whichever force guides destiny, but mostly, knowing that people like N exist, goes a long way towards correcting the skewed view I had of humanity for a long time after experiencing the depths of human cruelty in my time as a journalist in war zones and in my early years growing up during a civil war. I'm not ashamed to admit it – a combination of relief and a sense of great responsibility overwhelmed me, and so, after a quick hug, during which I promised to do my best to pitch a segment on mast cell activation disorders (and EDS of course), I ran to the loo and had a little cry.
At this point, I was neither a guest speaker, nor a featured member of the audience, but rather simply a viewer.
Suddenly, out of nowhere came ADM, an associate producer, to let me know she had managed to work me in as a featured audience member! I won't go into the behind the scenes details of the show – what I can say is that I wasn't expecting to have the opportunity to blurt out those four little words that turned my world upside down (mast cell activation syndrome) but I managed somehow, dressed in yoga gear no less! I've since sent in a pitch for the mast cell segment, fingers and toes crossed, will let you know what happens.
The segment was part of a show called "How to lose 10 pounds before Memorial Day" and should appear online at some point today.
The Anti-cookbook, while it doesn't treat any conditions, due to its high nutrient, antihistamine and anti-inflammatory ingredients, has been instrumental in helping me feed myself on a limited diet. It features a six page list of antihistamine and anti-inflammatory foods. It comes in regular and Paleo.
The Low Oxalate Cookbook features antihistamine and anti-inflammatory rich recipes.
Don't miss the Low Histamine Beauty Survival Guide for non-toxic beauty tips, the skinny on histamine releasing (mast cell degranulating) beauty ingredients, antihistamine and anti-inflammatory beauty alternatives and the top brands natural brands I've found.
Take a peek at my low histamine and antihistamine cookbooks for more high nutrient recipes. If you've found this information useful I'd appreciate your support (at no extra cost to you!) – please check out my online store for your health foods, supplements, kitchen items and beauty product purchases. Affiliate sales through my online store go towards maintaining the website, funding travel to interviews and purchasing all the lovely foods for my free online recipes. You'll find these items in the "Shop with us" drop down menu on my homepage.
Please don't forget antihistamine, pain killing foods can still hurt us, so please always check with your doctor before adding new foods to your diet.