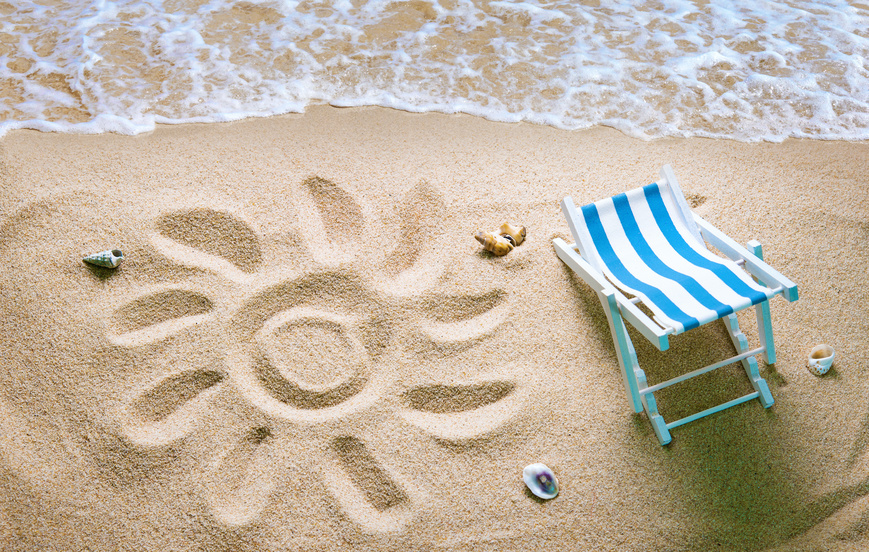 Summertime is a wonderful time of being outside, taking in the sunshine, mowing the lawn, and enjoying cookouts with friends and family. However, for those of us dealing with histamine intolerance, summer has its share of additional histamine triggers to watch out for. Heat, sunburn, and bug bites can put us over the top. But just like almost everything nowadays, there's a hack for that.
SUN EXPOSURE
Of course, we need the sunshine to replenish our vitamin D stores, but a little bit goes a long way. Overexposure to the sun causing inflammation (sunburn) leads to elevated histamine levels and conversely, higher histamine levels may make you more sensitive to the sun.
HACKS: Umbrella, hat, and a beach cover-up are helpful for keeping your sun exposure to tolerable levels. For sunscreen, check out the brand 100% PURE. The best suggestion is to increase your intake of richly pigmented fruits and vegetables. Polyphenols can help to lower your overall inflammation levels and additionally protect your skin from the damaging effects of UVA and UVB rays. You can even try broccoli seed oil. If you're not overly sensitive to smells, I've found dousing my clothing with bug spray a few hours before wearing them was effective (not to be tried in malaria zones please).
NOT ENOUGH WATER (DEHYDRATION)
With the extra sweating that accompanies summer heat, it's easy to get dehydrated if we're not conscientious about our water intake. And dehydration is yet another stressor on the body which has been shown to raise histamine levels –particularly in the brain.
HACKS: Always make sure you have a water bottle with you — particularly if you've noticed that bottled water triggers you in some way or that you don't tolerate conventional city or well water. Listen carefully to your body and drink according to thirst.
INSECT BITES
Mosquitoes, gnats, deer flies, horse flies, ticks… Summer is full of them, and when you have elevated histamine, you may react more severely than the average person. I've found that mosquito bites can be a nightmare.
HACKS: I've found a great bug spray called "Incognito" at my favourite beauty store on earth. This stuff is basically citronella (and a few other essential oil-derived ingredients). You can just spray it on clothes or beach wear to get those bugs to bugger off. Did you know that Nigella sativa is not only an antihistamine but can work as a bug repellent? Not only that, but it is protective against the sun and anti-ageing. It's a great all-around oil for the skin. (Again, please not in serious big zones).
MOWING THE LAWN/WEED WACKING (VIBRATION)
When you're mowing the lawn and tackling weeds with a weed wacker the handle tends to vibrate, sending that sensation into your hands and causing symptoms. Some people have even had their fingers swell up like sausages and turn red after mowing, and then begin to itch. The reason for this is that vibration causes mast cells to degranulate, releasing histamine into the body. I can attest to the vibration thing in particular. I had a free session on one of those vibra-exercise plate things. The experience wasn't great. I could actually feel the histamine fizzing in my brain.
HACKS: Be aware of your histamine bucket. Are you mowing in the heat? In the sun? Maybe keep some iced tulsi tea nearby. Some people may not tolerate the vibration from mowing at all, while others can handle it in short bouts. Take turns with a friend or family member, or volunteer for another task.
SEASONAL (AND COMMON PARTY) FOODS
Strawberries can be a histamine releaser.
Hack: Opt for blueberries
Lemonade can be a histamine releaser.
Hack: Opt for iced tulsi tea (or water)
Garden-fresh tomatoes are high histamine.
Hack: Yellow tomatoes are lower histamine
Pickles are high in histamine.
Hack: Opt for fresh vegetable sticks
Fresh spinach is high oxalate and high histamine
Hack: Opt for fresh lettuce for salads
Peanuts can be a histamine releaser.
Hack: Opt for another nut, if tolerated
Beer, wine, and other alcohol are pretty high histamine.
Hack: Opt for pomegranate juice added to sparkling water and sweetened to taste — essentially a "Shirley Temple" cocktail)
EXERCISE
In the summer, our exercise tends to be outside in the heat. Not a good combination for keeping your histamine levels in check. Rollerblading (biking, skateboarding, etc) on black asphalt in the sun can be short-lived. Check out my post here to learn how exercise causes mast cell degranulation/histamine release. However, over the long term, exercise is anti-inflammatory and good for you, so don't entirely forgo your summer exercise.
HACKS: Try yoga on the beach rather than something that is high intensity, or do any tolerated cardio in an air-conditioned fitness center.
HIT THE "RESET" BUTTON THIS SUMMER
Summertime is the perfect time to do a whole body histamine detox. I've put together a four-week food plan, 7-day vegan meal plan, and a whole lot of other great histamine tools all in a 28-day program. It even comes with a 25-minute meditation audio you can take to the beach. Summer is a great time to take in all those extra fruits and vegetables –right from your garden or farmer's market. Check out the program right here.
———REFERENCES———
Bulugahapitiya, V. P. & Kirinde Arachchige, P. T. (2007). Mosquito Repellent Compounds from the Seeds of Nigella sativa L (Black cumin). Department of Chemistry, Faculty of Science, University of Ruhuna, Matara, Sri Lanka. Retrieved from: http://www.ruh.ac.lk/research/academic_sessions/2007_mergepdf/151-158.PDF
Haas, H. L., Sergeeva, O. A., & Selbach, O. (2008). Histamine in the Nervous System. Physiological Reviews, 88:3, 1183-1241 Retrieved from https://www.physiology.org/action/showCitFormats?doi=10.1152%2Fphysrev.00043.2007
Saric, S., & Sivamani, R. K. (2016). Polyphenols and Sunburn. International Journal of Molecular Sciences, 17(9), 1521. http://doi.org/10.3390/ijms17091521
Sudhir SP, Deshmukh VO and Verma HN: Nigella Sativa Seed, a Novel Beauty Care Ingredient: A Review. Int J Pharm Sci Res 2016; 7(8): 3185-96.doi: 10.13040/IJPSR.0975-8232.7(8).3185-96.