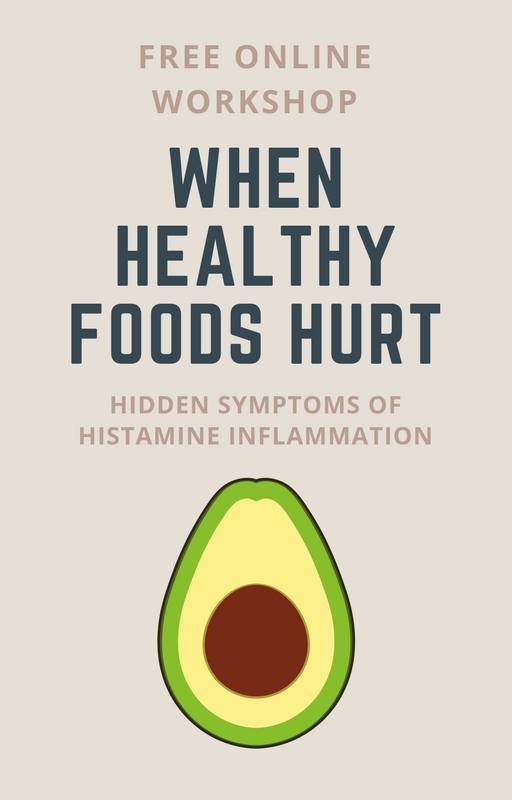 WHEN HEALTHY FOODS HURT: HIDDEN SYMPTOMS OF HISTAMINE INFLAMMATION
Over the years I struggled to explain why I seemed to have overcome the majority of my histamine intolerance symptoms while others still suffered. There is no one answer: genetics, concurrent medical conditions, access to foods and supplements only available where I was, all played a role.
But in my view, it's because I approached it from a number of angles, treating the body and mind rather than just hacking away at my food list till nothing remained.
Though I did do that too for a few years…and it left me the sickest I had been.
Are you struggling to get histamine symptoms under control? Are you tired of endlessly searching the internet for answers? I've been there and done that, and tried every dietary approach, only to be disappointed time and time again.
I can't begin to tell you how many diets I've followed, people I've consulted, doctors I've worked with, naturopaths I've shelled out for. It all worked for a little while, and I'd be filled with hope and immeasurable joy, only to come crashing back to reality when my symptoms came raging back.
Going through histamine intolerance and mast cell activation with no resources: no one to help guide me, no one who had been through this and shared their experiences, was a bewildering process that nearly broke me as a human being. I don't honestly know that I could have done it if I hadn't experienced all that I went through as a journalist for CNN and the BBC covering war zones and accomplishing the seemingly impossible regularly (sometimes that just meant getting out of somewhere in one piece).
Once better, I began creating digital books, one off workshops on the body, or mind. It slowly dawned on me that these products were created from the standpoint of someone who had reclaimed their life and was well enough to put all these disparate elements together themselves. And that wasn't helping enough people.
I was going to have to lay out an exact program, with daily/weekly steps, and menus, to resolve the anxiety many of my readers were writing to me about.
And so the Histamine Reset was born.
It's a step-by-step program I've personally developed over years of research and trial & error. This plan is designed to help you gain a better understanding of histamine while helping you reclaim your life to feel (and look) better than you ever have.
Click Here For Full Details About The Program
And, because I believe so strongly this material is just what you need, i've also created a free online workshop to take you through all the basics you need to know before getting started on the program.
The Free Workshop Covers:
What is histamine?
Why diagnosis is tricky
Misinformation on the web
Which healthy foods hurt
The traditional approach to healing histamine
The Healing Histamine way
The inflammation bucket (understanding it helps us eat more of what we love!)
How Anti-Foods empty the bucket
My top Anti-Foods